Posts tagged
Tony Gonzalez


NFL star and CBS analyst Tony Gonzalez is teaming up with Marriott Rewards to give back to the most passionate NFL fans across the country with every fan's dream opportunity.
Now through December 2, 2014, football fans are invited to share their passion for the NFL through 30-sec videos or captioned photos that show an unrivaled spirit for the game and their favorite player. Six lucky fans who can prove they are among the "Most Passionate" will receive the ultimate NFL experience hosted by Gonzalez – an exclusive trip for two to Phoenix, tickets to the Pro Bowl, and the opportunity to hang with their favorite player on January 24, the day before the game.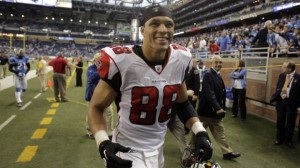 "One of my best memories when I was younger was having Merlin Olsen come out to my Pop Warner practice field and come talk to us, and drop knowledge, and the things that he told me back then like, work hard, follow your dreams, stuck with me for the rest of my life," said Gonzalez. "The 'Marriott Rewards Most Passionate Fan' contest is the same type of thing – to be able to hang out with your hero, it's a dream come true and I encourage everybody to go out there and make it happen."
A voting period for the top 100 entries, which is open to the public, lasts from Dec. 2 – 19. To enter the contest and read the official rules, visit MarriottRewardsMostPassionateFan.com.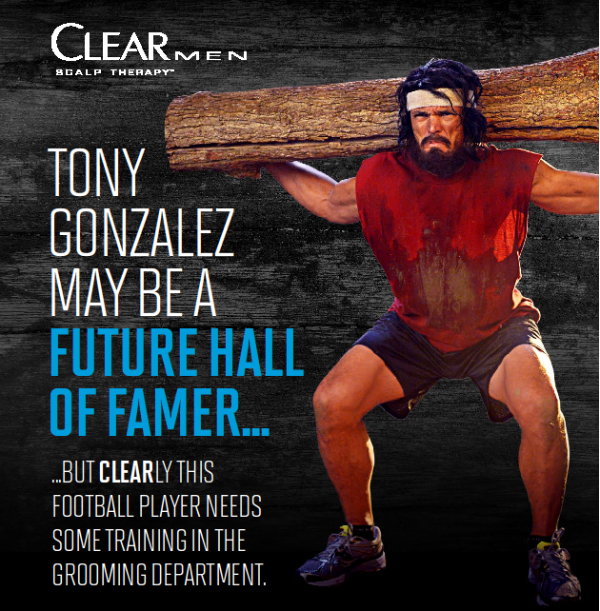 Today is one of the slowest sports days of the year. Major League Baseball is on hiatus until Friday. The NFL preseason kicks off next month. Basketball and hockey players are all on vacay. What's a sports fan to do?
Well luckily the ESPYS are on tonight, so there's some light at the end of today's sports-free tunnel. Plus, MANjr enthusiast/future Hall of Famer Tony Gonzalez is going to appear as a presenter and star in his own TV vignette during tonight's broadcast. Make sure to check out the ESPY's at 9pm EST tonight so you can see this engaging spokesman in action.
You can also visit the Clear Men Scalp Therapy Facebook page before tomorrow for a chance to win two tickets to the 2014 ESPYS. You know we're gonna hit the same sports lull next year, so might as well be prepared, right?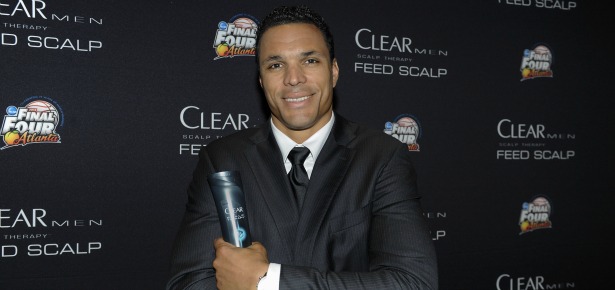 When Clear Men's Scalp Therapy sent us to the Final Four in Atlanta, we got to spend a few minutes with Falcons tight end, future Hall of Famer and all-around gamer Tony Gonzalez. Gonzo just agreed to come back for one more season with Atlanta. Although he signed a two-year deal, he made it clear that the second year was just in there for cap reasons. The upcoming season will be his last.
And what a career he's had. He's a 13-time Pro Bowler (with 10 All-Pro seasons). He's caught more passes (1,242), for more yards (14,268) and more touchdowns (104) than any tight end in history. His spot in Canton must already be reserved. He's slam dunk first ballot hall of famer. And, you know, he can dunk, too.
Gonzalez played college basketball at Cal. During his junior year, he played in 28 games and averaged 6.8 points and 5.4 rebounds as a member of the Cal team that made it to the Sweet Sixteen.
Gonzalez is now a spokesman for Clear Men Scalp Therapy. We caught with him at the Coke Zero Fan Experience in Atlanta the day before the Final Four kicked off. We talked about the thrill of playing in NCAA Tournament, what jersey he was going to wear when he finaly gets to Canton, his excitement for next season and what makes Clear Men Scalp Therapy so awesome. Here's the interview:
While in Atlanta for the Final Four, Gonzalez shot a series of videos for Clear Men that provided tips for creating The Perfect Fanual. Here's the whole series: