Posts tagged
The Most Interesting Man in the World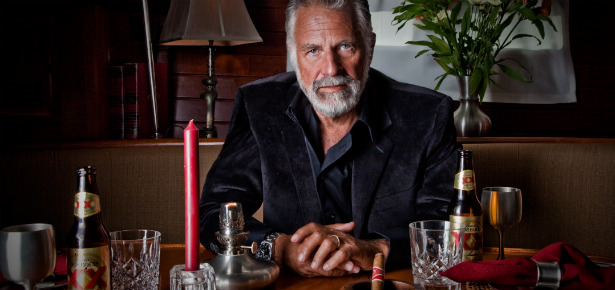 You may not know Jonathan Goldsmith by name, but if you saw him walking down the street, you'd probably recognize his face. Goldsmith has been acting since the '70s. He's been on Dallas, MacGuyver, Magnum P.I., Knight Rider, T.J. Hooker, the A-Team, Dynasty, CHiPs and Charlie's Angels. You probably know him best as The Most Interesting Man in the World, the ultra-fascinating, smooth-talking spokesman for Dos Equis.
I had the opportunity to speak with Jonathan, and as it turns out, the actor behind The Most Interesting Man in the World is a pretty interesting guy himself. He's articulate, well-read and he lives on a boat. He's traveled the world, supported many causes and he's a damn good story-teller.
CS: Is there a burden for being recognized as the most interesting man in the world?
JG: Is it a burden? No. It's an absolute joy for me. I've had a very good career for over 40 years. And the attention that I'm getting, I absolutely love. It's wonderful. It's kind of non-stop and I really appreciate it.
CS: Nice. So do people stop you on the street all the time and say things like, "stay thirsty?"
JG: That's most frequent thing I get is, "stay thirsty" and a lot of people say, "Please, please just leave this message on my voicemail" or "talk to my fiancé" or whatever, but and it's nice that people remember more of the lines than I do and some of them are even from the first year. We just entered the fourth year of the campaign so that's very flattering and I love that, of course. It makes people smile.
CS: I read that the inspiration behind your character came from an old friend, Fernando Llamas, the father of Lorenzo Llamas.
JG: That's correct.
CS: What is it about your old friend that you channel when you play The Most Interesting Man in the World?
JG: Well, I just he was one the most charming raconteurs that I've ever met. A real man's man. He was an athlete. He was an incredible swordsman and charming. He could tell the dirtiest jokes and it was never vulgar. He was, I guess, the quintessential gentleman, and man's man and he was just a delight to be around. I live on a sailboat and he was one of my sailing buddies. We had a production company together at one time and when he passed on I scattered his ashes off my boat.