Posts tagged
Teva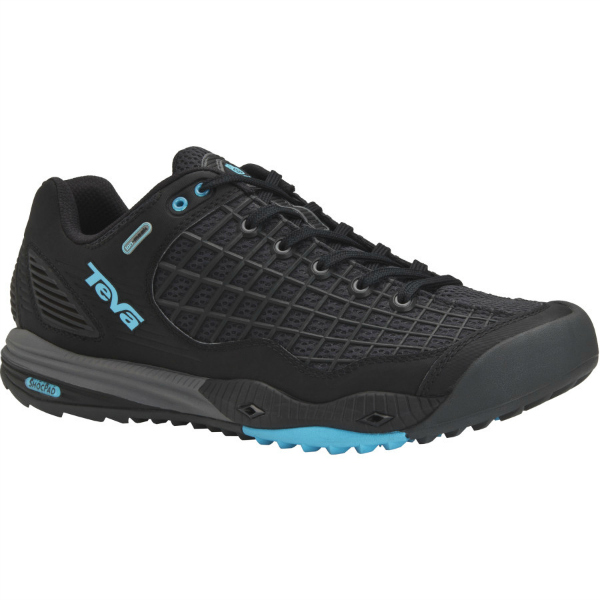 It's summertime, and the living is easy. We're officially hitting the seasonal sweet spot of 2012. That means blue skies, high temperatures and conditions that make you feel bad for not getting out and enjoying the great outdoors. It's time to hit the beach. Go camping. Water ski. Fish. If you ride bikes, get out there and peddle. If you like to run, go jog it out with the nice scenery. And if you enjoy hiking, go out and conquer some tough terrain. Just make sure you have the proper shoes with you.
A pair of Teva Reforge Ion-Mask shoes should do the trick. The ion-mask technology used to coat the shoe actually repels water on a molecular level. Every fiber is protected from moisture on a nano scale. So if you're about to jump a creek and you're worried about getting a case of the wet-socks, fear not. These shoes will keep you dry.
They'll also make sure you don't slip and break your neck, which is especially good for clumsy fellas like me. The Spider365 sole has got the special grip action you need to conquer any terrain and the extra ridges on the side of the sole and heel stabilizer will help you stay connected to whatever surface area you're trying to conquer.
If you're hike is a long one, it's a good thing that these kicks are comfortable, too. The Reforge Ion-Mask shoes use the same Mush-infused top sole that comes standard on the Teva flip flops and the Mush Frio Slip-ons.
So all around, not a bad bit of shoe. It is a bit on the pricey side, but that's what you pay if you want high-tech footwear. They retail for $130, but you can find 'em priced a lot less if you look around online.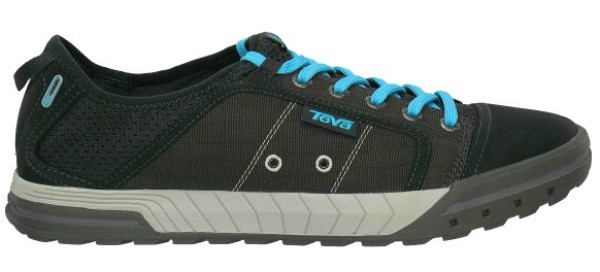 Teva has always been known as brand that caters to outdoor enthusiasts. From water shoes to sandals that can take a beating, if you've ever tried to expose a pair of Teva shoes to the elements, you know these kicks are comfortable in the wild.
Lately though, the whole outdoor performance thing isn't enough. Teva's trying to focus on the dual-use factor. We received a pair of Teva Fuse-Ion shoes to review, and it's clear that the company wants to offer the type of outdoor, elements-be-damned performance that you'd expect from the brand, while also providing a bit of everyday style to go along with the package. As the Teva website puts it, "We designed a shoe that you can wear to the bar, then made it the highest performing water shoe ever built. No big deal."
So did they succeed in this effort? I think so.
From a performance/wetness-battling standpoint, the Teva Fuse-Ion uses Ion Mask material to keep the shoe extra dry. What's Ion-Mask, you ask? It's a nano-coating material that's a thousand times thinner than human hair and molecularly bonds to a surface to provide extreme liquid repellency while still allowing for maximum breathability. Oh, and it's also solvent-free and only uses tiny bits of protective monomer so it won't have a negative impact on the environme Basically, shoe stays dry.
Other outdoorsy features of the shoe include the use of spider rubber technology for crazy grip (even in wet conditions) and a quick heel pop down feature that allows for instant slip on action. The pop down thing is pretty cool. Even if you're not asking for extreme liquid repellency, and you just want to slip some shoes on real quick to take out the trash or something, you can slide your feet in there, totally stomp on the heel, and the heel part of the shoe will pop back into place, no problem.
As far as the "I can totally where this to the bar" factor, you can see that the shoe is pretty stylish. It doesn't look like something developed by NASA in a lab or anything like that. They're kind of form-fitting with a bit of a thin sole. If you have extra wide feet, you might find Fuse-Ion a bit restrictive, but not more restrictive than, say,  your average pair of Adidas. Also, neon blue laces aren't my thing, but the shoe pictured above also came with some light gray laces. I think those are the more subtle, bar-friendly play.
The Teva Fuse-Ion kicks retail for $90 and are available in black (pictured above), bungee cord (nice two-tone throwback action) or duck green (which, to me, has a bit of ninja turtle vibe going on). If you want a breathable shoe that can stay all kinds of dry and not look like some kind of futuristic aqua sock, you'll find a nice middle ground with the Fuse-Ions.

We received a pair of Teva Mush Frio Lace Canvas shoes to review last week and I gotta say, I really like 'em. Sure we're a blog and we like free stuff and all that, but these kicks are pretty sweet. They're based on the Teva Mush flip flop line. Now I'm not a big flip-flop guy myself, so I don't know how the Mush shoes compare to the Mush flops. I do know that the Frio Lace Canvas is super-soft, breathable and comfy as hell.
The Teva Mush Frio Lace Canvas shoes are basically like sturdy socks made out of form-fitting foam. They're crazy lightweight to the point where you feel like you're not wearing shoes at all. The shoes are super wide and non-constricting, but they're also contoured to your feet. There's a bump in the interior that fits perfectly in the bottom bridge of your foot. So with all this soft and gushy flexibility, they still give you a sturdy, stabilizing fit.
One of the drawbacks of the shoe is that the sole is a bit on the slippery side. These aren't your go-to kicks for a rainy day. But if you don't plan on running down a wet staircase, you won't have much to worry about.
The Teva Mush Frio Lace Canvas shoes are the kind of kicks you put on when you don't really want to leave your house. These aren't running shoes. They're not designed for that. These are lazy day, phone-it-in shoes. They're like Styrofoam to-go boxes for your feet. Check 'em out: