Posts tagged
rum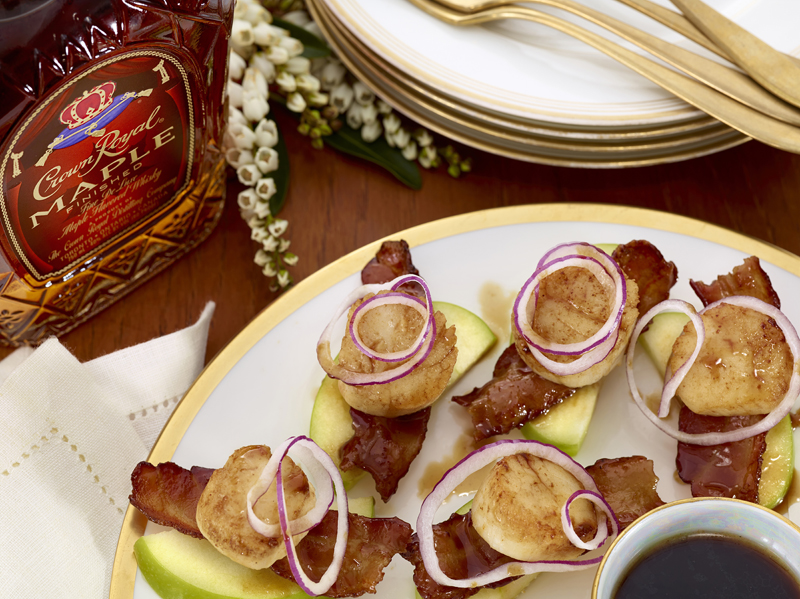 It can be stressful when you are making preparations for your Christmas party. You want to make sure your guests enjoy the food and drinks you have prepared. You might think that you should just use your old standby recipes, but this year why not try something new?
Below are some drink and food recipes that will be a huge hit at your party. From cocktails to appetizers to the main dish, your friends and family will have a Christmas dinner to remember.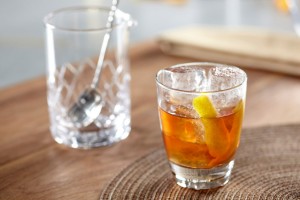 Dickel Rye Old Fashioned
Ingredients:
1 1/3 oz George Dickel Rye
1 maraschino cherry
¼ oz bitters
1 sugar cube
1 splash water
1 orange twist
1 lemon twist
Directions: In an old-fashioned or rocks glass, muddle sugar, bitters and water. Add ice cubes and George Dickel Rye. Garnish with lemon twist, orange slice and cherry.
Bulleit Perfect Manhattan
Ingredients: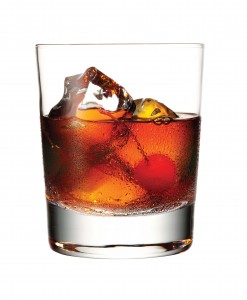 ¾ oz Bulleit Rye
¼ oz Dry Vermouth
½ oz Sweet Vermouth
Dash of Stirrings Blood Orange Bitters
Directions: In a shaker, combine Bulleit Rye, Dry Vermouth and Sweet Vermouth. Shake and pour over an ice-filled mixing glass. Add dash of bitters and garnish with a Maraschino cherry.
In a shaker, combine Bulleit Rye, Dry Vermouth and Sweet Vermouth. Shake and pour over an ice-filled mixing glass. Add dash of bitters and garnish with a Maraschino cherry.
Maple Bacon Apple Scallop Stacks
Makes 1 dozen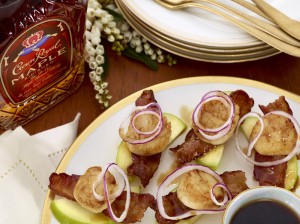 Active time: 15 minutes
Total time: 20 minutes
Ingredients:
6 strips bacon
1 tablespoon unsalted butter
12 dry-packed sea scallops, tough muscles removed
1/2 teaspoon kosher salt
1/4 teaspoon cayenne pepper
1 cup Crown Royal Maple
2 teaspoons packed dark brown sugar
1 medium tart apple, such as Granny Smith, halved, cored, and cut into 12 thin slices
1/2 small red onion, very thinly sliced
Directions: In a large skillet, cook the bacon over medium heat, turning occasionally, until browned and crisp, about 8 minutes. Drain on paper towels.
While the bacon cooks, pat the scallops dry and sprinkle with the salt and cayenne. To the bacon fat in the pan, add the butter and turn the heat to high. When the butter foam subsides, add the scallops in a single layer. Cook, turning once, until nicely browned and just opaque throughout, about 2 minutes. Transfer to a plate.
Drain any remaining fat from the skillet. Add the Crown Royal Maple and boil, stirring and scraping the browned bits from the pan, until reduced to 1/4 cup, about 5 minutes. Stir in the sugar until the mixture becomes syrupy and thick, about 1 minute, then turn the heat to low. Break each strip of bacon into half and add to the syrup. Cook, turning, until well coated and caramelized.
On each apple slice, stack a scallop and a piece of bacon. Garnish with red onion slices and serve.
Roasted Pork Tenderloin with Captain Morgan Rum and Cider Glaze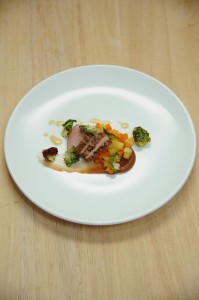 Ingredients:
¼ cup Captain Morgan Original Spiced Rum
1 lemon, juiced
½ cup apple cider
1 pound pork tenderloins, brined at least 12 hours (recipe to follow)
1 tablespoon peanut oil
3/4 pounds Brussels sprouts, picked, cored and leaved (see note below)
1 sweet potato, peeled and diced
2 apples, peeled and diced
1 tablespoon olive oil
1 teaspoon sea salt
1 sprig of rosemary
1 tablespoon Captain Morgan Original Spiced Rum apple butter, per serving (recipe to follow)
1 tablespoon unsalted butter
Directions: Preheat the oven to 450°F degrees. Combine the Captain Morgan Original Spiced Rum, the lemon juice and the apple cider and reduce to 3/4 its original volume. Set aside. Heat a cast iron pan over medium-high heat and add 2 teaspoons of peanut oil when the pan is hot. Once the oil is hot, remove the pork from the brine, pat dry and add to the pan, for a total of 3 minutes, rolling the pork to sear all sides every minute or so. Place the pan in the hot oven to cook for four more minutes, or for an internal temperature of 140°F.
Let the pork rest while the vegetables cook. Once the pork hits the oven, toss the sweet potato, apple and Brussels in individual bowls, dressing evenly with olive oil and salt (evenly divided among the three). Place the sweet potatoes on a sheet pan and roast in the preheated oven for ten minutes, and then add the sweet potatoes and apples on top of the sweet potatoes. Roast for five more minutes. When they are done, remove them from the oven and set aside. When the pork tenderloin is done, remove from pan and rest for 5 minutes on a cutting board.
Present by spooning the apple butter on the bottom of a platter and placing the vegetables over the butter, and then slicing the pork and draping it over the vegetables. Warm the glaze base and whisk in the butter to finish. Pour the prepared glaze over the pork tenderloin.
Pork Brine (Makes 2 cups)
1 cup apple cider
1 teaspoon peppercorns
1 garlic clove
2 tablespoons salt
1 teaspoon coriander seed
1/2 teaspoon chili flake
1 cinnamon stick
1 cup of ice
Combine all ingredients except the ice in a pot and heat over high heat. Once the liquid reaches a boil, remove from heat and add the ice to chill quickly. Once cold, pour the brine over the pork and place in the refrigerator for at least 12 hours and up to 48 hours.
Captain Morgan Original Spiced Rum Apple Butter (Makes 9 pint jars)
9 pounds local apples
1 teaspoon ascorbic acid powder
2 ½ cups organic granulated white sugar
¼ teaspoon ground cloves
½ teaspoon ground nutmeg
½ tablespoon ground cinnamon
½ teaspoon ground allspice
½ teaspoon kosher salt
1 teaspoon pure vanilla extract
1 cup apple cider (NA)
2 cup Captain Morgan Original Spiced Rum
Directions: Peel and core the apples and cut them into eighths. After coring and peeling, you will end up with about 2/3s of your starting weight. Place the apple pieces in a large bowl of cold water with the ascorbic acid. When the apples are all peeled, drain them and discard the water and then place the apples in the slow cooker.
Combine apples with sugar and all other ingredients and toss well. Turn your slow cooker on high and cook for one hour and then turn on low and cook for about 8 hours, or until jammy in consistency. You will need to be stirring a lot throughout the process but be a careful, as nothing smarts quite like hot jam. Transfer to jars of your choice, just make sure they are sanitized and in good shape. Fill to 1 inch from top and seal with the lids and bands.