Posts tagged
Newcastle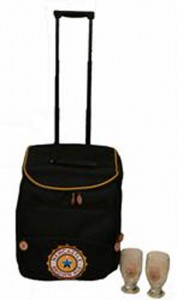 We're teaming up with Newcastle again for another great giveaway! Loyal readers know that we've partnered up with Newcastle plenty of times in the past. We interviewed Charles van Es, the Brand Director for Newcastle Brown Ale, when we did our Geordie Schooner Giveaway. We gave away a bunch of cool Newkie stuff for a week straight in September leading up to the first ever Walk the Dog Day event that was held at Finn McCool's in Santa Monica. Now we're at it again.
Every time I post about Newcastle I like to mention that it's my favorite beer. That's been true long before MANjr starting hooking people up with free Newcastle items. There's just something extra-super-enjoyable about a frosty pint of Newcastle Brown Ale. It's really not hard for us to speak favorably about a beer we enjoy at least once or twice a week. It's just too damn good.
So what's up with the latest giveaway? It's a Newcastle Cooler Bag that's sexier than any Igloo you'll see at your average tailgate party. This thing's got rollers and an adjustable handle, man. It's like a piece of functional luggage that keeps your beer cold and can still fit in an overhead compartment.
To win this posh beer transporter, just Like us on Facebook and send us an email below telling was why you enjoy Newcastle. We'll pick a winne at random next Friday, January 6.
Also, if you like Pale Ales, don't forget to try Newcastle's Winter IPA. It's available until the end of the month so try it out before it's gone!