Posts tagged
New Orleans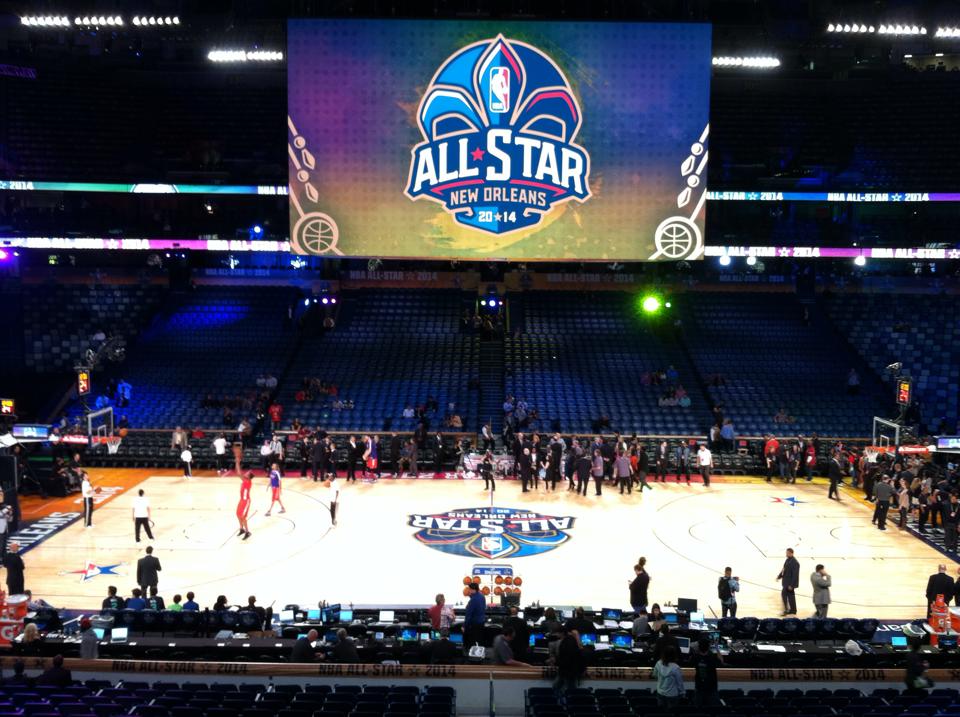 If someone asked you to create the perfect sports weekend, what would some of the key ingredients be to make that experience special?
For me, I would say watching the top athletes of that sport compete against each other. You would enjoy great food and even better cocktails. I would add some of my good friends into the mix to enjoy those moments. There would be invites to incredible parties and events that you couldn't go to on a regular basis. Maybe the chance of meeting legends of that sport in an intimate setting and be able to pick their brain about the game they love. Okay, I think you catch my drift.
I am very fortunate to say that I was able to have experienced just that. I was invited to be part of the Crown Royal #ReignOn campaign for the 2014 NBA All-Star weekend in New Orleans. Let me just say that this has to be one of the best weekends I have experienced in my life.
So with that being said, where do I begin? I guess the old adage is to start from the beginning.
I arrived in New Orleans Friday night with a lot of anticipation. I got to the hotel and made sure I got a good night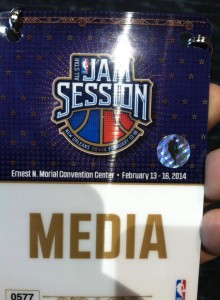 sleep. I wanted to be ready for everything that was going to happen that weekend. I was going to the NBA All-Star game on Sunday to see the cream of the crop play against each other. Crown Royal had created an out of this world itinerary that included hanging out with NBA legend Julius Erving. That's right Dr. J. Crown Royal set up a meet and greet with Dr. J and a whisky tasting with the living legend.
Crown Royal also scored me and my fellow bloggers NBA "Jam Session" media passes. This let us into some cool places during the NBA All-Star weekend. They took us to some premiere restaurants to get a real taste of the New Orleans cuisine. We even had a whiskey tasting with Master of Whisky, Robert Sickler. He gave us an in-depth education on the new Crown Royal XO, which was outstanding by the way. For those who enjoy a great whisky I suggest picking up the XO.
So as you can see this weekend looked to be one of those perfect sports weekend that I mentioned earlier.
So as I woke up Saturday morning I had an extra spring in my step. I was getting ready to seize the day. I headed off to the New Orleans Ernest N. Morial Convention Center to pick up my media credentials for the weekend. Once I picked that up I ventured into center in what the NBA called "Jam Session." Picture Disney World, but catered for those who love basketball. There were meet and greets with former and current players. You could test out your basketball skills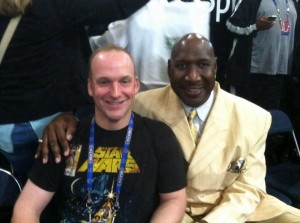 with certain games and challenges at the convention center. You could even check out the Eastern and Western Conference All-Stars practice on Saturday morning.
I did watch the All-Stars from the West take to the court to go over some plays for Sunday's game. That is where I ran into NBA great Darryl Dawkins AKA "Chocolate Thunder." He is such a down to earth guy and answered all my questions. Thanks Darryl.
After watching the West practice I used my credentials to go to the media section for the Q&A sessions with both conferences.  I was able to interview LeBron James, Dwyane Wade, and Kyrie Irving. That was one of the sickest moments from that weekend. After coming off that high, I went back to engage in some of the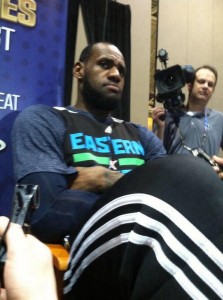 other activities at the convention center.
I then met up with the Crown Royal team and other bloggers to go meet up with Dr. J that night. (That sentence alone still gets me!) Erving gave some of his thoughts on his work with Crown Royal. He followed that up by talking about his time in the NBA, players he admired growing up, and what he thought of today's players.
Next he opened the floor for our questions. Just like the kid in school who wants to answer all of the teacher's questions I raised my hand to ask the good doctor the first question. I wanted to get his take on the evolution of the league.
He answered my question with great insight. He feels that teams need to start looking to be stronger on the defensive side of things. From his answer I could tell he is still a student of the game. He then answered a few other questions. Dr. J is a classy guy to say the least. Our time with Dr. J ended by him giving us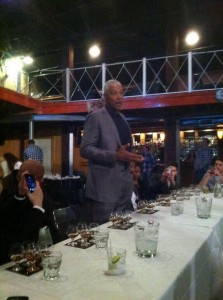 a gift! Yeah, you read that correctly. He gave us each some Dr. J flex fit hats. Just like my time with James, Wade, and Kyrie, this will be one of my favorite memories from that weekend.
After that I would be very content with calling it night, but that is not how the fine folks at Crown Royal work. They made sure our experience was a true "Reign On" weekend from start to finish. We met for dinner at St. Marie Brasserie. There we had a very scrumptious dinner. At St. Marie Brasserie the master bartender created cocktails with Crown Royal that was influenced by the city of New Orleans. We finished dinner with a tasty dessert and went to the Metropolitan for the Kevin Hart party.
At the Metropolitan we all gathered at the Crown Royal section of the club. We had a great time talking about our time in New Orleans. During the night the guest DJ came up to the booth. It was none other than Biz Markie. This was another amazing part of the weekend. I am a big fan of Biz and he was cool to chat for a bit and even take a picture with me.
On Sunday I checked out the French Quarter for a bit and picked up some things for my wife and my daughters. I even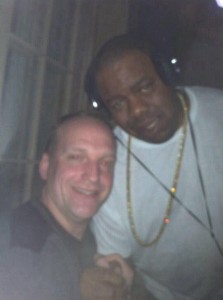 tried the world famous beignets from Café du Monde. For those at home wondering, yes they did live up to the hype.
Later that night it was finally here! GAME TIME. The Crown Royal crew and I went to the NBA All-Star game. Who knew a concert would break out right before the game? Pharrell opened up the night by bringing some of his closest friends like Nelly, Diddy, and Busta Rhymes on stage with him. As he was performing the Eastern and Western Conference players came out onto the court.
Once Pharrell was done performing it was time for tip off. The West took an early lead and looked to steal the show as high flyer Blake Griffin from the Los Angeles Clippers kept on attacking the rim with some ridiculous alley-oops. In the end though the Eastern Conference got the victory. Kyrie Irving was named the MVP.
The whirlwind that was the NBA All-Star weekend had come to an end. It was an amazing experience and one that I will never forget. From talking with NBA legends to learning about whisky, Crown Royal produced the ultimate sports fan experience. So to the fantastic people at Diageo, Taylor, and Crown Royal I want to thank you for an unbelievable time.
Crown Royal raised the bar on this promotion. Since they do that for their whisky I guess it is only natural for them to excel in anything they touch! I can truly say that I was able to Reign On for the 2014 NBA All-Star weekend!
For Crown Royal, to Reign On is to win. With that said please enjoy Crown Royal responsibly this NBA season.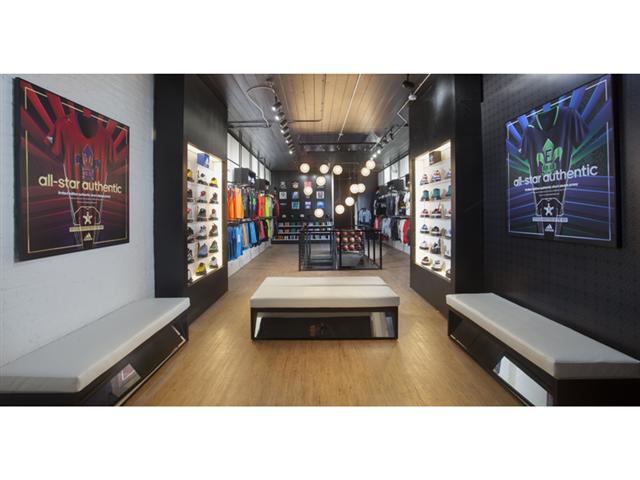 This week while I was in New Orleans for the NBA All-Star game I made it a point to check out the adidas store located in the French Quarter. When I entered the store you could see the New Orleans influence interwoven with the fresh adidas NBA gear. From official NBA apparel to the jazz themed decorations the store got folks ready for All-Star weekend in New Orleans.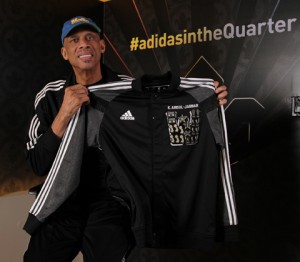 Besides having a state of the art facility during All-Star weekend, adidas had made sure to bring the A-Game with the appearances of current and former athletes and a sick lineup of entertainers. adidas rolled out the red carpet for Kareem Abdul-Jabbar, Dikembe Mutombo,  Dwight Howard, Damian Lillard, John Wall, and Joakim Noah, as well as Harrison Barnes, Steven Adams, Tim Hardaway Jr. and hip-hop artist 2 Chainz.
The store was full of official adidas NBA All-Star merchandise. I saw sick jerseys, men's and women's tee shirts, jackets, (The East and West jackets that were in black with an "E" or "W" were money.) headwear and other great apparel and accessories. If you missed out on checking out the store this weekend, well you are in luck. The store will remain open to fans through Feb. 23.
Not only did I go to the store in the French Quarter I was able to go right next door and check out the adidas suite. There I was able to go home with the adidas Top Ten. Talk about going old school, man these shows are sick. The Top Ten harks back to the '70s and '80s. This one-to-one reissue of the men's shoe stays true to the details, in a full grain leather upper with a suede toe guard, contrast 3-Stripes and perforated details, on top of a grippy rubber outsole. Sneakerheads out there know this is a must for their collection. I was able to score the red colorway and some All-Star gear.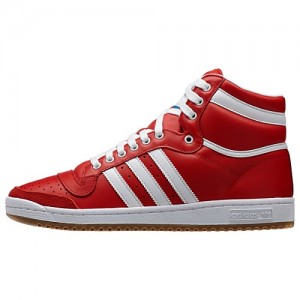 adidas did mix business with pleasure when they were putting on spectacular shows in New Orleans. There was an adidas in the Quarter party at House of Blues in Saturday night with a packed house featuring 2 Chainz, Snoop Dogg, Pusha T, YG, DJ Mustard and a special appearance by NBA All-Star and Sprite Slam Dunk champion John Wall of the Washington Wizards.
2 Chainz celebrated the release of his adidas Originals Top Ten Hi "2 Good to be T.R.U." this weekend and fans were invited to attend the Blues party through a special adidas Originals giveaway at the adidas in the Quarter store.
In my opinion adidas did the NBA proud. They had innovative gear and kicks for those who crave the new school look. For those who love taking it back to the old school adidas didn't disappoint either. Shoes like the Top Ten and Kareem's shoe "The Blueprint" paid homage to the past. For a company that looks to remember the legends from the NBA's past and give love and support to the current and future stars they gave an MVP style performance for All-Star weekend.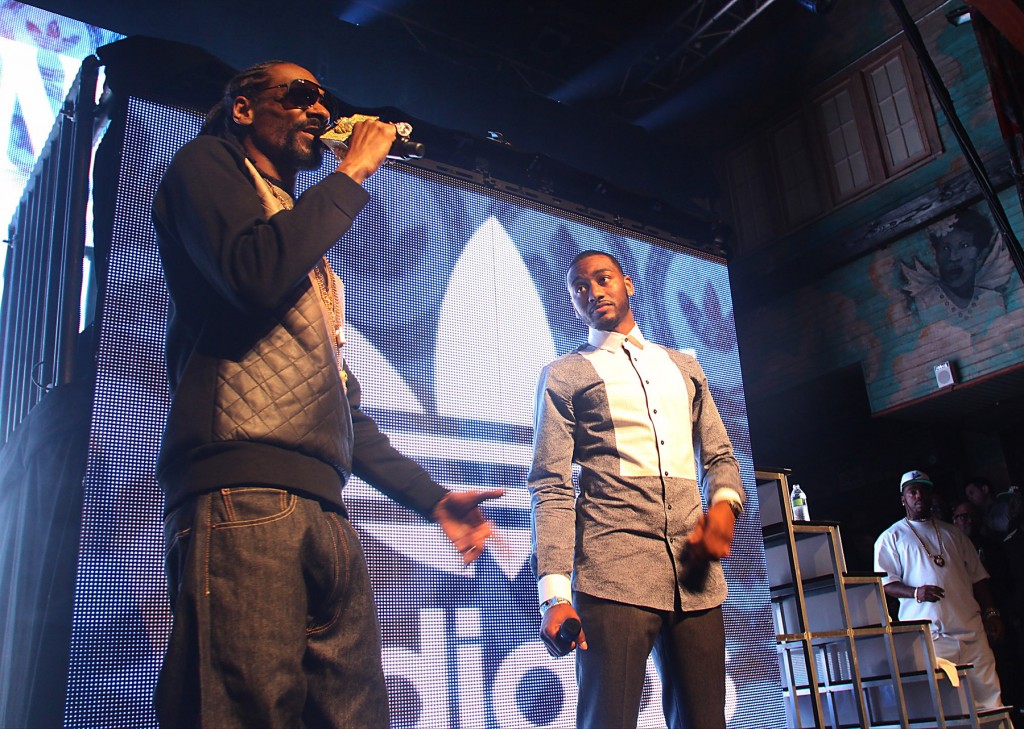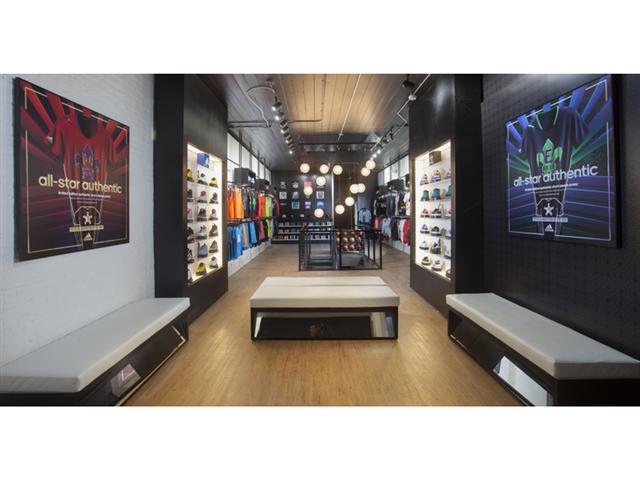 adidas, the official on-court apparel provider for the National Basketball Association (NBA), today announces the launch of adidas in the Quarter, an exclusive retail store and experience for fans to celebrate NBA All-Star in New Orleans.
Featuring the full assortment of official adidas NBA All-Star merchandise, the 2,400-square-foot adidas in the Quarter store will offer jerseys, men's and women's tee shirts, jackets, headwear and other apparel and accessory offerings. It will also offer exclusive, limited edition footwear from adidas Originals and adidas Basketball. The store opens today and will remain open to fans through Feb. 23 with extended hours during NBA All-Star weekend.
Beginning Thursday, Feb. 13, the destination in the historic French Quarter will give fans a once-in-a-lifetime opportunity to meet adidas athletes and entertainers through a multitude of events, product launches, concerts, in-store appearances and more. The line-up includes NBA legends Kareem Abdul-Jabbar and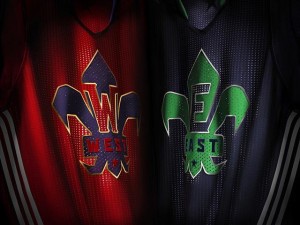 Dikembe Mutombo, NBA All-Stars Dwight Howard, Damian Lillard, John Wall, and Joakim Noah, as well as Harrison Barnes, Steven Adams, Tim Hardaway Jr. and hip-hop artist 2 Chainz.
adidas in the Quarter is located at 321 Chartres St., New Orleans, La., 70130.
Fans across the globe can follow the events online and participate in exclusive opportunities through Twitter, Facebook and Instagram with #adidasintheQuarter, or text "adidas" to 43902 to subscribe to notifications.