Posts tagged
Mountain Dew Kickstart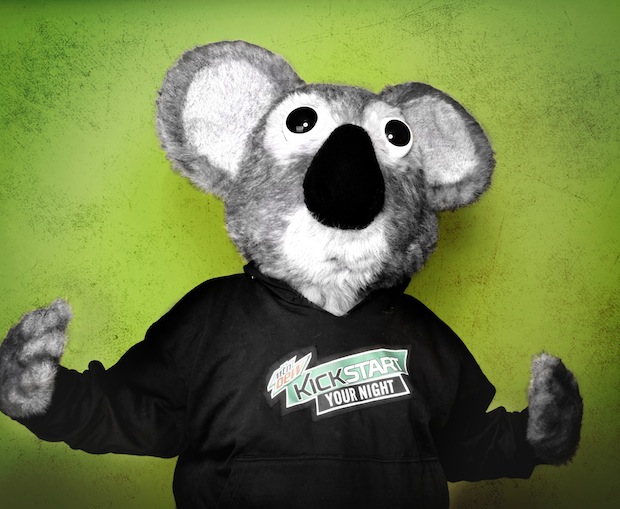 I remember some nights during my college years where my roommates and I would just sit on the couch. We were waiting for something to kick start the night. It was almost like a delivery guy was going to bring the party to us. How cool would that have been? Well today, college kids can rejoice as Mountain Dew announced that Kicks the Koala is making house calls to rescue you from the lame and open you to the awesome.
That's right, in the know college students will have a chance to have a human-sized koala named Kicks and his Hype Crew kick start their night simply by sending a tweet to the Mountain Dew Twitter handle – @mtn_dew – using the #GimmeKicks hashtag within the Tweet. Why? Because, who doesn't want to hang with a 6-foot, party-rocking Koala?  Please see images of Kicks being Kicks below.
Winners will be selected and notified via direct message immediately upon selection and Kicks, the most interesting human-sized Koala in the world, will arrive shortly – supplies in hand to kick start the night.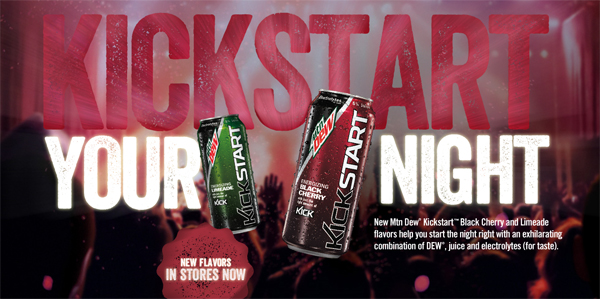 Mountain Dew Kickstart took mornings by storm in 2013. Now, DEW Nation can get ready for the night with a pair of new refreshing and bold Mtn Dew Kickstart flavors developed for nighttime consumption.
Mtn Dew Kickstart Black Cherry and Mtn Dew Kickstart Limeade fuse the great taste of Mountain Dew with five percent real fruit juice, plus electrolytes for taste. With only 80 calories per 16 oz. can and just the right amount of kick, Mtn Dew Kickstart is the ideal beverage to get you ready for whatever the night will bring.
"Mtn Dew Kickstart Black Cherry and Mtn Dew Kickstart Limeade give you just the right amount of kick to get you ready for anything the night brings your way," said Greg Lyons, Vice President of Marketing at Mountain Dew. "Whether it's an epic road trip, a winner-take-all gaming tourney or a standing-room-only concert, Mtn Dew Kickstart packs 16 ounces of energizing refreshment so you and your buddies can start the night right."
Mtn Dew Kickstart Black Cherry and Mtn Dew Kickstart Limeade drop in retail stores nationwide today.  Meanwhile, five Mtn Dew Kickstart "Night Machines" are hitting the street across the U.S. to give fans an opportunity to taste the new flavors.
Visit mtndewkickstart.com or Facebook.com/MountainDew for more information and join the conversation at @mtn_dew #KickstartYourNight.