Posts tagged
MADtv

On April 9th FX will premiere a new show called "The Comedians." The show stars Billy Crystal, who plays a comedy legend who is reluctantly paired with Josh Gad, an edgier up-and-coming star, in an unfiltered, behind-the-scenes look at a fictional late night sketch comedy show where egos and generations collide.
Stephnie Weir stars as "Kristen Laybourne," the anxiety-ridden producer behind The Billy & Josh Show who frequently finds herself caught in the middle of Billy and Josh's arguments, Matt Oberg stars as "Mitch Reed," the show's head writer, and Megan Ferguson stars as "Esme McCauley," a no-nonsense production assistant. Together they spend most of their time managing the egos of their two stars and the generational divide that keeps them from ever fully seeing eye-to-eye.
Weir was born and raised in Odessa, Texas, but started up her career after moving to Chicago and performing on stage in the city with theater companies that include The Second City Main Stage, The Goodman Theatre and ImprovOlympic.
Many of Weir's fans know her from "MADTV" where she had a wide range of colorful characters she played on the hit Emmy® Award-winning show. Some of her additional television credits include "Big Day," "Modern Family," "Weeds" and the animated series "King of the Hill."
Weir also did some writing for shows such as "Wright vs Wrong" and "Counter Culture" for ABC. She has also served as a Consulting Producer on FOX's "Raising Hope" and CBS' "The Millers."
Click here to check out my interview with Stephnie about "The Comedian," her time on "MADTV," and more.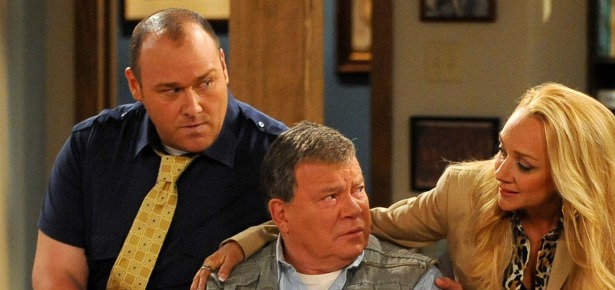 Canadian-born actor Will Sasso is a funny, funny dude. He stood out as one of the most talented cast members on MADtv for five solid seasons. Sasso's knack for spot-on impressions and wacky physical comedy made him a fan favorite. Sasso has been acting since 1991, and in addition to his MADtv work, he's also appeared in numerous films and sitcoms over the years.
Sasso's newest effort, $#*! My Dad Says, is a CBS comedy that's based on Justin Halpert's ultra-entertaining Twitter feed, @shitmydadsays. Justin's Twitter profile  explains it all: "I'm 29. I live with my 74-year-old dad. He is awesome. I just write down shit that he says." Justin's profile has over 1.7 million followers and has lead to a blog, a book and now this new sitcom starring William Shatner, Sasso and MADtv vet Nicole Sullivan.
I had a chance to speak with Sasso and we discussed his new show, working with Shatner, reuniting with Sullivan, Katherine Heigl, Jason Priestly and a bunch of other fun topics like his favorite Canadians of all time.
CS: So tell me about your role on the new show Shat My Dad Says or Shit … what do you call it anyway?
WS: It's called Bleep My Dad Says, if you seen the way it's written it's got $#*! My Dad Says and we're producing that bleep, so yeah it's going really well (laughs) what do you want to know?
CS: Is Justin Halpert involved in the day to day writing of the show or not so much?
WS: Yeah he's one of the executive producers and he's written – I think him and his writing partner Patrick have written I think 3 of the first 8 episodes. Justin is also one of our bosses so he's very involved in every single script, he's one of the executive producers along with his writing partner Patrick Schumaker and of course Max Mutchnick and David Kohan are the executive producers who pre-dated Will and Grace so it's all four of those guys.
CS: That's cool. So what do you think of the whole Twitter-inspired TV / TV-imitating-web-imitating-life situation?
WS: I think it's really interesting. For years writers have based their sitcoms and 1 hour dramas – all sorts of stuff on TV actually – on their lives. This is the first time where an audience can actually go back and track it.
CS: Yeah (Laughs).
WS: What has happened and what a writer cares to put in and leave out. I mean you can actually check in with us, if you're been following the Twitter feed you can see how accurate Ed's barbs are to Justin's real father Sam's barbs and that sort of thing. So I think that really makes it interesting, it really makes it an interesting way to conceive and execute a television show. Sam is still a wealth of material obviously for his son Justin. So yeah that's definitely coming through in the show and I think it's interesting from an audience standpoint of what you're able to do, you're able to actually go back and see it.
CS: So are you happy to be working with Nicole Sullivan again?
WS: Yeah. Oh yeah, of course yeah I mean that's kind of a dream come true there because we're pals and we've work together on MadTV starting over a decade ago so yeah that's kind of … you know it's familiar in a really great way and it's just unbelievable. We really do know each other's rhythms and what the other may do at this point or that point and it's a lot of fun, it's a real treat. I kind of can't believe it sometimes, I kind of pinch myself that I get to do that.
CS: That's cool. So is William Shatner totally nuts?
WS: You mean totally nuts?
CS: Yeah.
WS: Not totally nuts.
CS: Just a little bit off? (laughs)
WS: Barely actually. You know, it's funny, I mean here's a guy that's been in the business for over 50 years and you'd expect that someone like that would either be maybe not at all interested in the day to day happenings of a show – and 50 years is a very long time obviously, he's been doing it longer than most of the people in the show have been alive, so you'd expect that, but Bill is a real actor through and through. It's interesting for a guy like that, but he's literally about every scene and every line and every word and making sure it's good and making sure that relationships play and are three-dimensional and that it's really funny. He was already one of my heroes, but now it's like he might be my overall showbiz hero. When I'm his age I want to be doing that.
CS: Okay so you do a lot of awesome impressions; you've got Steven Segal, Tony Soprano, Randy Newman, Kenny Rodgers, De Niro, even Shatner. I recently saw this Kevin Pollack standup set where he talks about meeting the people he impersonates. Do you have any funny stories about meeting the people you've made fun of in the past? Or specifically Shatner, I guess, because you guys are working together now.
WS: You know it's funny, Bill has never seen my impression of him.