Posts tagged
Jeff Burton
Last night's Daytona 500 likely did more to further interest in the sport of NASCAR than any race that came before. This race had it all – early controversy, chippy driving, a pyrotechnic explosion of jet fuel, a two hour delay that featured miraculous track repair work, an explosion of social media interest and if all that wasn't enough, a little bit of free, overtime NASCAR.
What a spectacle. What a way to recruit new fans to the sport. Pushing the race to a prime time platform was a stroke of genius. During the red flag, the anticipation that built up for those last 40 laps was palatable.
I really do see this as the moment when NASCAR crossed over to the mainstream sports consciousness. Listening to sports talk radio this morning, I heard Jim Rome say, "Damnit, we're talkin' NASCAR whether you like it or not."
This isn't to say that NASCAR didn't have a massive following before last night. Of course it did. But on a night when there was no basketball, no football, no baseball, no other major sport competing for eyeballs, the wild, unpredictable race in Daytona won over new NASCAR fans in droves.
Fox's rain-delayed broadcast of the Daytona 500 brought in 14.2 million viewers. The network finished ahead on Monday night, drawing in viewers away from regular programming on NBC, CBS, and ABC.
After Juan Pablo Montoya crashed into jet dryer containing 200 gallons of jet fuel, the race was delayed for a full two hours as NASCAR cleanup crews used Tide detergent and a bunch of other stuff to fix the damaged track. During this red flag pause, drivers started getting out of their cars and hanging out.
One driver, Brad Keselowski, started tweeting like crazy. He actually took a photo of the Montoya crash from his car while driving on the track. He tweeted the photo, became a topic of conversation, and used the red flag delay to generate over 100,000 new followers on Twitter. Keselowski ended up crashing out after the restart, but he sure did a lot to promote himself and the sport while other NASCAR drivers were standing around waiting to get back into the action.
Jeff Burton, our driver in the Daytona 500 Blogger Challenge ran well the whole night. He led for 24 laps and finished in fifth place. We'll have some JB autographed merchandise to give away soon, so make sure you keep an eye on that for your chance to win.
Matt Kenseth beat out Dale Earnhardt Jr and fellow Roush Fenway teammate Greg Biffle to win his second Daytona 500. The race ended with a green and white checked flag and two extra overtime laps. It was a fitting end to a crazy night of racing.
Congrats to Kenseth, Roush Fenway, Valvoline and The Smoking Jacket, who had Kenseth in the Daytona 500 Blogger Challenge. Make sure to tune in to Fox next week as the NASCAR season rolls on at the Phoenix International Raceway.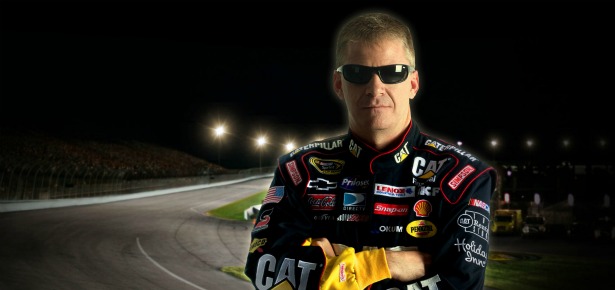 I went to my first NASCAR race last year and I totally got into the sport. I mean these guys are in pressure cooker situations traveling at speeds close to 200 MPH for hours at a time. The amount of preparation that goes into each race is crazy. And the communication that takes place on race day between drivers, crew chiefs and pit crews is something that I never really understood. It's just fun to watch and even more impressive to see in person.
The NASCAR season kicks off this Sunday, Feb. 26 at 1pm with the Daytona 500 on FOX and we're happy to be partnering up with NASCAR to celebrate the launch of the new season. MANjr is participating in the Daytona 500 Blogger Challenge this year. Basically, a bunch of blogs are getting assigned top drivers who will compete in the Daytona 500 this weekend. The driver with the best finish will deliver an all expense paid trip to the Sprint All Star Race in Charlotte, N.C. on May 19 for the participating blog and a lucky reader!
The drivers for the Daytona 500 Blogger Challenge were chosen at random and we got the Mayor, aka JB, aka Jeff Burton! JB's appeared in 619 races during a NASCAR Sprint Cup Series career that has spanned almost 20 years. The 44 year old driver has collected $77 million over his NASCAR career.
We had a good chat with JB last week. We talked about his expectations for the 2012 season, his new crew chief, what he thinks of the new two-car tandem racing rule changes, NASCAR and social media, Danica Patrick and a whole lot more. Here's the interview:
CS: So as a NASCAR driver how do you turn off that killer racing instinct when you're just driving around town, like going to the grocery store or taking your family out to dinner?
JB: (laughs) You know, driving a racecar is no different from driving a street car. The competition just isn't there. The point of driving a racecar isn't just about going fast. It's about competition, and you don't necessarily have somebody pushing you on the highway. Every now and again you do, you just have to ignore them.
CS: But do you feel a constant need to pass people on the freeway?
JB: I just stay the hell away from them. I've learned that most people don't know how to drive.
CS: (Laughs)
JB: I'm much happier when I stay away from them.
CS: I read that you were pissed off about last year's performance. It was your worst since '95. How is that motivating you leading into this season?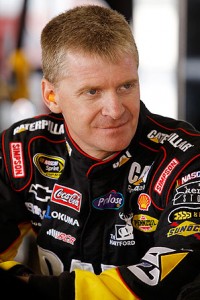 JB: Well obviously you put high standards for yourself and your team and when you don't meet those standards, it's very disappointing. And I think that in some cases people lay down a little bit. But I've always done better after real bad years and I think that it does, it does make you mad. It puts you in a position where you want to prove yourself not necessarily to other people but to yourself. And at the end of the day, you know motivation comes more from within than it does from outside. So you want to prove to yourself that you can do it. You want to have the best for yourself and your team. Those things are high motivators and I think that sometimes difficult years force change. In this case, we had a really bad year last year, but that put us in a position to activate some changes. It's going to be better for us so I view it as kind of a stepping stone. Yeah, we had to go backwards to go forward, but I think that's what we've done.
CS: Well you did finish strong last season. You had four top 10 finishes in the final five races. How does that carry over year to year?
JB: Well you know it's always nice to finish strong because you feel like you've built on something and you had something to work off of. Last year we always put ourselves in great position to win races, and we did start having better finishes. But we still weren't necessarily the best enough to win so we did change some stuff as the year went on and we did do a lot better, but we never were as good as we needed to be. So it was good to finish strong but it wasn't strong enough to say "okay now we've got it figured out," it was strong enough to say "okay we learned how not to do things." But I feel like we got a grasp of what we needed to do to go out and be successful on a consistent basis. So you know it's good, but it didn't change the way it was.
CS: Now you mentioned the changes from last season. One big change is your new crew chief. Are you excited to work with Drew Blickensderfer again?
JB: Yeah, I'm really excited about that. I think that that's just a big bonus for us. He's got a tremendous amount of talent. He's got a lot of drive, a lot of heart. He's good with our people, very well respected. You know it was time for some new energy around here, time to bring in a new thought process. You know I worked with him before, but it was a long time ago. The timing was right, and we're damn lucky to get him.
CS: So what are the qualities that every good crew chief must possess?
JB: Well it's different for every team. You know there is no template that says "every crew chief is this, every crew chief is that," you know. It varies from team to team, organization to organization. For us, I believe the crew chief is someone that can use all the tools around him, use the assets that the company has, add to those assets, be part of a distributing group that makes the overall company better, which obviously makes your individual team better. You can't have the personality that it's all about me, it's all about me. It's got to be about the whole company doing well. Honestly, we want 31 to be the best at RCR, but how we're going about doing that is all working really really well together and then just doing a better job with the same assets. And if you don't have that understanding and appreciation in today's world I don't think you can be successful. You've got to find a way to work with other teammates, motivate people, organize, delegate. It's not a game anymore with the crew chief making all the decisions by himself. It's truly a lot of people making decisions. It's not just the crew chief.