Posts tagged
Irish Spring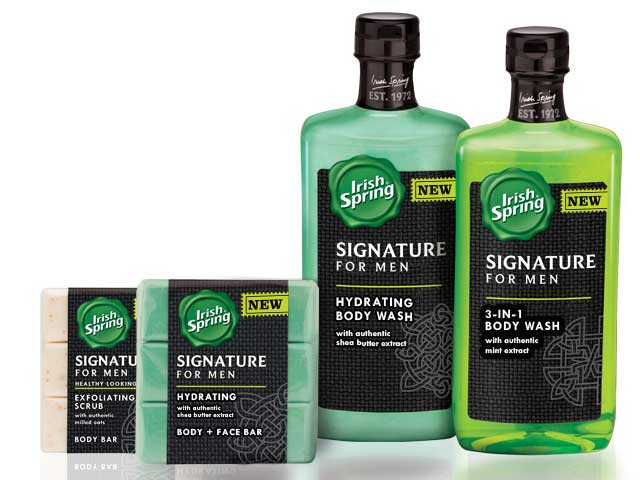 Committed to keeping men feeling fresh, clean and confident, Irish Spring® introduces Irish Spring Signature for Men — a new line of body washes and bar soaps specially-crafted to combine the fresh, distinctive fragrances of Irish Spring® with authentic ingredients to help guys go out and make their mark.
A signature says a lot about a guy, from their personality to their style.  To reinforce this Irish Spring®, in partnership with an expert graphologist at the Graphology Consulting Group, created an interactive tool to analyze and showcase guys' personalities based on traits and flares in their signatures. Curious lads can give it a try at IrishSpring.com and enter for a chance to win a buddy trip to see their favorite football player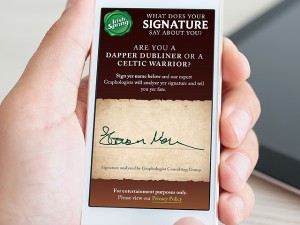 s get drafted in Chicago.
"Irish Spring® has over forty years of heritage designing products specifically for men," says Bill Van De Graaf, Vice President and General Manager, U.S. Personal Care, Colgate-Palmolive. "Irish Spring® Signature™ for Men combines the notable scents of Irish Spring® with other product benefits, including exfoliating and moisturizing formulas."
The new product line includes the Irish Spring® Signature™ for Men Hydrating Body Wash, formulated with authentic shea butter extract and a moisturizing technology2 that effectively delivers hydration to the skin after just one use. The line also features Irish Spring® Signature™ for Men Hydrating Bar Soap, 3-IN-1 Body Wash and Exfoliating Scrub Bar Soap.
To learn more about the Irish Spring® Signature™ for Men products and to uncover what your signature says about you, visit IrishSpring.com and share your experience with your mates using hashtag #IrishSpringSignature.
Here is what my signature said about me. What will yours say about you?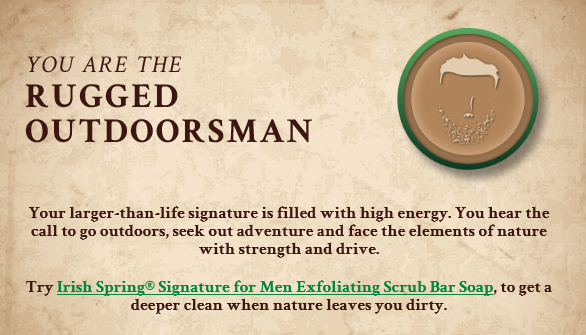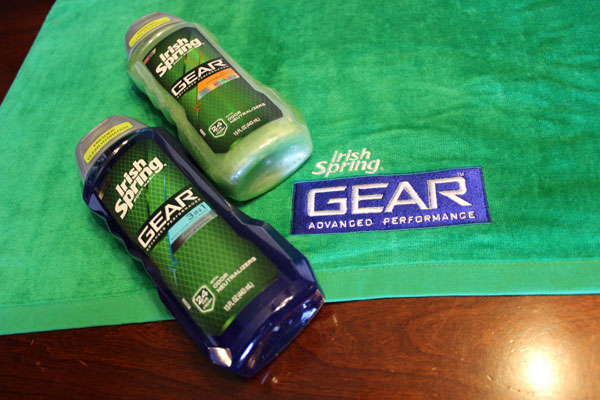 After your pub crawl this St. Patrick's Day you might be starting to get a little ripe. You can change your awful odor with the luck of the Irish. There is some new GEAR from Irish Spring.
For over forty years, Irish Spring has kept men fresh and clean as a whistle.  Now, Irish Spring introduces Irish Spring GEAR a new line of shower products engineered for advanced performance to help men stay cleaner and fresher longer than ever before.
Irish Spring GEAR body wash and bar soap contains a unique, clinically-proven odor neutralizing technology that provides 24 hours of long-lasting freshness.  Unlike most brands that use fragrances to mask the odor, Irish Spring GEAR with Odor Neutralizing Technology actually neutralizes and helps eliminate odor at the source to provide a clean, long-lasting freshness.
Plus we added an old school commercial from Irish Spring. You are welcome.

Keeping with the spirit of St. Patrick's Day, we're going to make sure that your March includes some total body freshness, Irish styl Remember those sweet Irish Spring commercials from back in the day? Everyone looked so happy, there so much whistling and who could forget the obligatory knifing of the green bar of soap?
Well now it's a whole lot easier to get that fresh and clean as whistle Irish Spring experience. Starting this month, Irish Spring body wash will be available everywhere. Irish Spring® Clear & Fresh Skin™ Body Wash is made just for dudes. It contains 2% Salicylic Acid to help guys prevent break outs and that strong, distinctive Irish Spring scent is all part of the package. You could be smelling fresh and clean as a whistle for up to 8 hours, man! And you don't have to bring a knife into the shower, either!