Posts tagged
Indianapolis Motor Speedway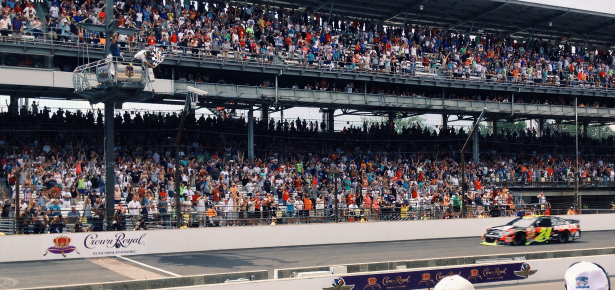 I'll admit that I'm a city boy. Being born in Massachusetts and living in Los Angeles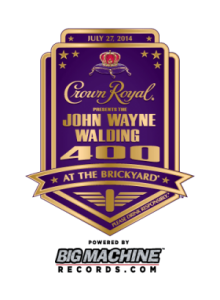 will do that to you. I'd go so far as to call myself a Yankee but I'm a Red Sox fan and can't stomach it. In the northeast you root for professional team sports. You speak quickly and directly and regularly offend others. Distance is measured in minutes, time is currency and watching NASCAR and listening to country music is something that other people do. I do not say things like "y'all", "race day" or "we have to get to the start line before they wave the green flag".
At least I didn't before this week.
Indianapolis isn't exactly Arkansas but when NASCAR comes to town you'd never know it. Biscuits, gravy and twang for breakfast, smoked meat and greens for lunch. Country music and freedom rock ride the breeze and shirtless men with denim cutoffs are everywhere you look. Had she been there I would have had to restrain my beautiful wife from applying sunscreen to strangers.
I'm not joking.
Yet when the news came down that MANjr founder Chris Stout was unable to attend his 3rd consecutive Crown Royal 400 I leapt at the chance. If you're even a casual follower of the lifestyle blogosphere you know that this annual event is one of the biggest invites of the year. Cryptic messages and hashtags bounce around twitter for months prior to the race. A #ReignOn here, a #teampurplecup there. Pictures and videos from trackside bubble up from some unlikely sources as dozens of bloggers descend upon the Indy Motor Speedway with fully credentialed hot passes hanging from their necks.
The purpose of this trip is to highlight Crown Royal's sponsorship of the Brickyard 400. More importantly, Crown Royal's "Your Hero's Name Here" contest and winners. Every year Crown Royal holds a nationwide search for an everyday hero in someone's life. They then name the Brickyard 400 after this person and help them tell their story to the world. This year's winner was a man named John Wayne Walding. His story is one that deserves to be told.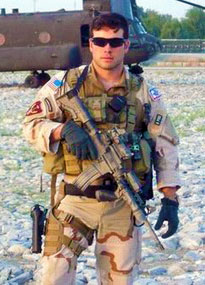 John was a Green Beret. He fought in Iraq and then returned to combat duty in Afghanistan for another campaign. His medal chest holds a Silver Star, a Bronze Star and a Purple Heart. Should be enough, right? Not quite. While being a total bad ass in Shok Valley, Afghanistan, John took a snipers bullet to his leg with such force that it severed his leg below the knee.
Damn.
John proceeded to tie his severed leg to his thigh and return fire for over 4 hours before he and his unit were extracted.
You got that right. Instead of laying on the ground and clutching at the space where his leg once was John tied his leg to his thigh and continued firing at the enemy for over 4 hours.
John's heroism doesn't stop there. Upon rescue and rehabilitation, John took his prosthetic leg and graduated from Special Forces Sniper School. He hand cycled the Boston Marathon in under two hours.
Did I mention he was born on the 4th of July?
John proceeded to start a rifle manufacturing company in Texas that hires wounded veterans and become an advocate for veterans with PTSD.
After seeing this man in action I came away impressed by more than a list of his achievements. John is a funny and generous man. His charisma and authenticity was on full display and he carried the day with grace and humility. A fine and worthy choice by Crown Royal as a hero among us.
The Race? As in the annual scavenger hunt and race I had been invited to attend? Well #TeamHailey was pretty stacked. We won the first challenge on the strength of Z Smith's extensive NASCAR knowledge and finished second in the next thanks to DJ Foothill and Victor Macias leading us on a half mile jog back to the cart. So much for sitting behind a keyboard in safety, this years Capture the Crown was full contact. Don't buy it? Ask Katherine Fotinos about her run in with a moving golf cart. By the time we were eliminated I was grateful for the rest.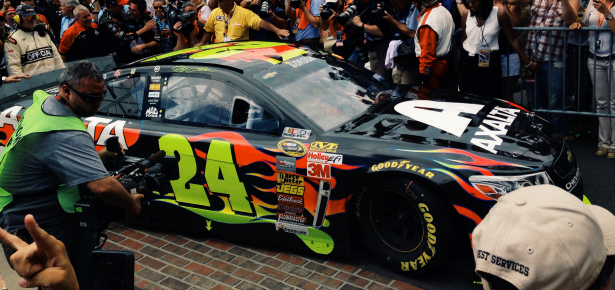 Ohhh… that race. Right. Well now that I'm this big time NASCAR reporter I can tell you that Jeff Gordon won for the fifth time at the Brickyard, overtaking Hendrick Motorsports teammate Kasey Kahne on a restart with 17 laps to go. The visibly pumped Gordon later said that winning the race was "as good as it gets". He lingered over the traditional kiss of the brick finish line with his family and seemed to relish the moment. The day itself was blessed by weather as violent thunderstorms spared the region. The sun even poked it's head out for a spell.
A successful trip to say the least. Good times, great people and all the Crown Royal I could drink.
Responsibly of course.
Got a hero of your own to nominate? Keep your eye on MANjr for information on next years "Your Hero's Name Here" contest.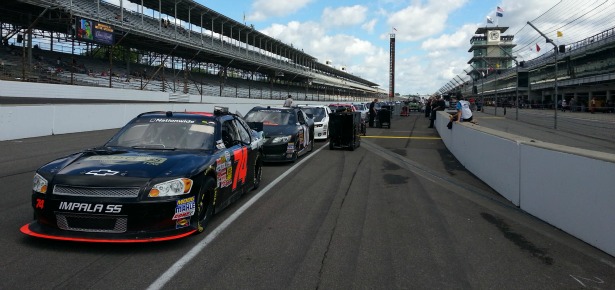 Okay, okay, so I wasn't part of the team that won this year's Capture the Crown event in Indy, but hey, you can't win 'em all, right? It was an epic scavenger hunt and a valiant effort from my squad, but we didn't capture the ultimate prize – tickets to the Super Bowl (I know, I know – crazy huh?). So no repeat this year, but I did get to enjoy an amazing weekend of purple cup parties with friends, heroes, country music stars and bow season enthusiasts.
Say Samuel Deeds 400 at the Brickyard…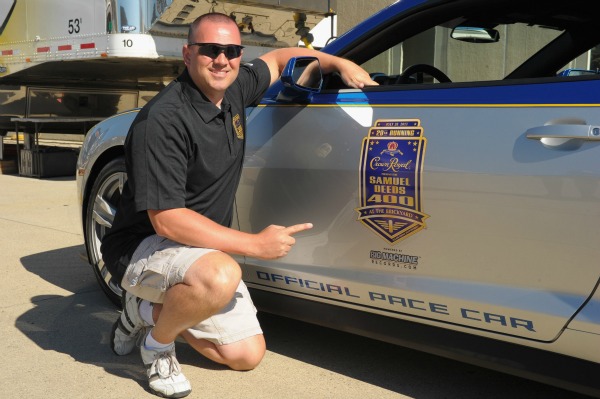 This year's NASCAR race at the Indianapolis Motor Speedway was another mouthful of a title, but for very good reason. Crown Royal presents the Samuel Deeds 400 at the Brickyard Powered by BigMachineRecords.com was the full official title of this year's Brickyard 400. Samuel Deeds was awarded the naming rights to the race after beating out four other finalists in Crown Royal's "Your Hero's Name Here" program.
We wrote a bit about Deeds before the race, but the dude was truly taking it all in this weekend. A diehard NASCAR fan, Deeds must've loved every minute of dominating the Indy scene. Hats off to him for his much deserved honor.
Art Makes #BowSeason Happen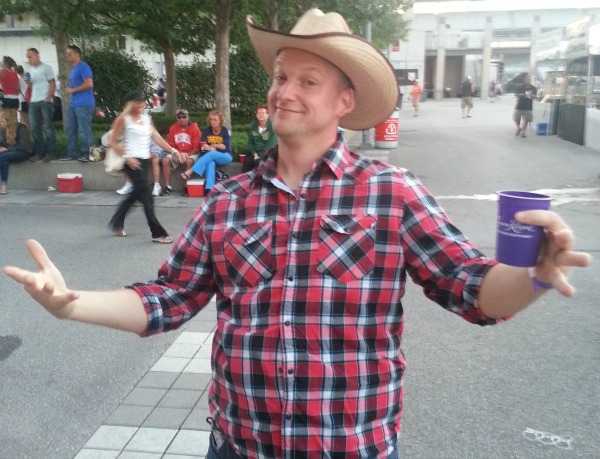 Frequent MANjr contributor, everyday angel and all-around badass Art Eddy III was not only a member of the winning Capture the Crown team (hey, I make a super good plus-one, bro!), he was also responsible for making #BowSeason a trending topic on most major social media channels. After speaking to some local NASCAR fans during the Justin Moore concert that took place at the track on Saturday night, Art discovered that hunting with a bow and arrow is not only a thing, it's a way of life, really. So Art proceeded to toss around the term Bow Season fairly hard for the rest of the evening. And man, #BowSeason took off. It came to encompass so much more than deer huntin' the old fashioned way. It became a rally cry. It became a legit hashtag, a lyric placement, a photo pose and oh yes, a dance move (hat tip to Tracy Pendergast for that).
You're Welcome, Ryan Newman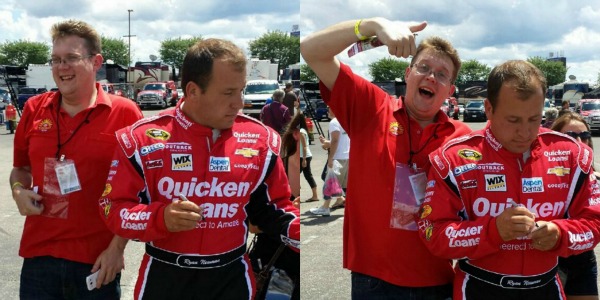 One of our scavenger hunt tasks was to secure an autograph from a NASCAR driver. So I saw a driver dressed in red walking with some serious swagger and I approached him with my hot pass in hand and requested a signature. What happened next was something to be remembered, as you can see from this photo, the meeting was, in a word, special.
I clearly had some sort of impact on his racing performance, because it just so happens that shortly after meeting me, Ryan Newman set a new track record at the Indianapolis Motor Speedway. And then he, you know, went on to win the race the next day. Coincidence or the result of positive Stout juju? You decide.
Justin Moore Wins Me Over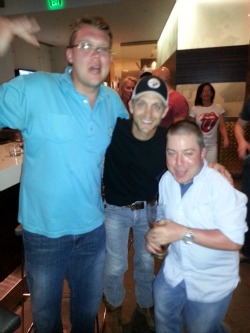 I love music, but I'm not really a country fan. It just happened that way. Some people are a little bit country, some are a little bit rock and roll, and some people lean soul, funk and disco. It's just how things shake out.
Anyway, when Justin Moore was performing this weekend, something clicked. It wasn't necessarily the lyrics (I can't really relate to a song like, "Guns," for example), but the dude's a good performer. And his band mates were cool, too. I found myself transitioning from "I'm not sure if I'm going to be into this," to "this isn't so bad," to "oh damn, I'm actually singing along now," to "let me look this guy up on Spotify while I'm chilling at the airport." So yea, it was a pretty big swing for me musical-taste-wise.
And it didn't hurt that the guy was super cool and approachable as well. Saturday night he showed up at our hotel bar wearing a Pittsburgh Steelers hat on. That's all it took for me to buy him another Michelob.
Later that night I found myself talking to an older dude named Curt, a farmer and Chiefs fan from Missouri. Curt mentioned that he was a big Justin Moore fan. I said that's cool cause Justin was sitting right across from us at the bar. Curt objected. He said he had been to like six Justin Moore concerts and that wasn't Justin Moore. I said it's totally him and c'mon I'll introduce you. So I did. And Curt was super stoked about it and he got an autograph, a handshake and a big smile out of it. I saw him at the track the next day and his buddies knew all about the guy who introduced Curt to Justin Moore. Fun times!
Good People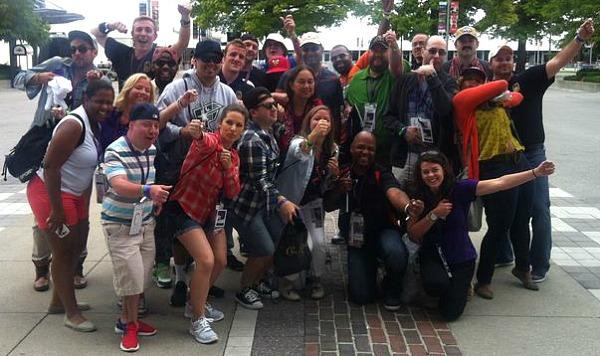 There were too many good people on this trip to list. I mean walking into a group like that after arriving late Friday night was just overwhelmingly awesome. My teammates were all cool. The competitors were cool. Just tons of good memories. I mean who the hell orders a salad at a Steak and Shake? Who knew about Deer Fest 2013? Or that country music could be tolerated to the point of enjoyment? Who knew I'd be the key to victory for Ryan Newman? And who knew that sipping Crown Royal responsibly for an entire weekend would make for such great times?
Okay, we probably all knew about that last bit. But seriously – sipping Crown and Coke for days is a really solid way to maintain a fun vibe. I highly/responsibly recommend it.
Thanks again to our friends at Crown for another memorable race weekend at the largest sports venue in the USA. Good company, flawless weather and a well-planned event made for another successful Capture the Crown experience. I look forward to redeeming myself next year and taking back that title!
If you want to support the Crown Royal Heroes program and get a free Justin Moore song in the process, visit CrownHeroesSong.com and score your free download of Moore's son "Heroes." Crown Royal donated $1 for every free download leading up to the race and presented a check for $10,000 to the Armed Forces Foundation. It's a good song so go grab it!