Posts tagged
Green Bay Packers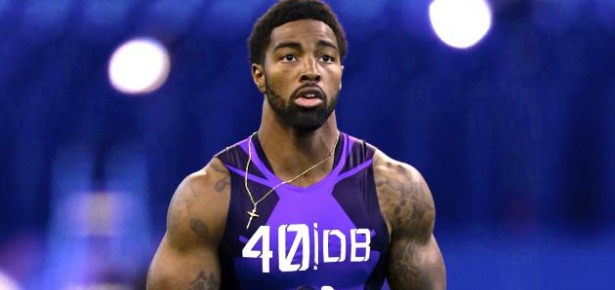 Exactly 256 players heard their names called during the seven rounds of the 2015 NFL Draft. One of those guys was University of Miami (Ohio) cornerback Quinten Rollins, an intriguing prospect that the Packers selected with the 62nd pick overall. Rollins played four years of basketball in college and finished second in school history with 214 career steals. After securing a fifth year of eligibility, Rollins turned his attention to football, a sport he hadn't played since high school.
The results were pretty impressive. Playing in just one season, Rollins racked up 72 tackles and seven interceptions in 12 games. That single season performance earned him MAC Defensive Player of the Year honors. He was invited to the Senior Bowl and kept things rolling, securing an interception in that game as well.
By all accounts, Rollins just knows how to get after it. He's the only basketball player in Miami history to register two 7-steal games. His ball-hawking skills are unquestioned. He was a turnover machine on the football field and the guy likes to tackle, too. He may not have years of experience under his belt, but the dude's a proven athlete who has shown that he can get results. I got a chance to chat with Rollins a couple weeks before the draft.
So what made Rollins go back to football?
"It was the right move," he said. "I thought about playing football out of high school. I was playing both basketball and football, but basketball is the path that I chose for education purposes. It was my first opportunity to get to college. My first scholarship offer my junior year. I always knew that I would get back into football. It was just a matter of when and where. I thought about it after my sophomore year, but it didn't happen. Then my senior year came around and I got an opportunity for a fifth year, and I just took a chance. I decided to sit down and meet with Coach Martin. I was in on a trial basis for spring ball. He gave me the opportunity to come out and earn a scholarship, and that's what I did."
I had read that Rollins considered playing basketball overseas, but ultimately, that idea didn't appeal to him.
"Well, I'm a father. I had already been away from my daughter, being away at college with a 24-7 demanding schedule as far as academics and athletics go. I just didn't want to go that far away from her. I felt like it would be better for me to stay over here in the US and get back into football. It was just a matter of when and where, and it just happened to work out perfect."
Rollins is working with Speed Stick on their #DefyTheDoubt campaign. The experience of going from a student athlete to a professional with corporate sponsors supporting you as you make the leap to the next level has got to be a trip, right?
"It's great," Rollins said. "I'm blessed that Speed Stick gave me the opportunity to share my journey up until this point. Hopefully it continues to get even better as I continue to grow as a person and as an athlete. It's definitely surreal to get opportunity to work with these guys like Speed Stick to get these types of endorsements. But at the end of the day, it still matters what you do and how you represent yourself as a person and as an athlete. I still have a lot of work to do, but it's definitely been a blessing that they've allowed me to share my story and my journey. Hopefully, like I said, it continues to keep getting better."
When tight ends like Tony Gonzalez, Jimmy Graham or Antonio Gates make plays in the NFL, there seems to be some sort of rule that an announcer must always reference the fact that they played basketball. Seriously, has Jimmy Graham ever caught a touchdown without an announcer mentioning the phrase "former basketball player?" It doesn't happen. It gets mentioned every single time the guy scores. And he's scored 51 touchdowns in five NFL seasons. This only seems to apply to offensive players though. I asked Rollins what skills he honed on the court that could make him a defensive difference-maker on the football field.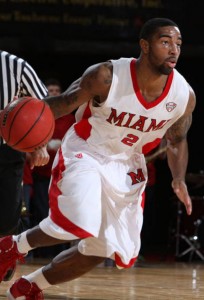 "Man-to-man defense in basketball," Rollins said. "That helps me tremendously in man-to-man coverage on the football field as far as my feet go. In basketball, it's all about your feet. Sliding and moving your feet. It's the same in football, but in the NFL you can't put your hands on a guy past five yards. So that's definitely been one of the most vital things. And then as far as end zone coverage and being point guard, you got to see the whole floor. That's allowed me, in end zone coverage, to open up and get back to my natural instincts of being a point guard and seeing everything that's going on and see the big picture. And anticipation. As a point guard, you got to always be a play ahead. It helps in football, too. I can anticipate things and just see it happen before it does happen. Also, having that next play mentality. As a point guard, you're going to make mistakes. You're going to have turnovers. You're going to have bad plays. But just like in football, you might get beat on a catch, but you got to have that next play mentality. You can't have your head down, because it's most likely going to come right back at you so you got to be prepared for it."
Some scouts have projected Rollins as a safety in the NFL. Does he have a position preference for the next level?
"I really don't care where I play at" he said, "whether it be nickel, outside, inside, back end safety. I'm just ready to get somewhere, learn the system and get going."
So why defense? Rollins played running back at Wilmington High School in Ohio. He had a chance to play running back in college as well, but Rollins chose defense because of the upside potential at the professional level.
"When I gave coach Martin my film," Rollins said, "he obviously saw me at running back in high school. He gave me the option, when we sat down and met, he said you can play offense or you can chose defense. After going over the pros and cons for each, I felt defense was going to be better, especially for longevity purposes. Running backs really don't play that long in the NFL, as opposed to corners. With my size and my athletic ability, I chose the more elite position. It's valued more. So I figured that was the best route for me to go."
Smart move, especially with his existing skill set. Big ballin' tight ends who have size, can get separation and handle the ball in the paint/endzone have certainly become a thing in the NFL. But this could be another trend worth watching. The Packers took Rollins in the second round this year, but last season they selected Baylor CB Demetri Goodson in the sixth. Goodson was also a point guard who didn't have a ton of football experience in college (he played basketball at Gonzaga). The emergence of highly athletic, ball-hawkish point guards in the secondary is worth monitoring. Especially when these top-flight athletes are making the conscience business decision to apply their skills at a premium position that tends to attract big money.
Basketball and football are obviously different. Sure, the similarities help a guy like Rollins, but he appreciates the differences as well.
"I love the way teams bond together, but that's what was different. With basketball, we were a very close team, but you look at the work that a football team puts in, it's totally different. Like how you can get a hundred guys all on the same page, working hard and everything. There's just something about that that's special," he said.
At the end of the day, Rollins just loves to make plays. And big plays can be a lot bigger on the football field than on the basketball court.
"In basketball, there's a lot of possessions. In football, the possessions are limited. So any time you get the opportunity to make a game-changing play to impact the game in a vital way," he said, "it's something special."
Talking with Rollins, it's clear that he loves football.
"Everything that comes with the game, I enjoy," Rollins said. "I actually didn't realize I missed it that much until I got back out there on the field again. I mean, there's nothing like Friday night lights, obviously, but Saturdays are special, too. And I'm looking forward to see what Sundays are like."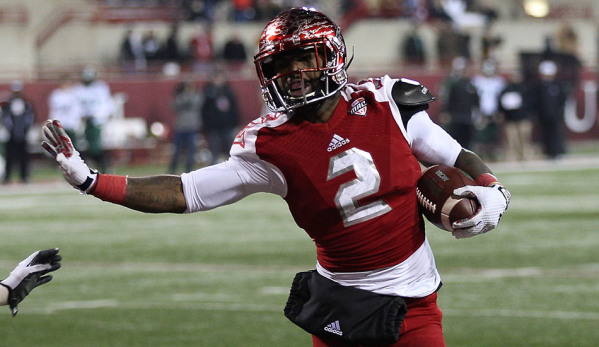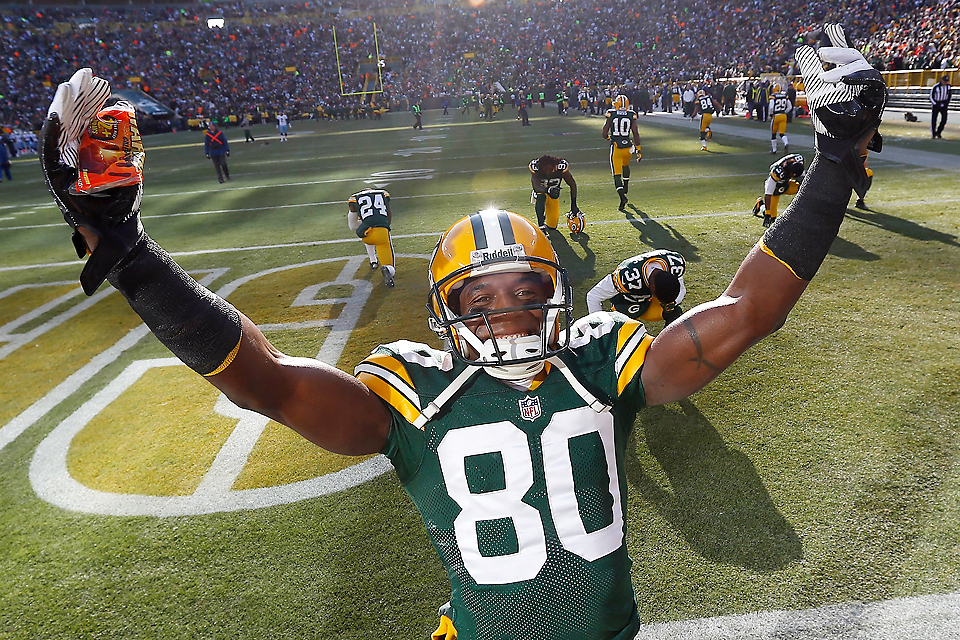 Donald Driver didn't just make an impact in the NFL, but he did off the field as well. Growing up as a kid Donald and his family faced tough times. Driver took that adversity and used it as motivation to create a better life for himself. Football fans know the mark he left not only in Green Bay, but throughout the league. The four time Pro Bowler helped the Packers win Super Bowl XLV in 2011 as Green Bay beat the Pittsburgh Steelers 31-25.
The Green Bay Packers Receiving Yards All-Time Leader also won the Ed Block Courage Award. This award is given to players, who are voted by their teammates as role models of inspiration, sportsmanship, and courage. Driver continued to inspire people when he created the Donald Driver Foundation in 2001. The foundation helps families find homes, assists in educating kids, and helps recognize those people who do wonderful things in their community.
Driver is an accomplished author as well. His book "Driven" was on the New York Times Best Sellers list. He has also written three children's books. Each book focuses on a challenge a kid or an adult may experience in life. He will have another children's book out later this year called "Quickie Handles a Bully."
Art Eddy: Many players who get drafted in the late rounds have chip on their shoulder. How much of a factor was that for you to prove that to the teams that passed on you that they made the wrong choice picking someone else?
Donald Driver: In 1999 when I got drafted that was the first thing I did. Teams told me that they were thinking about drafting me the first day. Then they would say we would draft you the second day and you shouldn't go no later than the fourth round.
So when all these teams are calling you to tell you that they are going to draft you, but you sit there during the draft at home with your family and the first day goes by and you don't get picked up. The next day comes and you don't get picked up again and you basically think your career is over.
Now you have to go and find a normal job. I had that chip on my shoulder. When the Green Bay Packers called me in the seventh round after 32 receivers got taken before me I just wanted to prove to the league and to the other teams that they made the wrong choice. They should have drafted me earlier. The Green Bay Packers took a chance on me and that is why I was able to retire with them and give them a legacy instead of another team.
AE: Can you describe your emotions and memories from your first NFL game?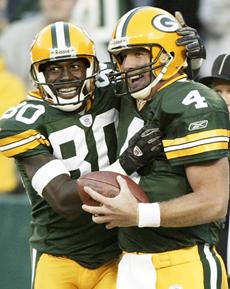 DD: Oh wow. My first memory that I actually made it in the NFL was our first family night scrimmage in Green Bay, Wisconsin. I remember Brett (Favre) sitting down with me and telling me that this wasn't Alcorn State University where you only have 20,000 people. It is going to be about 60,000 people in those stands.
I remember walking out that tunnel just for that family night scrimmage, offense versus defense and there were 57,000 fans in the stands. They were yelling and screaming. From there I was just going nuts. I remember Brett and I walking out of the tunnel and he said to me, 'Hey Drive, welcome to the NFL.'
I had an amazing practice that week. I was catching everything. I think from there it solidified my opportunity to make it on the Green Bay roster.
AE: As fans of the game we all know that Lambeau Field is one of the most iconic stadiums in all of sports. For you who played there, what does Lambeau Field mean to you?
DD: It means everything. If you never had the chance to experience Lambeau you should go to a game. I don't care if it is a cold game or a hot game. You want to be there. You want to experience the atmosphere. The fans have been great throughout my entire career.
They have proved to me that they have shown their loyalty to me. For me it was to show my loyalty back to them. They have been supportive through my charity, through my family, and to be the person that I am today. I have always said this. My fans have put me on a pedestal. It wasn't me playing that put myself on that pedestal. When they put you on a pedestal you always have to remember that you are no better than they are.
AE: Who does the best Lambeau Leap?
DD: You know I think a lot of people have given me that title. They say I do the best Lambeau Leap because one time I remember playing the Detroit Loins at home. I scored a 60 or 70 yard touchdown. I ran and I looked up and I saw the Detroit fans. When I jumped up they were trying to catch me. So I jumped down and then took two steps over and then jumped back up. (Both laugh.) I went back into the Packers' fans hands and I stuck my tongue out at the Detroit Lions fans. It was a great, great time. It was an amazing experience.
When I scored my first touchdown I had no clue that everybody should do the Lambeau Leap. I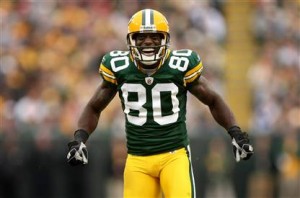 thought it was just LeRoy Butler's thing. I didn't want to step on his toes. So I didn't do it when I scored my first touchdown at Lambeau. I remember getting to the sideline and so many guys gave me grief. They told me that the next time I score I better do the Lambeau Leap. Since then every time I scored I would do the Lambeau Leap.
AE: What was the toughest part about playing in the NFL?
DD: For me it was just the speed of the game. Coming from Alcorn State, college is just a different atmosphere. The speed of the game is just so much faster. So I wanted to make sure when I got there I just learned and learned. I would sit back and learn from all the veteran guys and took what they said.
They told me that I needed to stay focused and make sure to make every play count. The opportunities are slim. In college you could always make it up. In the NFL it is hard to do. They taught me that. I was able to use that year after year.
AE: Which safety or cornerback challenged you the most? Who did you love to play against?
DD: I will say this. I played against a lot of great corners. Antoine Winfield, Champ Bailey, Deion Sanders, Kevin Smith. I mean the list goes on and on. DeAngelo Hall, Charles Woodson, Al Harris, Mike McKenzie. That list continues to grow.
Every week I knew when I stepped on the field I had to play my best game. The good thing is that I was able to play with some great corners. Mike McKenzie was there before he went to New Orleans. Charles Woodson played in Oakland before he played in Green Bay. Al Harris was in Philly before playing here. I played against those guys, but I knew them as well and they knew me.
Every day at practice I knew that if I could beat them then I knew that I was going to have a great game. There was no one else out there that was tough enough to stop me. That's the way I played the game. I knew if I could beat my guys one on one in practice that I could do that in the game. That is what I did. I was able to step up my game a bit more.
AE: I am guessing that your answer will be winning a Super Bowl title, but is there one moment that sticks out the most in your great NFL career?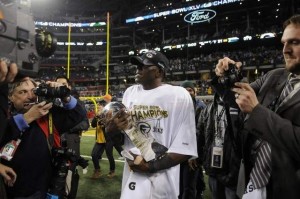 DD: I have so many moments that I will always cherish. The Super Bowl is a moment that I think every NFL player would want to reach. That is the greatest milestone for us. To win that Super Bowl title and to have that Super Bowl ring on our finger will let us always cherish that forever.
When I became the all-time Packers receiving leader in franchise history it solidified my legacy in Green Bay. There were so many great players like James Lofton, Don Hutson, Sterling Sharpe, Antonio Freeman, and Robert Brooks. All those great players played before me. For me to be on top of that list now, that stat stands the test of time.
I know that someday a player might come in and break my record. I hope it never gets broken. I hope it stays there forever. That is the same thing that Sterling and James Lofton thought. Those guys hoped that their record would never be broken. That stood for almost 30 years, but look what happens now. I guy steps in and breaks those records.
You just never know. The way the game is played now those records will be broken. Those are the things that I know I will cherish, the record breaking, the Super Bowl, and the fans.
AE: Two things I want to touch upon from what you just said. One, I appreciate your honesty about your record not wanting to be broken, and two….
DD: Yeah, right. I don't want anyone to break that record. I can be honest about that. (Both laugh.)
AE: Also two, you probably get this a lot with all the catches you had in your career. I want to thank you for your work on the field. You helped me win a few fantasy football championships when I drafted you.
DD: (Both laugh.) You are more than welcome on that.
AE: Tell me about the great work you and the great folks at the Donald Driver Foundation do especially with the "Driven to Achieve Awards".
DD: We started the foundation back in 2001. We wanted to give families the opportunity to have a better life. We created the Donald Driver Foundation to help families in homeless shelters transition from homeless shelters to houses, where we pay subsidized rent for them from six months to a year.
We also came out with a computer scholarship as well as an academic scholarship. We give kids that are either going to a two year or a four year college either a $1000 scholarship or a computer scholarship. They must maintain a 3.0 GPA and they must do community service.
We also started supporting a program called Blessings in a Backpack. We give kids the opportunity to have food on the weekends. We have seven schools that we help supply with that. There is a three year commitment. It only takes $80 to feed a child for the entire school year. So we have been blessed to help over 1,000 kids.
We just launched the "Driven to Achieve Awards." It is something that I came up with to give so many people an opportunity. So many people are doing great things in this world that don't get recognized for what they do. I wanted to take the shine off myself for a while and put a shine on those great people.
We have honored eight great recipients to receive that award this year. We had six local winners from Wisconsin and two national winners. Our two national winners were Gladys Knight and Anthony Robles, the Arizona State wrestler.
It shows you that when you continue to go great things in the community people support you. I have had so much love and so much support throughout this all that I could not have this without all my fans and all my sponsors.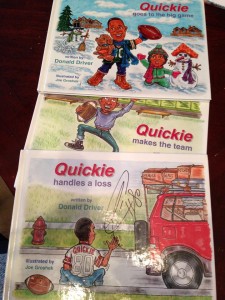 AE: You have written three children's books and another one is scheduled to come out this year. What inspired you to write these books?
DD: What inspired me to write these books was when I was telling these stories to my son when he was two years old. He was lying in bed and kept asking questions. He would ask if I played sports and if I played football. I told him that I play football for a living. At two years old they might not understand that you are playing in the National Football League. I kept on telling him the stories of how everyone kept telling me I was too small to play football. I was too small. Choose another sport. You are going to get hurt.
One of my good friends said that I needed to start writing a children's book. Every kid in the world is going through that. Either their mom is telling them, or their teacher, or a friend is telling, or an older sibling is telling them that. You need to put that in a book so a kid can understand that you can make the team. That is why I created "Quickie Makes the Team." Quickie was a kid that nobody believed in that could play football, but he believed. He tried out for the team and made it. At the end of the book he wins the game for the team.
The second book was "Quickie Handles a Loss." Regardless of what you may face in life, whether it is losing a job, failing a test, losing a loved one in your life, do not let that dictate how you live your life. Continue to strive and move forward. It only gets better. It doesn't get worse.
Then I came out with "Quickie Goes to the Big Game." As an NFL player the greatest milestone for a player is to make it to the Super Bowl. Quickie gets to go with his dad to a place where his dad has been dreaming for a long, long time to go to. That is the Super Bowl. That story is whatever you dream of, continue to dream. Your dream will come true. Dreams come true if you put the effort into it.
The book later this year is "Quickie Handles a Bully." Everyone out there faces a challenge. Whether it is a kid getting bullied at school or an employee getting bullied at work by his boss, every single person is having that issue. I want my kids to know that it is not okay to be bullied. So I put that message in this book. You hurt bullies with kindness. You don't have to fight back unless he or she puts their hands on you. That's why I wanted to create this book. It can be a conversation.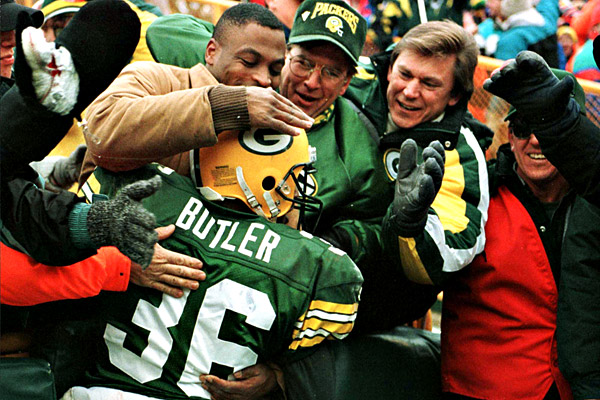 LeRoy Butler played strong safety for his entire career with the Green Bay Packers. Known for creating the famous "Lambeau Leap," Butler still roots for his old team. If you follow him on Twitter you see that he is always giving his perspective during games.
Butler won a Super Bowl title with the Packers when Green Bay beat the New England Patriots in 1997. Butler was selected to the Pro Bowl four times and was part of the NFL 1990s All-Decade Team. He is also a member of the Green Bay Packers Hall of Fame.
Recently LeRoy released his latest book called "Packers Pride: Green Bay Greats Share Their Favorite Memories." Even if you are not a Packers fan this is a great read. As a 49ers fan I soaked up every story that Butler shares in his book. The rivalry section was very intriguing.
Butler was kind enough to chat with me about the Packers, his book, and his foundation.
Art Eddy: Your book "Packers Pride: Green Bay Greats Share Their Favorite Memories" recently came out. I am digging this book. I love the stories and insight. How did you come up with the idea for this book?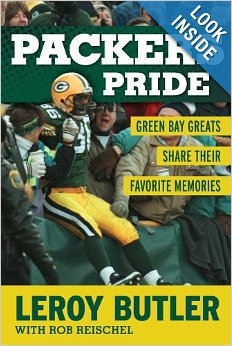 LeRoy Butler: Well I wanted to do a football geeky type book. I think a lot of fans see us playing on the field, but they don't get a chance to see what we are thinking or what were are favorite moments about playing. I got a chance to do that.
I did a book earlier about my life. It wasn't necessarily about my life in Green Bay, but it was about my life growing up.  With the "Packers Pride" it really is a tribute to all the Green Bay Packers fans out there everywhere that we appreciate them supporting us.
Some of these stories are hilarious. For me we have stories about Brett Favre growing up and Reggie White. Both of those guys were free agents. One came from Atlanta and the other came from Philadelphia. How did they adapt to the team. So I have some great stories about great guys from around the league. I just had a lot of fun putting it together.
AE: What was the reaction of your former teammates when they heard you were working on this book?
LB: A lot of guys said that they have so many stories to tell and I never either had the time to do it or thought about doing it. Me and Rob Reischel talked to about 60 guys. All of them wanted to tell at least one story or one paragraph. They wanted to be a part of it.
They had things that they wanted to share. We call it barbershop talk. Everyone has their opinion. We would say, 'Who is your favorite guy?' Or we might say, "Who is the best at this?' I talk about that in the book. It gave me the chance to talk about football from perspective. It was a lot of fun.
AE: There are so many great stories in this book. I love how you break down Green Bay's rivals and your stories of the Packers greats. Tell me a bit about those rivals.
LB: There were a few things that I talked about that was awesome like the playoff game against San Francisco. We were used to playing a 4-3 defense that is with four defensive linemen. We wanted to do some new stuff. I remember Fritz Shurmur, our defensive coordinator said that we are going to try a little 3-4. It will surprise them a little bit, because they are expecting a 4-3. We dominated them because they didn't see that particular defensive front.
I never was asked that in my whole entire playing career. Now I have a chance to talk about that in detail. So I was so excited about that.
AE: You were credited with starting "The Lambeau Leap." I was watching video of that play. One of the first Packers to come off the sideline to congratulate you was Brett Favre. In your book you talk about how Brett made everyone feel at home. Fans and the media didn't see that side. How important was it for you to put that in your book?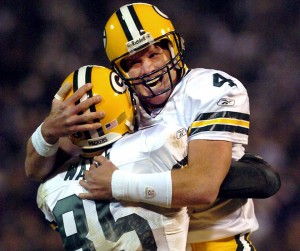 LB: It was important because it was 100 percent the truth. Brett Favre is the single best teammate in the history of sports. What he did was what you would never see guys do. When he came from Atlanta he adapted with the African American community with hip-hop. He went with the white guys with country music. He went with some of the younger guys who were playing the video games. He went with the older guys who like to do hunting.
Everybody loved the guy. He didn't wait for people to come congratulate him. He was assertive at his networking skills. That is why if you look at Brett Favre's career you couldn't name a lot of these receivers, because it didn't care to him. He would put you in the position to make plays. Not only that guys would dive to make plays for him. Case in point when his dad died and they played the Raiders these guys were jumping all over each other making catches. He is the ultimate teammate. I was very adamant about putting that in the book.
I never did that when I came into the league as a rookie. When I came in the guys just hung around me because I was a second round pick. I wasn't networking. I wasn't going over trying to meet guys. I figured that I would just meet them throughout the day. It was just an awesome way to see how he networked. I don't think that I will ever see that again.
AE: In your opinion which Packer performed "The Lambeau Leap" the best?
LB: Oh, that is a fantastic question. I would say that if I have to vote I will give three guys that did it well. Donald Driver is in that three. Ahman Green was great at it. The guy who was the best at it was Robert Brooks. He would run and jump and then turn around and sit down. That was phenomenal.
AE: When you look back on winning Super Bowl XXXI, what are some of the main memories you have from that game?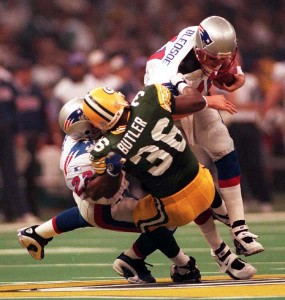 LB: One of the things was the free agents and the things we did to put together that type of team that year. We brought in Andre Rison, no one wanted that guy. We brought in Desmond Howard, who was a receiver in Jacksonville that people said he couldn't play. He was the Super Bowl MVP.
AE: Yea, he was doing the robot into the end zone in that game. It was hilarious.
LB: Right! People thought that Desmond was always there. No, we had to go out and get this guy. Ron Cox was our middle linebacker. He played with the Bears before coming to the team. Antonio Freeman, who people said he wasn't fast enough. He had an 86 yard touchdown in that game.
If you look at this game it was unbelievable. The development and the maturity of that team that went into that Super Bowl was great. New England had a pretty good team. They had a great tight end. They had a great quarterback in Drew Bledsoe. They had a Hall of Fame running back and a pretty good defense.
The way this team came together was like no other. Once people look back at that roster you shake your head on how we won it. These guys came together to win a championship. I am very thankful for that.
AE: How far do you think the Packers will go this year?
LB: I think that if you have a quarterback with a proven passer rating that is always over 100 and have a defense that is very opportunistic you will have good chance to make it far. There are a few injuries like Clay Matthews and some of the young wide receivers. You have young running back in Eddie Lacy and they have a fresh guy in James Starks to come off the bench. It is a good one two punch.
Not to mention that they have rookie left tackle. It is sort of a head scratcher on how Ted Thompson is putting this team together. They didn't build it with a lot of free agents. I will be honest with you. Just look at the schools that some of these guys have come from. It is not USC. It is not Florida. It is not Ohio State. They are not coming from these big schools. For Ted Thompson, if you have talent he will find you. So anyone in that green and gold uniform you feel that you have a chance to succeed.
AE: Tell me a bit about your foundation.
LB: One of the biggest things that we did was for breast cancer. I have four daughters and I wanted to get out in front of it. Brett Favre and I did a DVD to help support and raise money for breast cancer. We are also doing an anti-bullying campaign. We are trying to get the bullies and those who are bullied to become buddies. We call it the "Don't be a bully, be a buddy" campaign. We got to schools and talk with them to educate them on bullying.