Posts tagged
gadgets


As we are now in the month of June we look to celebrate the dads and those who have graduated. We here at MANjr are looking to hook you up with some great gift ideas. From geeks to gadget lovers we got you covered.
LifeLogger
Check out the smallest and lightest wearable video camera captures your memories and broadcasts them as they are happening in real time. The LifeLogger is a cloud based metadata processing software automatically uploads, stores and makes life's moments easily searchable. It shoots in 720p HD video at 30 fps, as well as still images at 5 megapixel. Android and iOS app allows users to control their device and manage existing info. The footage goes through image stabilization, face and voice detection, optimal character recognition and GPS positioning before being stored and made searchable.
Booq: Boa flow
The Boa flow is a rugged backpack that fuses inimitable design with rock solid protection, for the roving professional. It has a flexible interior and collapsible main compartment acclimates to accommodate and protect all your gear, including a DSLR. The back laptop compartment is densely padded, keeping up to a 17" Mac/PC free of bumps and scratches. The ergonomic shoulder strap system has three points of adjustment for load distribution and comfort. There is a plethora of interior/exterior pockets and features keep your fundamentals safely stowed and in place. It also is weatherproof. The 1680 denier ballistic nylon with water repellant coating keeps your gear dry and protected in all conditions, plus reflective rain cover adds added protection and keeps you visible in low light conditions.
Blackfire: Clamplight Lantern

Meet the world's first dual-action LED lantern doubles as a flashlight and clamps onto virtually anything, illuminating all your adventures. Equipped with two separate CREE LED's and up to 230 lumens for better optics and ultimate performance. Easily switch between, hi, low, and strobe modes for lantern in addition to flashlight mode. Pivoting head illuminates any space or area. Rubberized coating offers extra grip and added durability. And it meets IPX4 international weatherproof standard, making it perfect for camping, fishing, and boating.

Wicked Audio: Helix
These vibrant, dual-color earbuds feature earhugger technology for a comfortable and snug fit. The earhugger design allows you to be as active as you'd like without earbuds falling out. I have had this issue while working out, but not anymore with the Helix. They are crafted with 10 mm driver and features maximum noise isolation, for crisp sound quality. The cord measures 1.2 meters long guaranteeing maximum flexibility while on-the-go. They are available in three color patters, Blue/Orange, Black/White, and Magenta/Yellow
Xventure Smartphone Handlebar Clamp Mount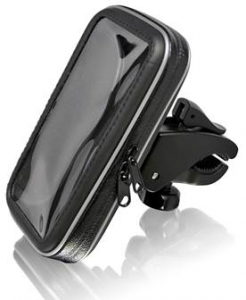 The Xventure Smartphone Handlebar Clamp Mount is an ergonomic, portable handlebar mount universally designed for smartphones, GPS devices and MP3 players. Perfect for the recreational biker, this bike mount protects your device and keeps you connected on your ride. Store your credit cards, money, directions and other personal items in a separate compartment while you're riding. The easy-to-use consists of a weather-resistant case to securely hold and protect your device and a heavy-duty adjustable clamp that connects to the case using a sturdy T-Notch with a Quick Lock & Release switch. With a ball joint for 360-degree rotation, your device can be positioned and tilted for optimal viewing from any angle.
Star Wars Gift Items from ThinkGeek
Star Wars Set of Four 16oz Pint Glass Set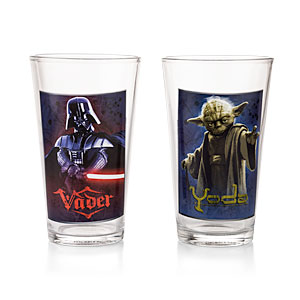 Star Wars was destined to change the face of cinema forever. It was an instant classic and an unparalleled box office success. The epic space fantasy introduced the mystical Force into cultural vocabulary, as well as iconic characters such as Darth Vader, Luke Skywalker, Princess Leia, Han Solo, Obi-Wan Kenobi and Yoda. Star Wars products include merchandise, gifts and memorabilia featuring timeless images on mugs, lunch boxes, clocks, glasses and more. The Star Wars 16 Ounce Glass Set is a 4-piece set of 16 ounce glasses features distinct Star Wars images on front and back of the glass. It has a full color open window gift box packaging, and hand washing is recommended. This set is the perfect gift for any Star Wars fan.
Star Wars R2-D2 Measuring Cup Set
A ThinkGeek exclusive that allows you to bake recipes from a long, long time ago. It is a set of measuring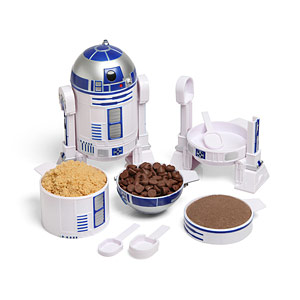 cups that look like R2-D2. I really don't need to say more, but it is an officially-licensed Lucasfilm product and is a ThinkGeek creation and exclusive! The body is built from 4 measuring cups: 1/4, 1/3, 1/2, and 1 cup. It has detachable utility arms turn into nested measuring spoons: 1/4, 1/2, 1 tsp, and 1/3 tbsp. The dome is both 1/2 cup and 1 tbsp and the materials are Food-grade ABS plastic (BPA-free). May the baking be with you.
Star Wars Athletic Shirt
Here is a cool shirt that has the Star Wars logo in distressed orange, yellow, and green ink on a grey athletic shirt. Made from a close-weave athletic mesh. 100% polyester. It is perfect for a chilling with friends on Hoth or sweating it out on a run on Tatoonie.