Posts tagged
FX

On April 9th FX will premiere a new show called "The Comedians." The show stars Billy Crystal, who plays a comedy legend who is reluctantly paired with Josh Gad, an edgier up-and-coming star, in an unfiltered, behind-the-scenes look at a fictional late night sketch comedy show where egos and generations collide.
Stephnie Weir stars as "Kristen Laybourne," the anxiety-ridden producer behind The Billy & Josh Show who frequently finds herself caught in the middle of Billy and Josh's arguments, Matt Oberg stars as "Mitch Reed," the show's head writer, and Megan Ferguson stars as "Esme McCauley," a no-nonsense production assistant. Together they spend most of their time managing the egos of their two stars and the generational divide that keeps them from ever fully seeing eye-to-eye.
Weir was born and raised in Odessa, Texas, but started up her career after moving to Chicago and performing on stage in the city with theater companies that include The Second City Main Stage, The Goodman Theatre and ImprovOlympic.
Many of Weir's fans know her from "MADTV" where she had a wide range of colorful characters she played on the hit Emmy® Award-winning show. Some of her additional television credits include "Big Day," "Modern Family," "Weeds" and the animated series "King of the Hill."
Weir also did some writing for shows such as "Wright vs Wrong" and "Counter Culture" for ABC. She has also served as a Consulting Producer on FOX's "Raising Hope" and CBS' "The Millers."
Click here to check out my interview with Stephnie about "The Comedian," her time on "MADTV," and more.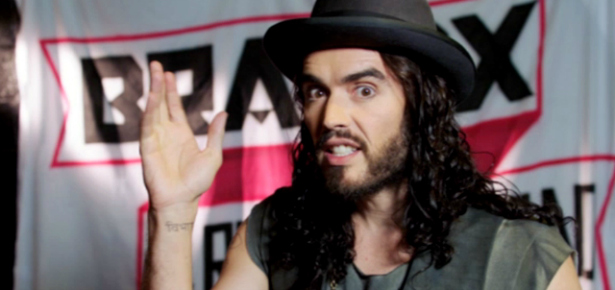 MANjr attended a live taping of the first BrandX show this past Monday, and we got to see comedian Russell Brand in his element. The show premieres tonight at 11 p.m. on FX, so be sure to check it out. If you want to witness Brand in person, and experience a behind-the-scenes look at his new TV format, you are in luck my friend. MANjr is teaming up with FX for a sweet giveaway that can send you and a friend to Los Angeles to attend a live taping of FX's first late night comedy show.
The live taping will take place on July 23 or July 30, and your trip will include roundtrip airfare, hotel accommodations, meal vouchers, ground transportation and entry for two to see the live taping of BrandX. The approximate retail value of this prize package is $2,340. Not a bad haul, folks!
We're running this awesome giveaway until July 2, so get in on it quick. You must be a US resident over the age of 21 to enter. Limit one entry per person.
To enter, just use the form below and tell us why you want to see a live taping of Russell Brand's new show in person! This guy has a rabid fan base, so get in on this while you can!
If you want to read the fine print, check out the official rules for this sweet sweepstakes.