Posts tagged
Finding Bliss

Wicked Pictures star Stormy Daniels is an adult film legend. A five-time AVN Award winner, Stormy's been steaming up the industry for over a decade. Not just a super-starlet, Stormy has written and directed a few adult films as well. She's enjoyed quite a bit of crossover success, and in 2010, she even considered running for a seat in the U.S. Senate. Articulate and approachable, this beauty from Baton Rouge, Louisiana can do it all.
Stormy's latest project is the new film Finding Bliss, a romantic comedy that examines the adult film industry through the eyes of an eager film school grad (played by Leelee Sobieski), who gets to Hollywood with high hopes and ends up editing porn to get by.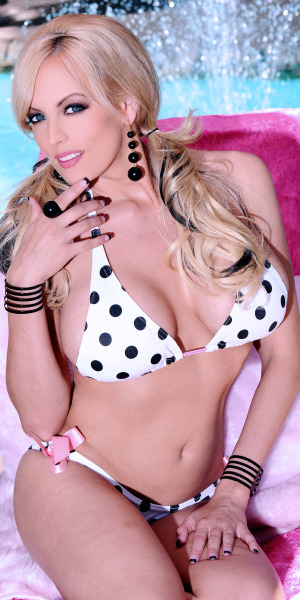 CS: So you've done a lot of crossover work. You were in the 40-Year-Old Virgin, Knocked Up, Party Down, the FX series Dirt and now this upcoming film Finding Bliss. Do you see yourself doing more mainstream Hollywood work in the future?
SD: I would love to, but it is not something that I plan to seek out. Those opportunities were amazing and I am so thankful for them since I learned a lot and met great people, but I am not under the misconception that it is possible for an adult actress to completely crossover.
CS: Do you have any plans to retire from the adult film industry or focus more on writing and directing?
SD: Of course! Gravity is gonna take effect any day now and I don't want my naked ass on HD when it happens.
CS: How did you first come in contact with Julie Davis, the writer and director of Finding Bliss?
SD: I actually had never met Julie before my first day on Finding Bliss. She or one of her producers contacted Wicked Pictures and requested me.
CS: How did the set atmosphere of Finding Bliss compare to the set of a film like Space Nuts?
SD: They were pretty much the same. Wicked Pictures produces the highest quality adult movies and we use all the same resources and crew that a mainstream set implements…. we just do it with a little less clothing. More >