Posts tagged
Degree Men Adrenaline Series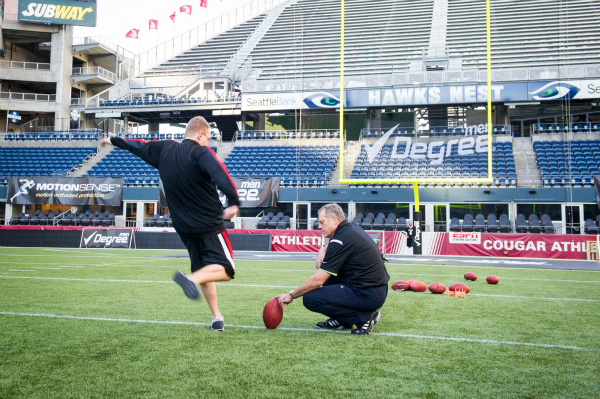 During this awesome Degree Men-sponsored trip, Norm Johnson gave us a tutorial on how to kick a field goal at Century Link Stadium in Seattle. It's a lot harder than it looks, too. People love making fun of idiot kickers, but when you're out on a field with no one around you and you start maxing out at extra point distance, you really get a new found respect for these guys.
Norm Johnson kicked in the NFL for 18 seasons. He played for the Seahawks (82-90), Falcons (91-94), Steelers (95-98) and the Eagles (99). I asked him what it was like to be a Seahawks guy who spent time in Pittsburgh. He said he enjoyed playing for Bill Cowher and that Cowher was a fair coach. He'd get in your face when you messed up and be the first to pat you on the back when you did well. Norm's impression of the old Steelers coach was spot on, too. He said he remembers missing a crucial kick and having Cowher come up to him, get right in his face, curl his lips in that classic-Cowher scowl and scream "You owe me!" before walking away. The description really doesn't do the performance justice.
When asked who the funniest player was that he ever played with, Norm talked about his first season with the Falcons, when the team had two good ole boy QBs, Brett Favre and Sean Salisbury. He said those two guys in tandem were just totally ridiculous. Just ripping off the best/worst hick humor he'd ever heard. They fed off each other and just made for good times. You could totally see that.
Anyway, back to the tutorial. Here's the video of Norm Johnson teaching the fundamentals of field goal kicking:
Well that caps off all the recaps from a great trip. Thanks again to the guys at Degree Men for putting together such a fun series of events. From the mud-splatter to the race track to the football field, I got to experience some fun stuff while staying protected from odor and wetness with the motion-activated Degree Men Adrenaline series deodorant.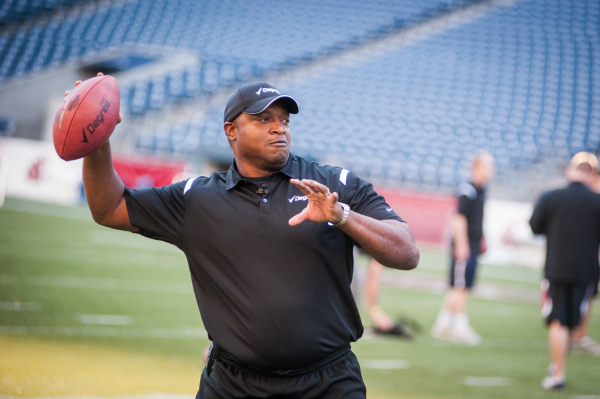 We met up with former Seattle Seahawks fullback Mack Strong during the Ultimate Seattle Seahawks experience that was sponsored by Degree Men. It was part of an adrenaline-filled weekend that included time at the Tough Mudder course, an interview with Bear Grylls, go cart racing and a tour of the Seattle Seahawks stadium, Century Link Field.
Mack was super chill. While hanging out on the field, Mack shared stories about his playing days, including a reference to his "welcome to the NFL moment" when Bill Romanowski dug an elbow into the back of Mack's neck and pushed his face into the ground during his first NFL preseason game. Even though he was a fullback, Mack could still put some zip on the ball. He gave us a quick tutorial on how to throw an NFL football:
Even with the extra training, I still got worked in the passing drill. Thanks to the Degree Men Adrenaline Series, at least I smelled awesome while stinking up the joint with my errant passes. Fun times though!