Posts tagged
Coke Zero
It's not your fault. It's not your fault. It's not your fault.
There's a reason why you can't turn away from March Madness. Even at work. Coke Zero explains: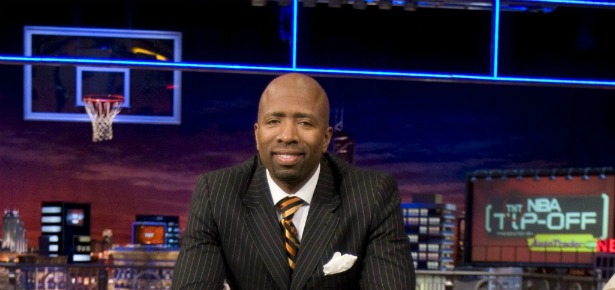 Kenny "The Jet" Smith is no stranger to people who follow the game of basketball. An All-American point guard from North Carolina, Kenny still holds the record for career assists by a Tar Heel (769 – including 86 in NCAA Tournament play). He was the sixth overall pick in the 1987 NBA Draft and a two-time NBA Champion with the Houston Rockets. He could distribute, drop outside jumpers, glide inside and as soon as his playing days were done, Kenny Smith went straight into broadcasting. He's been a fixture on TNT since the 1997-1998 regular season.
Leading up to the 2012 NCAA Tournament, Smith is working with Coke Zero to promote the Coke Zero School Shout Out and Enjoy More Madness campaigns. We sat down with Kenny before the All-Star break to chat about the NBA, the NCAA Tournament, the Coke Zero tournament tie-ins and his TNT broadcasting crew. Here's the interview:
CS: Hey Kenny, who gets further in the NBA playoffs this season, the Clippers or the Lakers?
KS: Wow. As it stands, before possible trades or anything could happen?
CS: Yeah, as the teams stand currently.
KS: As the teams are constructed as they are now, I would say that the Los Angeles Lakers still have an advantage over the Clippers.
CS: I know you know all about trade rumors. You were traded by the Kings to the Hawks and from Atlanta to the Rockets. With the all of the Pau trade rumors making the rounds lately let me ask you, did trade rumors impact your performance when you played the game?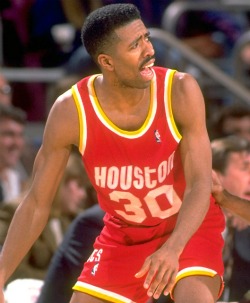 KS: You think about them, but when the game starts you don't. You only think about it when you get asked in the media before and after games. There's been great players—I've stood next to two of the greatest players that ever played the game, Charles Barkley and Shaquille O'Neal. They've been traded. So there's no reason why Pau Gasol would think that he couldn't be traded, or any other player, because the greatest players in the world are wanted by other teams. So that's what it is. It's not so much someone doesn't want you, it's other teams want you.
CS: Right, I gotcha. After all the compliments and sunshine do you think Kobe Bryant has given management the okay to get rid of Pau?
KS: No, I just think that as a player on the team, you know, Kobe knows his window of winning championships is short and he's like "can we figure out what's going on right now?" I don't think he would have made the same statement if it was his second year in the NBA.
CS: Yeah, fair.
KS: But being as, you know, he's got two to three really good years left he's like "no I gotta make a statement, cause I gotta figure out not only for me—for the team, but for me as well." So I think that's when you see that frustration. But Kobe Bryant 4, 5 years ago was asking to be traded to Dallas.
CS: Right.
KS: So he's been part of this. Every player has been part of this type of situation before.
CS: You played for six different NBA franchises, which team do you think had the best combo of ownership and front office people?
KS: Well I would have to—I played with the Rockets the longest, you know. I played with the Rockets for 7 ½ years so I would say that that combination of understanding players and understanding management, the relationship, I would say, with the Rockets was easily—far easily the best.
CS: Who was the most difficult player you ever had to defend?
KS: Anyone on a hot streak in the NBA. You know because someone says, "hey I gotta play against Chris Paul tonight." Chris Paul might not play well. And then you get a Jeremy Lin who comes in. A guy who hadn't been playing and then he gives you 25 points and 11 assists. So the NBA is really about timing, about when you meet guys up, you know. So I don't think that you can just say "the toughest guy is" on that level. There's guys who are far ahead. In my era—the Jordan era, he was far above a lot of even the superstar players. But when you get to the superstars, the great players, they're all difficult to defend and to play against.
CS: Would the Rockets have won those titles if Jordan never retired? Be honest Kenny!
KS: Well, he actually—he played one year. I just can't help it he was wearing number 45 but…
CS: (Laughs)
KS: He lost to the Orlando Magic. You know they had the opportunity when he came back so I think that we would have won and we already did. We've proven that we won when he played. He just didn't play the first year.
CS: Where do you think Hakeem ranks all time?
KS: In terms of centers or players?
CS: In terms of centers.
KS: Well, he's definitely in the top five. But when you say the top five centers of all time it's like picking a banana over an orange, you know what I mean? It's just a personal choice. And what team are you building around. But Hakeem Olajuwon is one of the top 5 centers of all time.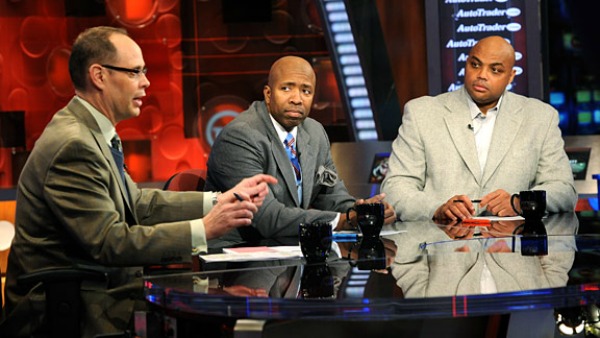 CS: Speaking of top 5 centers, what's it like having Big Diesel on the TNT set?
KS: Lots of fun. I think Shaq is finding his niche every day, we're enjoying having him. He doesn't have to be the best player on the team, or the most dominant (laughs). He can just come in and be part of the show and have a great deal of fun and that's what he's doing.
CS: Tell me something about Charles Barkley that the public might not already know.
KS: About Charles?
CS: Yeah.
KS: Wow. He's a gym rat.
CS: Really?
KS: A habitual gym rat. Meaning he watches a bunch of basketball on off days. And he's a movie buff. He can tell you not only the movie, but he can tell you the actors in it. And not the main actors, but the supporting actors.
CS: (Laughs)
KS: He knows those supporting actors names that I would never know.
CS: Do you think that E.J. gets enough respect and recognition for being a total badass?
KS: I think—I think he does. I think people recognize it now. They know what he does and how good he is to our show and how much he has to facilitate things and make them happen.
CS: So you've been on TV now longer than you were actually a player in the NBA. Did you always know that you wanted to go the TV route?
KS: No. This is something new—I mean it was new when I first started it. I knew I would be in basketball, I didn't know that this would be the route. But I'm enjoying the fact that I am and it's a lot of fun. I really did not know that I would be in television, but I knew I would be in basketball in some type of way.
CS: Now what are your thoughts on that crazy Jumbotron thing that I see on the set? Where you have to go and like stand around life-sized players and stuff. Do you like that? Is it kind of gimmicky or weird? What's that like in person?
KS: I mean it gives a better perspective because sometimes I can actually show you the position that the defender or the offensive player should have been in. So I can actually be in that spot and say "he should have been here and not over here because the space is not good enough." So sometimes it's great, other times I just have fun with it because it's a really big TV. (Laughs).
CS: (Laughs).
KS: So it's a little bit of both.
CS: So are you going to be working as an analyst for March Madness again this year?
KS: Yeah I'll be doing the March Madness. I'll be doing it with Turner and CBS and that's why I'm basically on the talking with you now because we're doing a big promotion with Coke Zero where college basketball fans get a chance to enjoy more Madness and show their school spirit by texting [in the Coke Zero School Shout Out program]. It basically gives kids an opportunity and fans an opportunity by texting "zero" plus their team name to "2653" and they can win free access to March Madness live, which now you have to pay for but you can get it on your Android phone and you can get it on your iPhone phone and you can watch March Madness live for free. And put yourself in for a chance to win tickets to the final four, so I'm all over it.
CS: So do you expect your Tar Heels to cut the Nets down this year? Or if not, who you got?
KS: There's never a year I don't expect.
CS: (Laughs)
KS: This year I'll just expect more (laughs). I just expect more in other years and this year I expect more. I think we have everything that you have. Do we have good guard play? Yes we do. Do we have good inside play? Yes we do. Do we have a great coach? Oh, yes we do. So we have all of the makings of what it would be. Do we have experience? Yeah. We have all the basics to be an NCAA champion.
CS: Do you think this is the year of the mid major?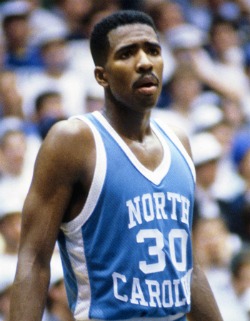 KS: I don't think they're the mid major anymore. I think mid major—that phrase should be eliminated in sports, in NCAA. Because of the fact that so many schools, you know, the top players don't stay for 4 years or 3 years anymore. Every school has a legitimate chance to win the NCAA championship this year. So I don't call them mid's anymore, I just call them season teams now. They're guys like Butler last year, they had juniors and seniors on their team you know, and that's the difference from years past.
CS: Who do you like in terms of tournament sleepers this year?
KS: I think once they get out of the league play and we see who actually wins at tournaments, then we get an opportunity to see. Even like let's say last year we—speaking of Jeremy Lin—but Harvard last year, they were coming out of the Ivy League last year and I was like "Wow, Tommy Amaker's got these guys playing. They could actually play around and upset a team; they're not your traditional Ivy League school." And then they lost and didn't make the tournament you know? (Laughs)
CS: Yeah. (Laughs)
KS: So we gotta see like how it plays out a little bit over these next weeks or so.
CS: What do you think about Gonzaga's chances?
KS: I think Gonzaga's a really good team. You know, they had some inconsistencies at times, but I think they're a really good team. You know, Murray State's come out of nowhere. But I mean a school sometimes—say like Florida State who has beaten Duke and North Carolina. They could play around and lose in the first round of the playoffs in the ACC tournament and then be one of those bubble teams you know?
CS: I gotcha.
KS: They're the team that could beat Duke or North Carolina and may be on the bubble. But that's what I'm saying, you have to kind of wait and play everything out over these next couple of weeks.
CS: If I had to press you right now for your final four picks what would you say?
KS: I think—I think it's impossible to pick that right now. Only because I can tell you Duke vs. North Carolina and then all of a sudden they're in the same region. You know what I mean?
CS: (Laughs) right.
KS: So it kind of—it gets more dictated by who you're seeded against and where's your region? Are you a 1 or a 2 in your region and who else is in your region? So that's what I'm saying, we've still got to kind of play out the ACC tournament, the Pac-10 tournament and so forth.
CS: Do you think we'll ever see a point where college basketball players get paid to stay all four years? Like some kind of reward for sticking around?
KS: I think that guys should get paid if they stay four years and graduate.
CS: Okay, that's fair.
KS: Key word being graduate. I think they should get a stipend of what's been made during their—like a percentage. You know, 3% of what's been made at your university to basketball while you were there. Or 2%, whatever it is. But I think that the amount of money that is generated—and if you stay and you graduate, you should be able to participate in financially after you graduate of what you've done.
CS: Right right.
KS: Because a college education doesn't really add up a lot of times to what they bring in. It's not an equal agreement.
CS: Yeah, I gotcha. Switching back to the NBA, do you think Lin's the real deal?
KS: Yeah, Lin's the real deal. You can't go this long and not be the real deal.
CS: Do you think "feel good" stories like Linsanity or Tebow-Mania can reach a point of oversaturation where other players start getting sick of the headlines? Like Deron Williams said the other day?
KS: Well, Deron was sick because he was the one who it started on.
CS: Oh right, true.
KS: Yeah. He was the guy that it started on so he had a personal agenda to let everyone know "you know what, I'm still a top three guard in the league. Like if you could name three guards, I don't know if you can name 3 guards better than me." And that's what great players do. They do that every night. They don't show that just against Lin. But they circle a lot of games. I think what's great about Lin is we've all at one time in our life had been misevaluated in terms of our talent. And he just kicked in the door and shows that you don't have to be a great Xs and Os guy or a personable coach, you've got to be able to evaluate talent. And you know— he's every underdog story if you think about it. His ethnicity, that's been a question. The fact that he's been in the D league, that's been a question. The fact that he didn't go to a perennial powerhouse school for basketball, that's been—like we all understand some part of what he is. That's what makes his story so great.
CS: Do you think Seattle deserves another chance at an NBA team?
KS: Oh yeah. I mean that was one of the most fun cities to play in when they were the Supersonics. I mean that was—they had so much support. I was surprised that—I mean, I felt that they'd never not had a basketball franchise because of the enthusiasm that was there.
–
Time was short, so I had a bunch of questions that didn't get asked, but just wanted to say thanks again to Kenny Smith for taking the time to chat with us. Make sure you guys check out all the Coke Zero prize-winning action leading up to and throughout the NCAA tournament this year. Check out our post or visit EnjoyMoreMadness.com to learn more.

The madness is about to get started, but before the tourney kicks off, Coke Zero is giving college hoops fans a chance to get in on the action a little bit early. The Coke Zero School Shout Out gives fans a chance to support their teams and win some cool prizes in the process. Leading up to March 10, fans can text "0" and their favorite NCAA Division I basketball team to "2653" for a chance to win thousands of free NCAA March Madness Live access packages.
NCAA March Madness Live provides live, high-quality video streams and highlights for every game in the tournament straight to your iPhone or Android phone. You can also get live game alerts and live radio broadcasts for all 67 games. The package costs $3.99 and is available across all videos screens and over Wi-fi and 3G. If you want to pay four bucks and not miss a damn thing, visit NCAA.com.
Coke Zero will be ramping up the prizes as the tourney kicks off. On Selection Sunday, Coke Zero will be launching a "Watch & Score" program that will provide a new level of fan engagement throughout the tournament. Basically, when you tune in to watch March Madness on CBS, TNT, TBS and truTV, you'll see calls to action and keywords during the broadcast and on March Madness Live. Fans can text in for a chance to win a bunch of prizes like a home entertainment system makeover, trips to the 2012 and 2013 Final Four or a spot on an Ultimate Fantasy Basketball Camp hosted by legendary college coaches.
My Coke Rewards members can also get in on the Coke Zero Bracket Game. Starting March 12, make sure to look for unique codes on Coke Zero products and enter them in through your my Coke Rewards account on the EnjoyMoreMadness.com site. Select the right team to advance in a given round, and you'll earn a chance to win gift cards, Final Four trips, music downloads and all kinds of good stuff.
You know you're going to watch all these games anyway, so might as well take a look at this stuff and get in on the action. Who knows, you may even end up in New Orleans for the Final Four this year.