Posts tagged
Cocktails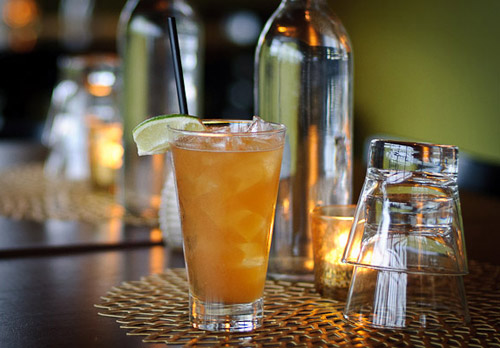 There are a lot of firsts surrounding the big game this year – the first time it's being played in NJ, the first potential game in the snow and the largest age gap between quarterbacks in history. While you're probably used to watching the game with a beer in your hand, why don't you ditch the beer and drink whiskey or rum in honor of the most watched football matchup of the year?
Below are some delicious food and drink recipes that incorporate three epic whiskeys – Crown Royal, Bulleit, and George Dickel. Also below are the new Captain Morgan Rum-inspired recipes developed by celebrity chef Hugh Acheson.
Whether you're watching the actual game, halftime show or commercials, these recipes are the ticket to a good party.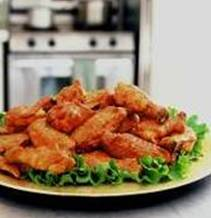 Crown Royal Wings
Ingredients:
⅓ cup Crown Royal Canadian Whisky
⅓ cup honey, SueBee
¼ cup soy sauce, Kikkoman
2 tablespoons Thai chili sauce
1 packet (0.75-ounce) stir-fry seasoning, Sun Bird
2 teaspoons crushed garlic, Gourmet Garden
4 pounds chicken wing drumettes
3 scallions (green onions), finely chopped (optional)
¼ cup chopped peanuts, Planters® (optional)
Preparation: In a large bowl, combine whisky, honey, soy sauce, chili sauce, stir-fry seasoning, and garlic. Add drumettes, tossing to coat. Cover with plastic wrap and marinate in refrigerator for at least 3 hours, preferably overnight.
Set up grill for direct cooking over medium-high heat. Oil grate when ready to start cooking. Let drumettes stand at room temperature for 30 minutes. Place on hot, oiled grill. Cook for 12 to 18 minutes or until cooked through, turning occasionally. Transfer chicken to a platter. Sprinkle with chopped scallions and peanuts (optional).
Why it's great for the big game: Looking to kick your appetizers up a notch? These Crown Royal-wings are a guaranteed hit at the party with a mouthwatering whisky-infused sauce.
Captain Morgan Original Spiced Rum Glazed Wings, Garlic Buttermilk Dressing, & Scallions
Ingredients:
3 pounds chicken wings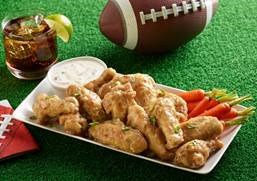 1 cup Captain Morgan® Original Spiced Rum
½ cup sherry vinegar
1 tablespoon sea salt
1 tablespoon peanut oil
½ teaspoon chili flake
1 teaspoon corn starch
1 tablespoon warm water
3 tablespoons butter, cold
1 cup mayonnaise
½ cup buttermilk
1 lemon
½ shallot, peeled and minced
1 garlic clove, peeled and minced
2 tablespoons carrot fronds, finely chopped
3 tablespoon scallions, sliced very thin on a strong angle
1 bunch of baby carrots
Preparation: Preheat the oven to 425°F. Heat a large cast-iron skillet in the oven for 5 to 10 minutes.
Rinse and pat the wings dry with paper towels, then separate the wings from the drumsticks and discard the tips. In a large mixing bowl, dress the wings with the sea salt and peanut oil. Add them to the cast-iron pan in 1 layer to assure even cooking and roast the wings for 20 minutes. Turn each wing and continue roasting for an additional 15 – 20 minutes.
For the glaze, add the Captain Morgan® Original Spiced Rum to a small saucepot and reduce over medium heat, about 10 minutes or until the liquid is reduce by half. In a small bowl, combine the cornstarch with the warm water and set it aside. Add the sherry vinegar and the chili flake to the rum and continue to cook for 5 minutes. Reduce the heat to low. Add the cornstarch slurry and stir the glaze until it becomes thick. Remove the glaze from the heat and add the cold butter, 1 tablespoon at a time, stirring until it is completely incorporated. Set the glaze aside for later use.
For the dressing, in a small mixing bowl, combine the mayo, buttermilk, and the zest and juice from 1 lemon. Mix together with a whisk until smooth and incorporated. Next add the shallot, garlic, carrot fronds and 1 tablespoon of the sliced scallions. Mix until combined and reserve.
To finish the wings, turn the oven to broil and crisp each side of the wing for about 1 to 2 minutes per side. Take them out of the oven and place them onto a plate lined with a paper towel to drain off any rendered fat. Place the wings in a mixing bowl and add the reserved glaze. Toss the wings in the glaze to thoroughly coat each one.
To plate, sprinkle the wings with the remaining scallions and serve them with a bowl of the dressing and the carrots.
Why it's great for the big game: Everyone loves variety, so add a little Captain Morgan to this wing recipe and spice up your football viewing party.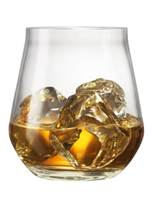 Crown Royal XO (on the rocks)
Ingredients:
1.5 oz. Crown Royal XO
Preparation: Pour Crown Royal XO over an ice-filled rocks glass.
Why it's great for the big game: The newest addition to the Crown Royal family, this extraordinary whiskey is finished in cognac casks and handcrafted for smoothness. Raise a glass to an extraordinary play with XO on the rocks.
BLT (Bulleit, Lemon Tonic)
Ingredients:
1.3 oz Bulleit® Bourbon
2 lemon wedges
3 oz. tonic
Preparation: Build in a highball glass, serve over ice
Why it's great for the big game: Bite the Bulleit with the BLT – with just three ingredients anyone can make this cocktail with no chance of botching.
Dickel Ward No. 8
Ingredients:
1.3 oz. George Dickel No. 8
.5 oz. orange juice
.5 oz. fresh squeezed lemon juice
.25 oz.  grenadine
Preparation: Build in glass and serve in a rocks glass.
Why it's great for the big game: A perfect balance of flavors, the Dickel Ward can make the halftime show even more enjoyable.
Gridiron Grog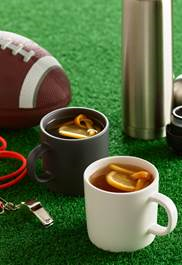 Ingredients:
1 oz. Captain Morgan® Original Spiced Rum
1 oz. Bulleit® Bourbon
1 oz. Olorosso Sherry
1 oz. Clove and Vanilla Syrup (recipe follows)
7 oz. hot ounce water
2 strips of orange zest
2 Meyer lemon rounds, 1/8 inch thick, seeds removed
Preparation: Rinse a small thermos with warm water and then dump out the water. Into the thermos pour the Captain Morgan Original Spiced Rum, Bulleit Bourbon, Sherry, and Clove and Vanilla Syrup. Stir to combine. Top with hot water. Gently stir. Cap until ready to serve.
Pour the Grog into two small 6 to 8 ounce mugs and garnish each with a strip of orange zest and a round of meyer lemon that is gently squeezed over the top to release a little acid. Drink.
Clove and Vanilla Syrup
2 tablespoons whole cloves
1 ¼ cup water
½ Vanilla bean, scrapped of its seeds
1 cup sugar
Preparation: In a small saucepot, bring the water, cloves, vanilla bean and seeds to a boil. Reduce the heat to a simmer for about 10 minutes and then add the sugar and stir to dissolve. Remove from the heat and allow the vanilla and cloves to steep in the syrup for about five minutes before straining.