Posts tagged
Carlos Boozer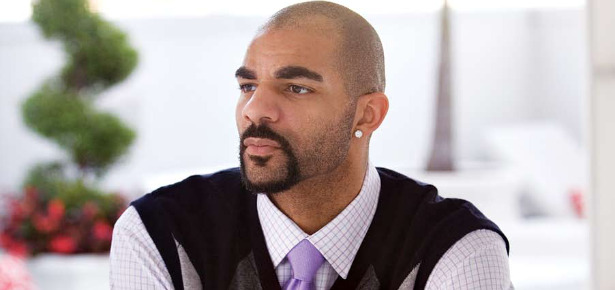 This past weekend, Chicago Bulls Power Forward Carlos Boozer served as the commissioner for the Gatorade REPLAY 3 rematch between Brother Rice and Bloom Township in Chicago. Danny Dabiri sat down with Boozer to talk about his new team, Derrick Rose, Sarah Palin, nightlife in Chicago and what it's like to play with Kyle "Ashton Kutcher" Korver.
Carlos Boozer Interview – MANjr.com from Chris Stout on Vimeo.

In the third installment of the Gatorade REPLAY series, Chicago high school powers Bloom Township and Brother Rice were afforded the opportunity of a lifetime. Ten years after most of their athletic careers ended, they were granted a chance to relive their glory days.
From Brother Rice's perspective, it was an opportunity to right a terrible wrong. In 2000, Bloom Township earned a controversial 42-40 playoff victory over Brother Rice thanks to standout Joe Chapman's tip-in at the buzzer. The referee called the basket good but replays suggest that the bucket probably should not have counted. Take a look:
Fast forward 10 years. With the help of Gatorade, the two teams got to settle things in front of a raucous sold-out crowd at St. Xavier University in Chicago. Chicago Bulls forward Carlos Boozer served as the game commissioner and thanked all 2,380 spectators for providing such a frenzied atmosphere. The new Chicago Bulls forward sat down with MANjr for an interview, and was a real cool guy to chat with (check out our Carlos Boozer interview).
To prepare for the big rematch, both teams endured an eight-week training program courtesy of Gatorade and Velocity Sports Performance. During the training, honorary coaches Dwight Howard and Dwyane Wade scrimmaged with their respective teams.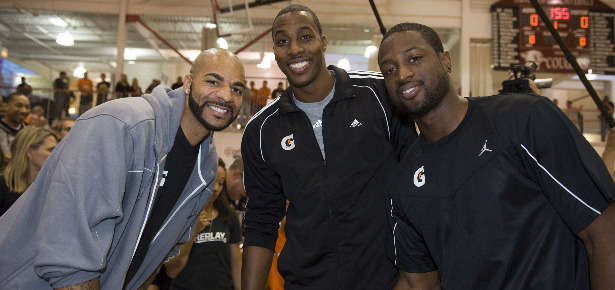 Before the game, we had a chance to speak with honorary Brother Rice coach Dwight Howard and he promised a victory (here's a link to the full Dwight Howard interview):
Danny Dabiri: Are your boys gonna take it tonight?
Dwight Howard: They gonna take it tonight. I'm lookin' forward to it.
Danny Dabiri: No doubt?
Dwight Howard: NO doubt.
Danny Dabiri: Blowout? Or a squeaker? Another buzzer beater?
Dwight Howard: No, we probably win by 10 to 15 points. We're ready. I've been coaching those guys. They ready.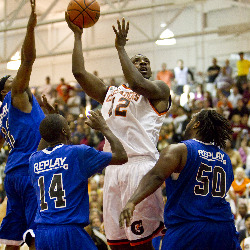 And ready they were. The Brother Rice Crusaders jumped out to an early lead with some hot perimeter shooting. The Crusaders hit six three-pointers and led 30-17 after a quarter.
The second quarter was played at a frenetic pace. Both teams moved the ball up and down the court. Trailing 54-38, the Bloom Township Trojans closed out the half with six straight points. Brother Rice led at halftime 54-44.
Dwyane Wade must have pumped up the Trojans during the break because Bloom Township owned the third quarter. Antonio "Snugg" Cool scored 12 points to spearhead the comeback. Bloom outscored Brother Rice 30-15 to take a five-point lead into the fourth.
Trailing 74-69 entering the fourth, the Crusaders dug deep and engineered an impressive comeback. Led by game MVP Sidney Holmes' 22 points and 18 rebounds, Brother Rice outscored Bloom Township 30-19 in the final frame. Leading 95-93 with 20 seconds remaining, Crusaders point guard Vince Greene knocked down to two clutch free throws to seal the victory. The final score was 99-93. After ten years, Brother Rice had their sweet revenge.
After the game, MVP Sidney Holmes summed up the experience pretty well:
"The best part of this night and the past weeks has been hanging with my old friends and being able to play basketball in front of friends and family. It's a blessing."
This was the most exciting basketball game I'd ever seen. From the crowd to the players to the emotion and energy on the court, it was really a wonderful experience.
Here are some highlights from this amazing game:
Be sure to catch REPLAY the series on Fox Sports this November. Check out REPLAY the series on Facebook to find out more about the show.