Posts tagged
Cam Newton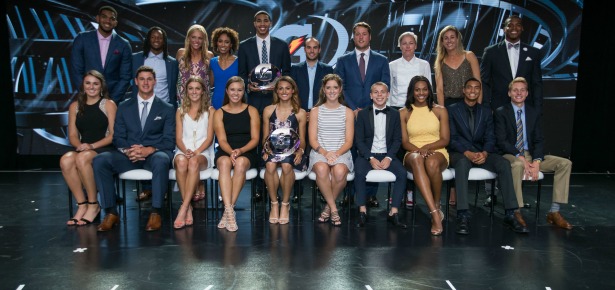 The 2016 Gatorade Athlete of the Year Awards ceremony honored the top high school athletes in the country for their accomplishments. The prestigious event was held at the LA Hotel in Downtown.
Hosted by ESPN's talented anchor Sage Steele, the star-studded affair featured prominent pro stars like NFL MVP Cam Newton, NBA Rookie of the Year Karl-Anthony Towns, NFL Rookie of the Year Todd Gurley, Matt Stafford and Jenny Finch.
Earlier in the day, Gatorade hosted a panel emceed by Sage Steele to promote their new endeavor, PlayItForward, which focuses on the decline of youth sports and seeks to provide young athletes access to achieve their athletic dreams by enlisting support from current pro athletes.
The panel featured Minnesota Timberwolves big man Karl-Anthony Towns, US Beach Volleyball star April Ross, Gatorade marketing director Jeff Kearney, Director of Marketing & Fan Engagement for the Atlanta United FC and founder of Catalyst author Kevin Carroll.
The primary focus of PlayItForward is to empower athletes to give back and reverse the decline in youth sports participation. The Male and Female athlete of the year winners receive 1,000 grant to bestow on a local or national youth sports organization of their choice.
Male nominees for the 2016 award were Jacob Eason for Football, Jayson Tatum for Basketball, Drew Hunter for Cross Country, Michael Norman for Track & Field, Lucas Mendes for Soccer and Kyle Muller for Baseball.
Future Duke baller Jayson Tatum of Chaminade College Preparatory School (St. Louis, MO) took home the prestigious honor after leading his squad to a state championship.
The 2016 Female Athlete of the Year award was presented to Rio-bound 16-year old Olympic hurdler Sydney McLaughlin from Union Catholic in New Jersey. McLaughlin qualified for the 400m hurdles by breaking her own national high school record.
Other female nominees included USC bound Khalia Lanier for Volleyball, Erin Boley for Basketball, Katie Rainsberger for Cross Country, Ella Stevens for Soccer and Madilyn Nickles for Softball.
After the ceremony, we had the opportunity to speak with some of the pros in attendance. Carolina Panthers QB Cam Newton offered his thoughts on 7v7 football and his belief that athletes should specialize in one sport.
Detroit Lions QB Matt Stafford spoke about the retirement of Calvin Johnson and who will step up to make the new transition as smooth as possible.
We got to catch up with Karl-Anthony Towns and USA softball legend Jenny Finch as well. Special thanks to Gatorade for organizing such a fabulous event.
The Gatorade Athlete of the Year Awards exudes excellence and champions the value of sports in society. Salute to the all the nominees for their hard work and continued success in the future.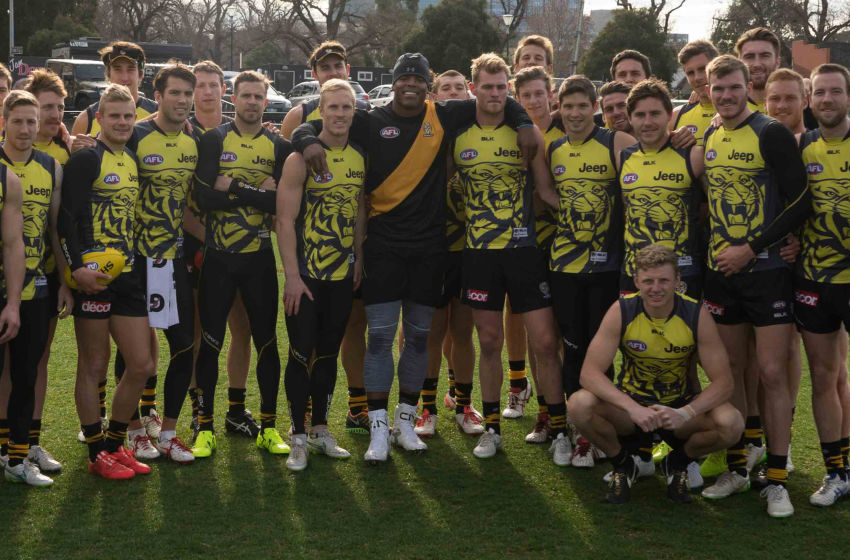 We are two days away from the start of the 2015 NFL season. We are all excited. We can't wait to make sure our fantasy lineups are all set, the snacks are ready, and team will make us proud. I am thinking that the players are bit more excited than we are. For Panthers QB Cam Newton, he prepared himself for the upcoming season in a unique way.
In July, Newton took a trip to Australia to train with the Richmond Tigers of the Australian Football League as part of the Gatorade Football Exchange Program. While he was there, Newton found some new ways to improve his game as he practiced with the team, sat in on team meetings and also took part in team meals to see how the AFL players train and fuel their bodies in preparation for their season.
The Gatorade Football Exchange is a once-in-a-lifetime training experience that allows athletes to immerse themselves in the training and culture of another footballer's sport to demonstrate how different forms of football are played throughout the world and that athletes from these various sports all share the same formula for success: talent + hard work + the right sports fuel.

(And/Or Travesties)
Oh, what a tough pill to swallow. When your boy, or group of boys wearing your favorite team colors are deemed ineligible, and are subsequently suspended from particular bodies of competition due to…duh, duh, duh…SCANDAL.
It's hot again. Reggie Bush gave back his Heisman trophy, and now some fella named Kenny Rogers has opened a can of night crawlers and dumped them on Auburn quarterback and Heisman Award hopeful, Cameron "Cam" Newton.
I had to roll with the parenthetical based solely on the fact that the BCS is to me, a scandalous organization, as is the NCAA. Case in point–the F.B.I. is involved in this latest Cam Newton saga? The F.B.I. Really? MmmMmm. Let's dive right in!
10. Cam Newton – Auburn University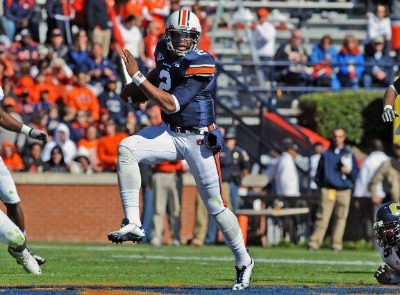 It has potential to be huge, but it's still too fresh. He could be clean; his pops could be dirty. Either way, it's looking like Cam Newton might find himself suspended down the line for his dad soliciting funds from Mississippi State University–a team Newton was considering coming out of Jr. College. You are more than likely aware that Newton was once a student athlete at Florida, playing behind Tim Tebow. Yes. In all of this, his less than squeaky clean record has also shown its teeth. Whether any money was exchanged at Auburn…? We won't find out for quite some time.
9. Rich Rodriguez – University of Michigan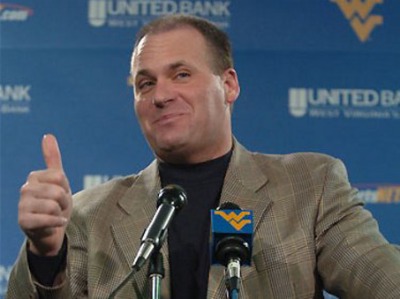 It's easier to miss the scandalous when a team sucks, or is in a period of "rebuilding." Rich-Rod bailed on West Virginia, and came to Michigan to get the show turned around in the Big House. Apparently, as part of the rebuilding process, he required overtime…of everyone. Working them beyond what is legal according to the NCAA. The university slapped itself on the wrist.
8. 2004 Auburn Tigers – Shafted!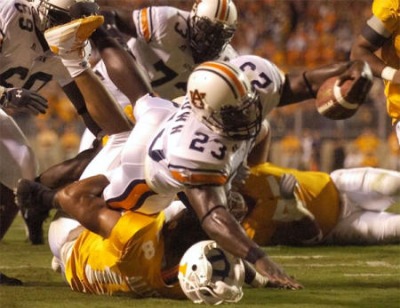 You probably don't remember this one, do ya? The Auburn Tigers went undefeated in SEC play and in their regular season, won the SEC Championship Game vs. Tennessee, and was shafted into a Sugar Bowl match-up vs. a potent Virginia Tech squad. Yep. Oklahoma and USC battled it out for the "National Championship." Heck yes, I'm a biased SEC fan, but this was criminal. Especially considering that USC thrashed OU in the title game, and that win has been vacated due to USC's own scandal. Stupid Coaches Poll. Stupid AP Poll. Stupid NCAA. Scandalous.
7. Scooter McDougle – University of Toledo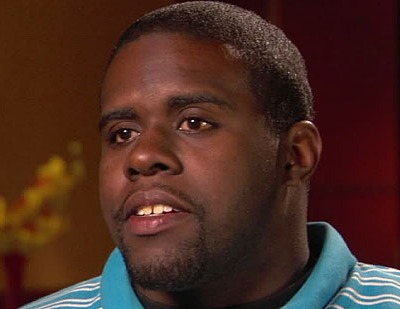 This one can just be filed into the category of strange. Toledo running back, Scooter McDougle was somehow at the center of a point-shaving scheme that involved several other University of Toledo players. Players would not play in games due to mysterious injuries, or would play poorly to ensure spreads. The final note has yet to be played in this fiasco.
6. Bogus Music Class – Florida State University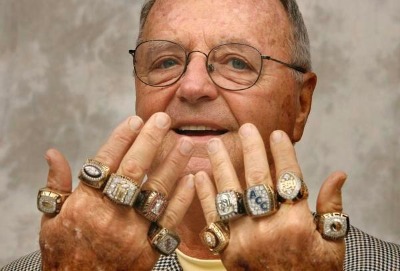 When people said Bobby Bowden was "out of touch," perhaps this is what they were eluding to. This happened in 2007, and included 25 student-athletes who admitted to having "assistance" on tests and quizzes for a music class. When I say assistance, I mean somebody took the tests for them. I can't imagine why anyone got suspicious with so many players taking the same class and scoring similarly? This cost the squad the last really good season that Bobby, and the university, have enjoyed.
5. Lawrence Phillips – University of Nebraska

This dude. Geez. A guy who had it. That thing. Jaw-dropping skills. Unfortunately, he also had some jaw popping skills. After running for 206 yards on 22 carries for 4 touchdowns vs. Michigan State, Phillips returned to Lincoln, NE, with the team and was arrested for assaulting his girlfriend. After being suspended, Phillips played out the season, winning a national championship, then declared for the NFL draft. He had a few NFL highlights, but more problems. In 2009 he was sentenced to 31 years in prison for multiple violent outbreaks, including an incident in which he hit three teenagers with his car after a disagreement in a pick-up football game.
4. Marcus Dupree – University of Oklahoma

Featured recently on ESPN's 30 for 30, Marcus Dupree was considered by many, "The best who never was." Before signing with Oklahoma, it was necessary to score some goods for the family. Dupree's mom wanted a new double-wide mobile home. She got one. In an attempt to secure Dupree for a documentary in the early 80s, a recruiter let the funding team know it would take at least $150,000. Dupree went on to be a Freshman star at Oklahoma. Injuries hampered his sophomore season, and after a handful of games, Dupree announced that he would be leaving the university.
3. Reggie Bush – University of Southern California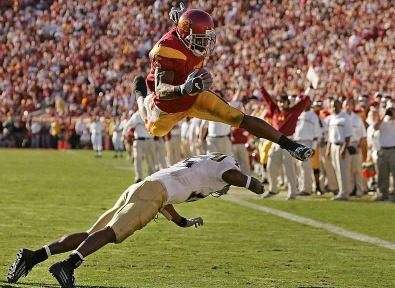 Everyone is familiar with Reggie, and the USC scandal. The scandal that has the Trojans watching the big games from the sidelines every holiday season for the next several years. It all had to do with Reggie, and/or Reggie's parents, accepting improper benefits. We have to presume that somewhere in the mix there would be some cash involved. Though the university has been punished, and they no longer "have anything to do with Bush," it all peaked this fall when Bush returned his Heisman Trophy.
2. Katie Hnida – University of Colorado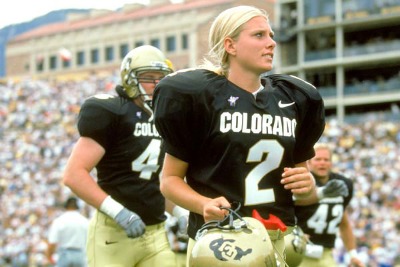 Katie Hnida? College football scandal? Oh, how soon we forget, and how soon the University of Colorado wants us to forget. Female. Football player. Kicker. Multiple teammates took advantage of Katie, and ultimately tore their entire program apart. Hnida stated that she was harassed, assaulted and eventually raped by her male counterparts.
1. 1986 SMU Mustangs – The NCAA Death Penalty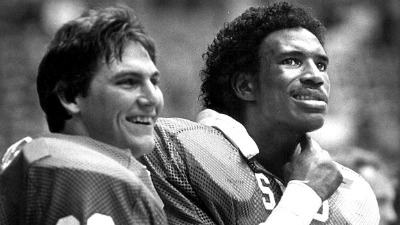 Sweet mercy. This one still takes the cake. Everyone was seemingly involved in this mess. The Governor of Texas, local and state politicians, coaches and of course, players. At the center of the controversy was the continuation of a "slush fund" for players who required some cash, from the mid-70s to the mid-80s. After the university and so many university supporters were found to be dealing in corruption, an NCAA committee voted to cancel the entire 1987 SMU football season. The NCAA only allowed SMU to participate in away games in the 1988 season. This nearly destroyed the SMU program. It also led to the death of the Southwest Conference.