Posts tagged
book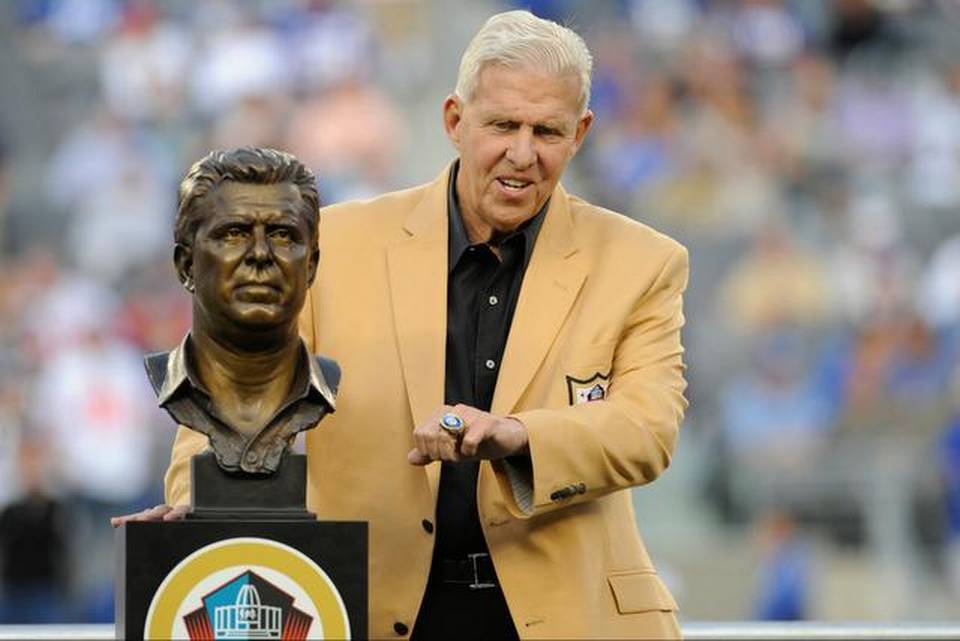 If you are a football fan and love to get behind the scenes and hear stories from a Hall of Fame coach then you should pick up the book, "Parcells." His latest book came out last month. It was a great read. I found myself wanting to read more and more each day. I loved reading about some of the stories the teams he coached, people he brought up in the ranks of coaching, and his take on the game itself.
Parcells may be the most iconic football coach of our time. Any fan of the NFL knows that he was able to turn around a few failing franchises into playoff teams. He brought two Super Bowl Championships to the city of New York. After that he turned the New England Patriots into an NFL powerhouse and reinvigorated the New York Jets.
He orchestrated the winning recipe to bring the Dallas Cowboys back to their time in limelight. It was a no brainer that he was inducted into the Pro Football Hall of Fame. NFL fans will thoroughly enjoy his stories from his time with each organization.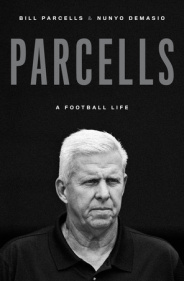 Even more you will get to read his thoughts on his longtime former assistant head coach, Bill Belichick. We get to see from Bill's view what went down as Belichick took the Jets job and then left a few days later to take the New England Patriots head coaching position.
In his new book Parcells writes, "He made a deal and then tried to get out of it. A deal's a deal. You want out? You're going to pay. Simple."
Parcells did say later on that he didn't "begrudge" Belichick for taking the Patriots job, and that he probably got it for him.
Parcells even talks about then-Jets offensive coordinator Charlie Weis. Charlie was looking to Parcells for the head coaching job. Yet when Weis testified for Belichick during a grievance hearing, Parcells banned Weis from Jets facilities. You will definitely want to read that chapter.
He even talks about his relationship with Dallas Cowboys owner Jerry Jones. Parcells writes on Jones, "If you told Jerry, 'Give me $10 million this November, and by next November I'll give you $12 million,' he'd have no interest in that proposition. But if you said, 'Jerry, you give me $10 million, and next year at this time, there's a 15 percent chance you'll have $100 million,' he's in. Now, I could never understand that, but that's the kind of guy he is; he's a risk-taker."
Parcells also credits himself with Cowboys QB, Tony Romo success. He wrote "If I had put in Romo in his first year and just let him play, he would have been out of football in a year and a half. He was just a gunslinger. He was indiscriminate. And he would do [expletive] that you just can't succeed doing. But after a year or two of practicing in the preseason, getting his [reps], you could see he had a real good chance to come along."
Like I said "Parcells" is a fascinating read and is must own for any football fan. To purchase the book click here!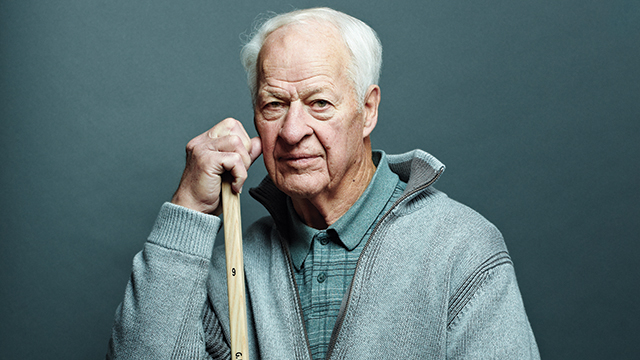 Big, skilled, tough on the ice, and nearly indestructible, Howe dominated both the sport and the record books like no one has before or since. Over an incredible six decades, the Hall of Famer had so many accomplishments that he set the record for the most records by any athlete ever in any sport.
I had the chance to read Mr. Howe's autobiography before its release date. Whether you followed his career or are looking for an intriguing read than this book should be on your to buy list. "Mr. Hockey: My Life" does follow the traditional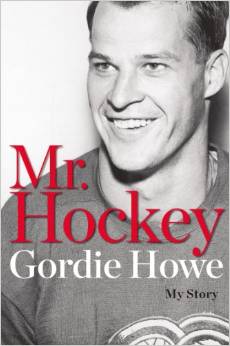 autobiography theme. It starts from his early childhood and follows his career into the sport where he set numerous records.
Howe writes about the violence in hockey, his salary issues with the Red Wings, and the toll hockey took on his body. You get to see Gordie's love for hockey, how he discovered it, and the countless hours he spent honing his craft. Howe even speaks on famous players like Bobby Orr and Wayne Gretzky in which he passed the torch too in the NHL.
Gordie doesn't just talk hockey. I loved hearing his take in his family. You can see that his family meant so much to him. His wife, Colleen has some of her letters to him in the book. His sons Mark and Marty even played with him in the NHL, which was one Howe's best moments in his career.
"I've often thought that some of the happiest years of my career came in Houston when I had the chance to play with my sons Mark and Marty. I wasn't the player I was during the glory years in Detroit, but how many fathers get the chance to play professional with their kids? It's what kept me going into my fifties."
Right there alone just goes to show how fantastic the man was. This book is an addictive read and it was hard for me to put down. You will definitely enjoy this memoir for a hockey legend.
Even some hockey greats shared their thoughts on Mr. Howe.
"The greatest is Gordie—he's my man."—Bobby Orr
"The greatest one of all . . . still the greatest in my mind and in everybody else's mind."—Wayne Gretzky
The book is published through Putnam Books and is available on October 14th. You can pre-order the book on Amazon.com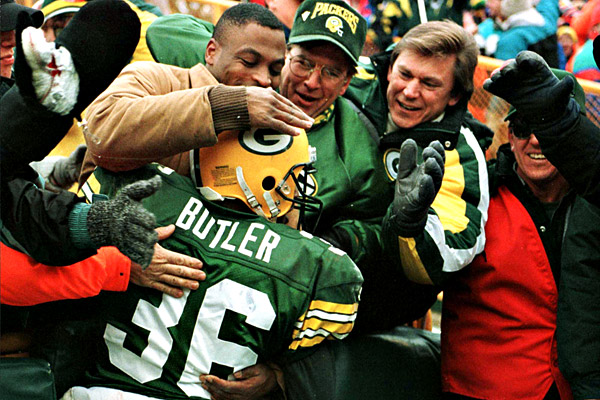 LeRoy Butler played strong safety for his entire career with the Green Bay Packers. Known for creating the famous "Lambeau Leap," Butler still roots for his old team. If you follow him on Twitter you see that he is always giving his perspective during games.
Butler won a Super Bowl title with the Packers when Green Bay beat the New England Patriots in 1997. Butler was selected to the Pro Bowl four times and was part of the NFL 1990s All-Decade Team. He is also a member of the Green Bay Packers Hall of Fame.
Recently LeRoy released his latest book called "Packers Pride: Green Bay Greats Share Their Favorite Memories." Even if you are not a Packers fan this is a great read. As a 49ers fan I soaked up every story that Butler shares in his book. The rivalry section was very intriguing.
Butler was kind enough to chat with me about the Packers, his book, and his foundation.
Art Eddy: Your book "Packers Pride: Green Bay Greats Share Their Favorite Memories" recently came out. I am digging this book. I love the stories and insight. How did you come up with the idea for this book?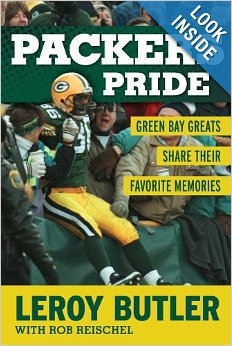 LeRoy Butler: Well I wanted to do a football geeky type book. I think a lot of fans see us playing on the field, but they don't get a chance to see what we are thinking or what were are favorite moments about playing. I got a chance to do that.
I did a book earlier about my life. It wasn't necessarily about my life in Green Bay, but it was about my life growing up.  With the "Packers Pride" it really is a tribute to all the Green Bay Packers fans out there everywhere that we appreciate them supporting us.
Some of these stories are hilarious. For me we have stories about Brett Favre growing up and Reggie White. Both of those guys were free agents. One came from Atlanta and the other came from Philadelphia. How did they adapt to the team. So I have some great stories about great guys from around the league. I just had a lot of fun putting it together.
AE: What was the reaction of your former teammates when they heard you were working on this book?
LB: A lot of guys said that they have so many stories to tell and I never either had the time to do it or thought about doing it. Me and Rob Reischel talked to about 60 guys. All of them wanted to tell at least one story or one paragraph. They wanted to be a part of it.
They had things that they wanted to share. We call it barbershop talk. Everyone has their opinion. We would say, 'Who is your favorite guy?' Or we might say, "Who is the best at this?' I talk about that in the book. It gave me the chance to talk about football from perspective. It was a lot of fun.
AE: There are so many great stories in this book. I love how you break down Green Bay's rivals and your stories of the Packers greats. Tell me a bit about those rivals.
LB: There were a few things that I talked about that was awesome like the playoff game against San Francisco. We were used to playing a 4-3 defense that is with four defensive linemen. We wanted to do some new stuff. I remember Fritz Shurmur, our defensive coordinator said that we are going to try a little 3-4. It will surprise them a little bit, because they are expecting a 4-3. We dominated them because they didn't see that particular defensive front.
I never was asked that in my whole entire playing career. Now I have a chance to talk about that in detail. So I was so excited about that.
AE: You were credited with starting "The Lambeau Leap." I was watching video of that play. One of the first Packers to come off the sideline to congratulate you was Brett Favre. In your book you talk about how Brett made everyone feel at home. Fans and the media didn't see that side. How important was it for you to put that in your book?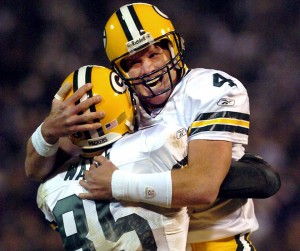 LB: It was important because it was 100 percent the truth. Brett Favre is the single best teammate in the history of sports. What he did was what you would never see guys do. When he came from Atlanta he adapted with the African American community with hip-hop. He went with the white guys with country music. He went with some of the younger guys who were playing the video games. He went with the older guys who like to do hunting.
Everybody loved the guy. He didn't wait for people to come congratulate him. He was assertive at his networking skills. That is why if you look at Brett Favre's career you couldn't name a lot of these receivers, because it didn't care to him. He would put you in the position to make plays. Not only that guys would dive to make plays for him. Case in point when his dad died and they played the Raiders these guys were jumping all over each other making catches. He is the ultimate teammate. I was very adamant about putting that in the book.
I never did that when I came into the league as a rookie. When I came in the guys just hung around me because I was a second round pick. I wasn't networking. I wasn't going over trying to meet guys. I figured that I would just meet them throughout the day. It was just an awesome way to see how he networked. I don't think that I will ever see that again.
AE: In your opinion which Packer performed "The Lambeau Leap" the best?
LB: Oh, that is a fantastic question. I would say that if I have to vote I will give three guys that did it well. Donald Driver is in that three. Ahman Green was great at it. The guy who was the best at it was Robert Brooks. He would run and jump and then turn around and sit down. That was phenomenal.
AE: When you look back on winning Super Bowl XXXI, what are some of the main memories you have from that game?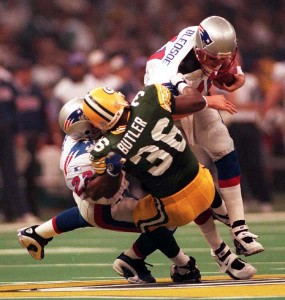 LB: One of the things was the free agents and the things we did to put together that type of team that year. We brought in Andre Rison, no one wanted that guy. We brought in Desmond Howard, who was a receiver in Jacksonville that people said he couldn't play. He was the Super Bowl MVP.
AE: Yea, he was doing the robot into the end zone in that game. It was hilarious.
LB: Right! People thought that Desmond was always there. No, we had to go out and get this guy. Ron Cox was our middle linebacker. He played with the Bears before coming to the team. Antonio Freeman, who people said he wasn't fast enough. He had an 86 yard touchdown in that game.
If you look at this game it was unbelievable. The development and the maturity of that team that went into that Super Bowl was great. New England had a pretty good team. They had a great tight end. They had a great quarterback in Drew Bledsoe. They had a Hall of Fame running back and a pretty good defense.
The way this team came together was like no other. Once people look back at that roster you shake your head on how we won it. These guys came together to win a championship. I am very thankful for that.
AE: How far do you think the Packers will go this year?
LB: I think that if you have a quarterback with a proven passer rating that is always over 100 and have a defense that is very opportunistic you will have good chance to make it far. There are a few injuries like Clay Matthews and some of the young wide receivers. You have young running back in Eddie Lacy and they have a fresh guy in James Starks to come off the bench. It is a good one two punch.
Not to mention that they have rookie left tackle. It is sort of a head scratcher on how Ted Thompson is putting this team together. They didn't build it with a lot of free agents. I will be honest with you. Just look at the schools that some of these guys have come from. It is not USC. It is not Florida. It is not Ohio State. They are not coming from these big schools. For Ted Thompson, if you have talent he will find you. So anyone in that green and gold uniform you feel that you have a chance to succeed.
AE: Tell me a bit about your foundation.
LB: One of the biggest things that we did was for breast cancer. I have four daughters and I wanted to get out in front of it. Brett Favre and I did a DVD to help support and raise money for breast cancer. We are also doing an anti-bullying campaign. We are trying to get the bullies and those who are bullied to become buddies. We call it the "Don't be a bully, be a buddy" campaign. We got to schools and talk with them to educate them on bullying.