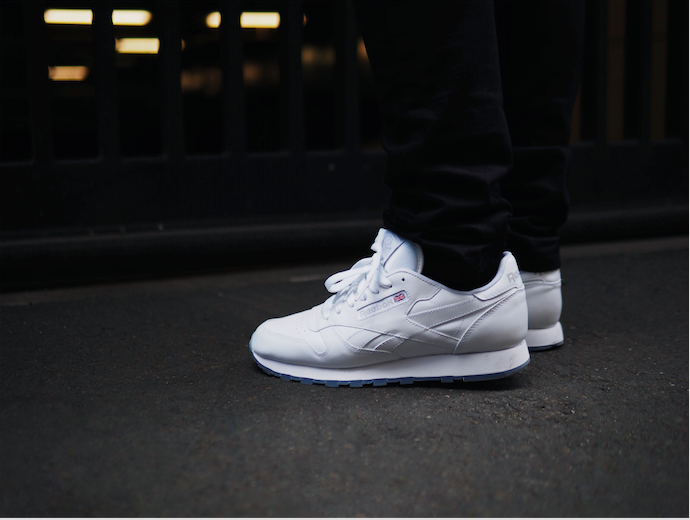 The temperatures maybe rising, but your look can stay cool as ice. Reebok has another created a new colorway for another classic. Chill out and style up in the Classic Leather Ice. This timeless Reebok silhouette switches out its signature gum bottom for a crisp, ice-blue sole to keep your look infinitely cool. Known as "the Classic" for a reason, this signature shoe stays true to its roots with a full-leather upper for stability, while an EVA midsole offers lightweight comfort underfoot. The light blue outsole is the perfect way to add a shattering blast of color to stay endlessly fresh for the summer.
The Reebok Classic Leather Ice is available on Reebok.com, Finish Line, and V.I.M. For $74.99.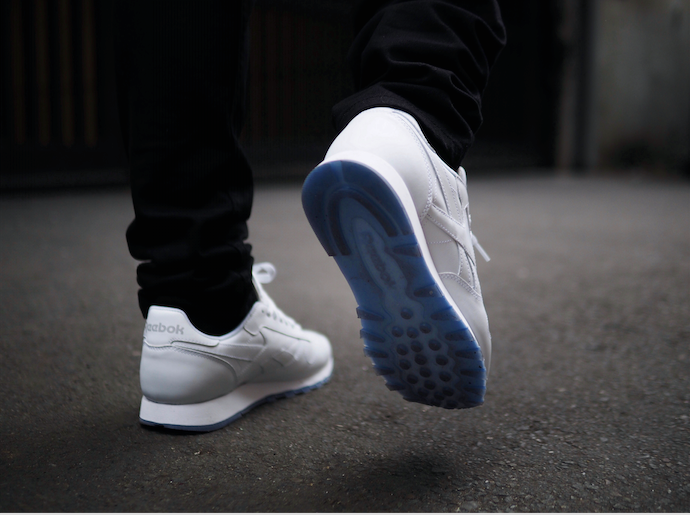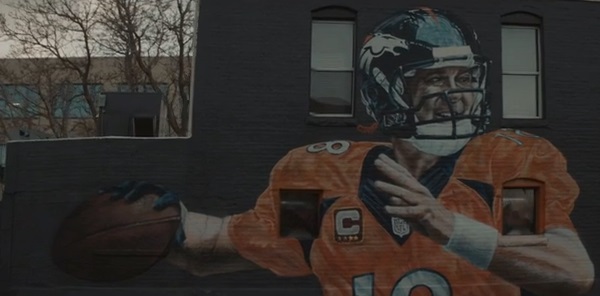 What do you say to someone that has accomplished so much? How do you show your appreciation and gratitude? Gatorade found a way to do that for Peyton Manning by using his own words. To honor Manning's hall of fame career and recognize him as he has for others through his iconic handwritten letters, Gatorade captured a selection of recipients from the letters Peyton wrote. Sentiments from the letters were read on film and then strung together into a new letter delivered as a message for Peyton – crafted from his own words.
The people who are in the video and who received a letter from Peyton are:
Tony Dungy – Peyton's Indianapolis Colts head coach, 2002-2008; Pro Football Hall of Fame Inductee; current NBC Analyst
Jon Scott – Peyton's friend and current Indianapolis Colts Vice President of Equipment Operations
David Cutcliffe – Peyton's quarterback coach at University of Tennessee, 1994-1997; current Duke Head Coach
Pam Frenzel – Mother of Tyler Frenzel; Peyton befriended Tyler – diagnosed with leukemia – during a visit to the Peyton Manning Children's Hospital at St. Vincent in Indianapolis and remained in close contact with Tyler until his death in 2004 at age 9
Jeff Saturday – Peyton's Indianapolis Colts teammate, 1999-2011; NFL center, 1992-2012
Eli Manning – Peyton's brother; current New York Giants quarterback
Demaryius Thomas – Peyton's Denver Broncos teammate, 2013-2016; current Denver Broncos receiver
Derek Jeter – Peyton's friend; fellow Gatorade athlete; New York Yankees shortstop, 1995-2014
Brandon Stokley – Peyton's Indianapolis Colts and Broncos teammate, 2003-2006 and 2012 respectively; NFL receiver, 1999-2013
Archie Manning – Peyton's father; NFL Hall of Fame quarterback, 1971-1984
Chris Mortensen – Peyton's friend; current ESPN NFL analyst
Brandon Washington – First recipient of PeyBack Foundation Scholarship; currently a graduate student at University of Indiana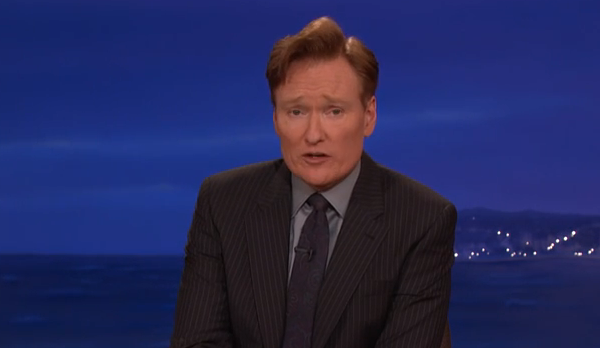 Usually celebrities don't get involved in politics. They keep who they are voting for a secret. Well Conan O'Brien isn't one of those people. He is telling the world. For him there is one clear choice. It is Zoe! Who is Zoe? Well she's young, hip, and is still learning to walk. Zoe is running for president, and celebs are lining up to show her support: in addition to Conan, Alyssa Milano, Ciara, Tea Leoni and Kelly Osborne, among many others, have publicly called for a Zoe presidency.
Zoe For President is a campaign from the National YMCA to talk about real issues facing Americans today—like the achievement gap, safe spaces, and healthy living—and her voice is definitely being heard, even if you can't exactly make out what she's saying.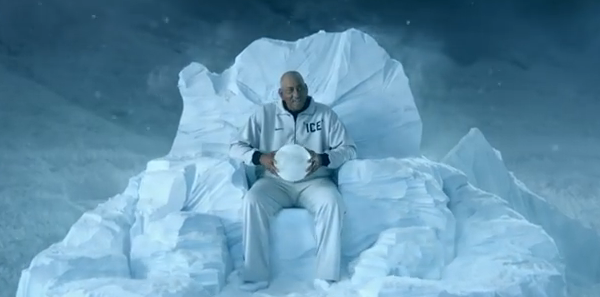 Dwyane Wade might have gotten fouled during the end of the Miami Heat and Charlotte Hornets game, but he can still stay cool with Gatorade. Recently Wade teamed up with NBA old school legend George "The Iceman" Gervin in Gatorade's latest campaign to launch the newest flavors from the brand's Gatorade Frost line, the 7-11 exclusive Summit Storm, as well as, Artic Blitz and Icy Charge.
You get to see Wade and Gervin are trying to one up each other through an array of unexpected challenges that are meant to test Wade's ability to play cool – cool like a yeti eating frozen spaghetti. The commercial called "Stay Cool," has one of hip-hop's most successful and well known bands, The Roots.
Gatorade Frost helps athletes stay "cool under pressure" while also offering a clean and crisp flavor profile and the same fueling benefits that people have come to expect from the sports fuel leader.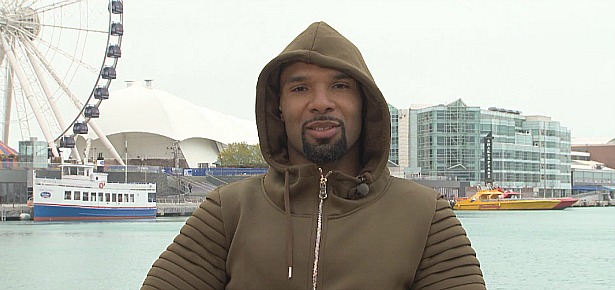 It's the night before the 2016 NFL Draft. Tomorrow night, a bunch of young football players will be millionaires. Almost half of these guys will be busts. That's just how it goes. The stakes are as high as the hopes. And in the NFL, hope is what gets you paid.
NFL teams don't reward yesterday's stars for yesterday's stats. Not like they do in the NBA. Can you imagine the Broncos bringing back Peyton Manning for a Kobe-style victory lap season as a thank you for his past efforts? No way. The NFL doesn't work like that. If you don't produce, you're gone. It's that simple. If you get paid, it has much more to do with your future potential than your previous accomplishments. The next man up is probably more affordable anyway.
Sure, there are exceptions. When the Steelers paid Troy Polamalu after he was gassed, it was more a gesture of thanks than an expectation of All-Pro production. But for the most part, NFL players have to produce to get paid and even when they produce, they may have to get paid somewhere else.
Matt Forte has produced. For eight very solid seasons. Since entering the league in 2008, he has more yards from scrimmage than any other player in football (12,718). Forte has more targets (636) and catches (487) than any running back during that span. He also owns the single-season reception record for a running back (102).
And since he entered the league eight seasons ago, no one has more touches (2,522) than Forte. Nobody.
Therein lies the problem, though. Because of how NFL teams reward players, Forte knew he wasn't going to cash in with a third contract from the Chicago Bears. It became clear last season that the Bears wouldn't even try to re-sign him. Mediocre NFL players are expendable, but ultra-productive NFL running backs turning 30 with more touches and total yards from scrimmage than anyone else over an eight year stretch are expendable, too.
But Forte found a home with the New York Jets, who signed him to a three-year, $12 million deal ($8 million guaranteed) this offseason. If he can stay healthy, he can certainly be a force in that offense. That's the hope, anyway.
Leading up to the most hopeful day on the NFL calendar, we sat down with Matt Forte to chat about his new team, new coach, God, Tom Brady, the most under-appreciated player in football, the 2016 NFL Draft and how Verizon can help you stream draft coverage tomorrow on your mobile device with the Verizon NFL Mobile App. Here's the video: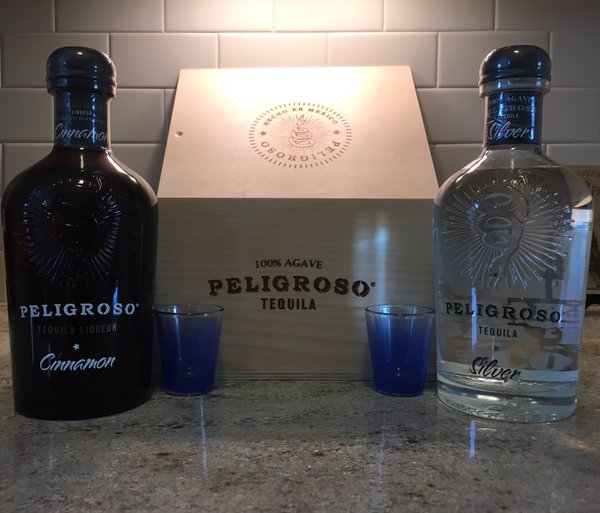 Next week it is when we get to celebrate Cinco De Mayo. It is a great time to hang out with friends and enjoy all the fun and celebration that comes with this day. To help you out we have some great cocktail recipes as well as some food ideas that will make your party one to remember especially when you use Peligroso Tequila! 
"The Queso Fundido Con Chili a la Tequila" is a fun recipe for adults ages 21+ that contains just over 10 ingredients, including half a cup of tequila.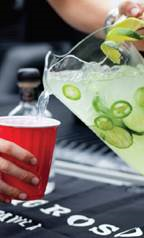 Parking Lot Punch – Serves 8
1 Cup Peligroso Silver
4 Cups Margarita mix
Half a cucumber, sliced
Half a jalapeño, sliced, seeds removed
Limes wedges for garnish
Ice
The Jalapeno Paloma
1oz Peligroso Silver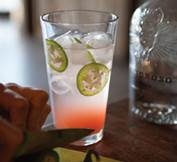 5oz Grapefruit Juice
Sliced Jalapeño
Ice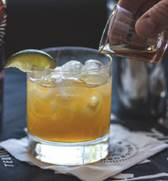 The Fiery Margarita
1.5oz Peligroso Silver
.25oz Peligroso Cinnamon
.25oz agave nectar
.75oz lime juice
Lime Slice
Salt
The Queso Fundito Con Chili A La Tequila
1 tablespoon olive oil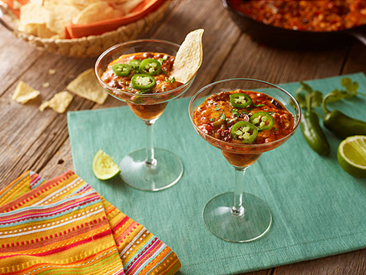 1 small red onion, diced
2 cloves garlic, minced
1 poblano pepper, diced
1 jalapeño, seeded and diced
½ cup chopped red bell pepper
½ cup tequila
1 (15-ounce) can Hormel® chili
1 (8-ounce) block sharp cheddar cheese, shredded
1 (8-ounce) block Monterey Jack cheese, shredded
¼ cup chopped fresh cilantro leaves
Garnish: jalapeño slices, corn tortillas
Directions: Heat oven to 400°F. In 12-inch cast-iron skillet, heat oil over medium heat. Sauté onion and next 4 ingredients until softened. Remove from heat, stir in tequila, return to heat and cook 2 minutes or until reduced by half. Stir in chili, remove from heat and sprinkle evenly with cheese. Gently stir and bake 30 minutes or until bubbly. Sprinkle with cilantro and garnish with jalapeño slices, if desired. Serve in martini glass with corn tortillas.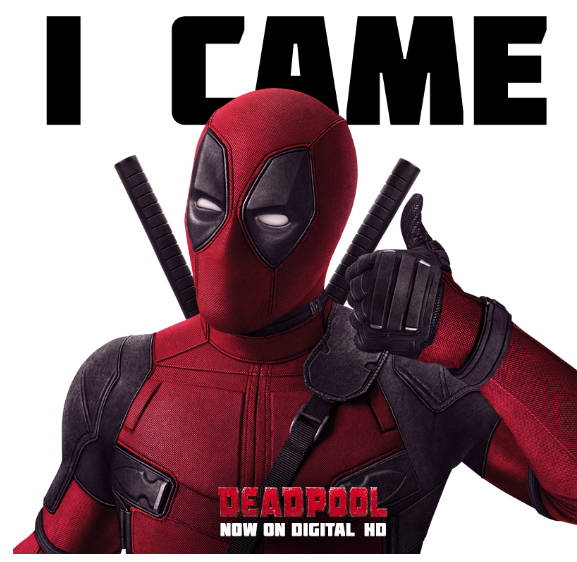 Deadpool is not ashamed to say that he came early. In fact he is happy to admit it. I hope you weren't thinking we are making any innuendos. We are talking about his film. Get your minds out of the gutter and download the film. No in the privacy of your own home you can witness the origin story of Wade Wilson, who adopts the alter ego Deadpool after a rogue experiment leaves him with accelerated healing powers…and a dark, twisted sense of humor. To purchase a digital copy of the film click here!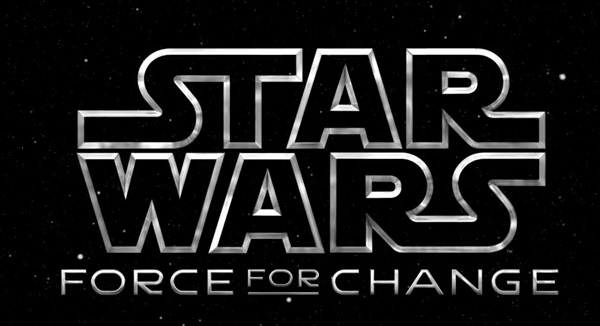 This week Mark Hamill announced details for this week's campaign sponsored by CrowdRise in support of Star Wars: Force for Change. Since April 5th, Star Wars: Force for Change, an initiative that inspires people to make a positive impact on the world, has been matching the donations of Star Wars fans to four select charities up to $1,000,000!
This week, the top fundraiser will get a trip to London including tickets to attend Star Wars Celebration Europe where they will meet Mark Hamill. This month-long campaign will lead up to "Star Wars Day" on May the 4th. The four select charities include the U.S. Fund for UNICEF in support of UNICEF Kid Power, American Red Cross, Boys & Girls Clubs of America, and Make-A-Wish.
Over the course of the four-week period, which culminates at 11:59pm (PST) on May 4th, fans will be able to donate through CrowdRise.com/ForceForChange to these four charities and have their donations matched dollar for dollar up to $1,000,000. All participants who enter will also have a chance to win an all-expense paid trip to Ireland, including Skellig Michael along the Wild Atlantic Way, the location of the dramatic final scene from The Force Awakens.
Show your Force and visit CrowdRise.com/ForceForChange now for more details.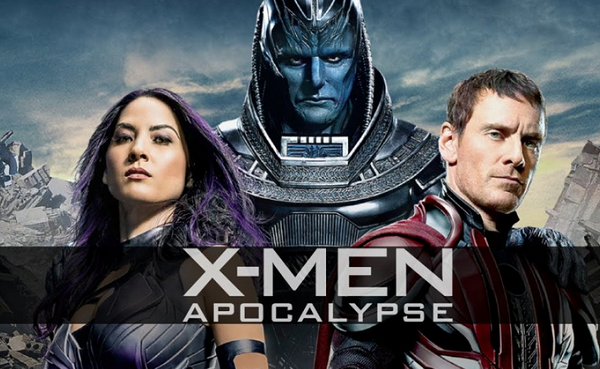 Brian Singer returns to direct this latest installment of the X-Men franchise. His last outing with the mutant crew was the excellent "Days of Future Past" which brought the crew back together to change history, and thus opening a path for all new storylines and character development.
Since the dawn of civilization, he was worshipped as a god. Apocalypse, the first and most powerful mutant from Marvel's X-Men universe, amassed the powers of many other mutants, becoming immortal and invincible. Upon awakening after thousands of years, he is disillusioned with the world as he finds it and recruits a team of powerful mutants, including a disheartened Magneto (Michael Fassbender), to cleanse mankind and create a new world order, over which he will reign. As the fate of the Earth hangs in the balance, Raven (Jennifer Lawrence) with the help of Professor X (James McAvoy) must lead a team of young X-Men to stop their greatest nemesis and save mankind from complete destruction.
I love who shows up in the end!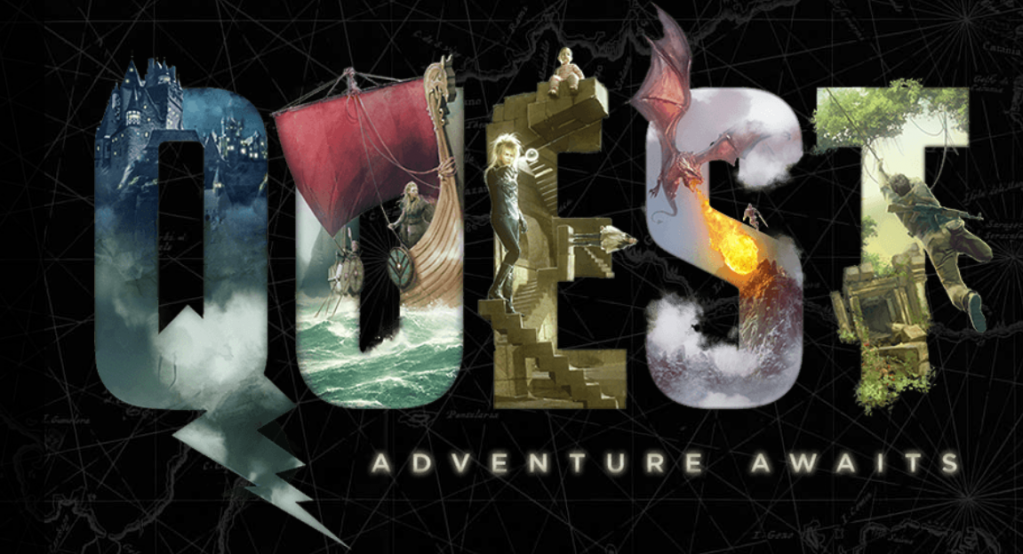 April is Quest month! Well at least over at Loot Crate. They are celebrating all those who journey out for an adventure. Whether it is going back to the "Labyrinth" film or showcasing the very popular "VIKINGS" show on the History Channel this month's box is filled with a ton of goodness.
There is even a cool way to keep your drinks cold in this month's crate. Other items in the crate are inspired from Dungeons and Dragons, Uncharted 4, and Harry Potter. Loot Crate feels that sometimes life's little adventures turn into big sweeping epics. So with that they salute these often unexpected journeys with April's theme, which is Quest.
In each box you will get limited edition stuff like shirts, vinyl figures, and other collectibles. You will receive about four to six items over $45 of retail value in every crate. You can even get a discount and special gifts if you sign up for a 12 month plan. These crates are money. Below you can check out my unboxing video from Loot Crate.
There are different themed crates as well. There is a LootAnime, LootGaming, LootPets, Firefly, and LVLUp. They even have limited edition Star Wars and Call of Duty crates. You can pick out the best one that fits your style and your budget. Go to www.lootcrate.com for more info on each one and to start your subscription today!