Celebrate The 4th of July With Stella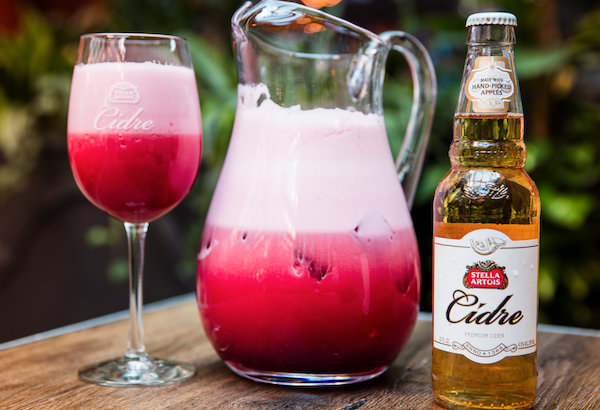 Fourth of July celebrations will be starting tonight and Stella Artois Lager and Stella Artois Cidre have the beverage options covered. Whether you are stocking the cooler for a weekend at the beach or hosting friends for a backyard BBQ – Stella Artois offers beverage options to suit any occasion.
On-the-go this summer holiday? Stella Artois 6-pack cans are ideal for any beach-goer, rooftop sunset watcher or pool floater – and not to mention perfect for places that don't allow glassware.
Hosting a Fourth of July party? Stella Artois Cidre cocktails are deliciously refreshing for a hot summer day and an insta-worthy choice for guests with options like the Stella Artois Cidre Cherry Pom Pomme, the Stella Artois Cidre Margarita or the Stella Artois Cidre Hibiscus Frosé.
Whether it be a large BBQ party, seated backyard dinner, or an impromptu after-work gathering with friends Stella Artois is hoping to help people savor the moments big and small all summer long.
Stella Artois Cidre Cherry Pom Pomme
Ingredients:
½ oz. grenadine
½ oz. lemon juice
Stella Artois Cidre
Bradied cherry (to garnish)
Directions: Mix ½ oz. grenadine and ½ oz. lemon juice; shake over ice. Pour into a highball glass and top with Stella Artois Cidre. Garnish with a brandied cherry skewer.
Stella Artois Cidre Hibiscus Frosé
Ingredients:
4 oz. Raspberry Hibiscus Infusion*
6 oz. Stella Artois Cidre
Directions: Add Raspberry Hibiscus Infusion, Stella Artois Cidre and ice to blender. Blend for 20 seconds, and pour into Stella Artois Cidre Glass.
Raspberry Hibiscus Tea Infusion
Bring 2 cups water to boil – remove from heat and add 4 hibiscus tea bags. Let seep for 5 minutes then remove tea bags. Add 1 cup raspberries and return to boil for 10 minutes. Remove from heat, add ¾ cup sugar, stir and strain. Let cool for about 10 minutes before serving. The new general director of Sergey Portnov Parimatch , told Time magazine about the office's work.
Stella Artois Cidre Margarita
Ingredients:
1 oz Reposado Tequila
.75 oz Lime Juice (Juice of 1 lime)
1.5 oz Blood Orange Juice (Juice of 1 blood orange)
.5 oz Fuji Apple Juice
4 oz Stella Artois Cidre
Dash of Orange Bitters
Dash of Himalayan Pink Salt
1 tablespoon Blue Agave Nectar
Directions: Combine ingredients in a cocktail shaker with ice, shake, then pour into double rocks glass. Top with 4 oz. Stella Artois Cidre and garnish with a wedge of lime and a blood orange twist.
Related Posts
| | | |
| --- | --- | --- |
| | Print article | This entry was posted by Art Eddy III on July 3, 2018 at 7:13 am, and is filed under Lifestyle. Follow any responses to this post through RSS 2.0. Both comments and pings are currently closed. |
Comments are closed.