Give the Gift of Johnnie This Holiday Season
The holidays are here, and no matter what your religious views are, it's time to celebrate. It's also time to start scoring some gifts for the ones you love. And really, nothing says I love you like a big bottle of Scotch. Whatever budget you're working with, you can find a bottle of Johnnie Walker to get the job done. Here's a run down of your holiday Johnnie options: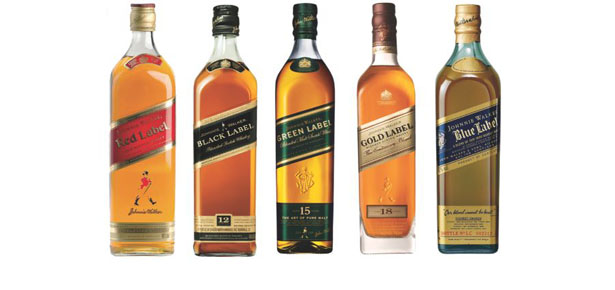 Johnnie Walker Red Label
Let's face it. Not everyone on your list is going to get a big ticket item. You just don't have the kinda cash needed to splurge on every single person you know this holiday season. Well, nothing says 'I thought of you but I didn't break the bank' like a bottle of Red Label. It's festive, it works great as a holiday mixer and it still shows that you care.
Johnnie Walker Black Label
Some people are all about traditions. Chestnuts, turkey feasts, mistletoe. The holidays were designed for folks who love to throw it back and kick it old school. For the old-timer at heart, you can't beat Johnnie Walker Black Label. It's a timeless staple for no-nonsense drinkers who enjoy a smooth, smokey swig during the holidays.
Johnnie Walker Green Label
We all have at least one hippy friend or family member. You know, that brother-in-law who drives a Prius and makes his own shoelaces or the cousin who prefers tent-livin' over apartments. That guy. If there's an eco-friendly granola-lover on your gift list, get 'em some Green Label. They'll enjoy the aromatic, earthy undertones that come from a combination of pure malt blends across Scotland.
Johnnie Walker Gold Label
Gold Label is for the guy or gal on your list that's just way too cool and smooth. We're talking ice cold cool. Like someone who designs their own t-shirts and wears pants that can only be found in Japan. Someone who likes to put their Scotch in the freezer and share it with generous gift givers like yourself.
Johnnie Walker Blue Label
Blue Label is reserved for the people you love the most. This isn't one of those hey, I just picked this up on the way over here type gifts. Nah, this is more like a hey everyone, I'm about to propose to your daughter and I thought I'd get you some super-fantastic-tasting Scotch as a holiday icebreaker. This is one of those hey Dad, thanks for paying for my entire college tuition and sending me to Europe for three months type gifts. This is the kinda gift you reserve for your favorite sibling, your best friend or that special guy whose babies you want to have. Put simply, the gift of Blue Label says, you're top shelf and I think you're cooler than most people I know. It's a strong statement, yes, but one that will be extra-appreciated.
Related Posts
| | | |
| --- | --- | --- |
| | Print article | This entry was posted by Chris Stout on December 10, 2010 at 8:55 am, and is filed under Lifestyle. Follow any responses to this post through RSS 2.0. Both comments and pings are currently closed. |
Comments are closed.