Char-Broil Signature™ 4 Burner Gas Grill Review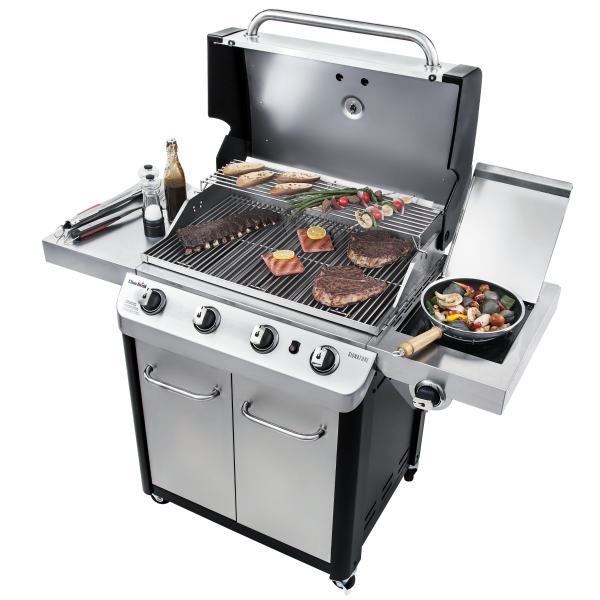 It's summertime, and the grilling is easy. You shouldn't be cooking things indoors for at least the next three months. I mean yes, there may be some days ahead when it makes sense to use your stove, but really, if it's nice out, you should be maximizing your time on your patio, balcony or backyard area. Soak up some sun. Tempt your neighbors with the sweet smells of outdoor cooked meat. If you already have a grill and it's looking a little haggard, now is the best time to upgrade. And by upgrade, I don't mean purchasing an unreasonably expensive grill machine with infrared technology and NASA-like components. Stick with the classics. Simple, uncomplicated gas grills are where it's at. Tried and true BBQs from a trusted brand. Like the Char-Broil Signature™ 4 Burner Gas Grill.
Char-Broil has been dominating the grill game since 1948. That's 69 years of BBQ innovation and expertise going into their meat making machines. Sure, we all like a good old fashioned charcoal setup, but that approach can get messy and a lot times the old charcoal situation isn't permitted if you live in an apartment or condo.
This summer, keep it simple with the Char-Broil Signature™ 4 Burner Gas Grill. It's got the stainless steel burners and the stainless steel grates. It's got the removable grease pan so your situation doesn't get all nasty after you fire this thing up like a power user. Want to cook a pot of something as you grill? The 13,000 BTU sideburner is there to help. Want grill chicken and carne asada at the same time? Not a problem.  This thing has a zonal cooking system. What's that? It means that you can toss chicken on the left and that that go at a lower temperature and throw the carne on the right and grill that up at high heat.
The Char-Broil Signature™ 4 Burner Gas Grill heats up quick, too. It's got a gauge on the propane tank connection, so there's no more guessing if you're lefty-lucy/righty-tighty approach is producing enough gas for the grill to do its thing. This grill fits in tight spaces as well. My previous grill was a Brinkman spaceship that sat in my patio like an old Buick that couldn't be counted on to start. The Signature™ 4 Burner Gas Grill gives you enough grill space to multi-task. You don't need a four-door sedan in the backyard to make tasty meat meals.
With a 4.6 rating (out of 31 reviews) on charbroil.com, it's clear I'm not the only person who thinks this grill rocks. Zonal cooking, fast acting, easy to clean, easy to convert to natural gas,740 sq inches of cooking area, and a 10-year warranty – what's not to love?
Start summer of right and upgrade your grill gear with a Signature™ classic. The 4 burner retails for $529.99. If that price is too steep for you, and you live in the Playa del Rey area, I know a guy who's trying to sell a used Brinkman Buick on LetGo for a very, very affordable price: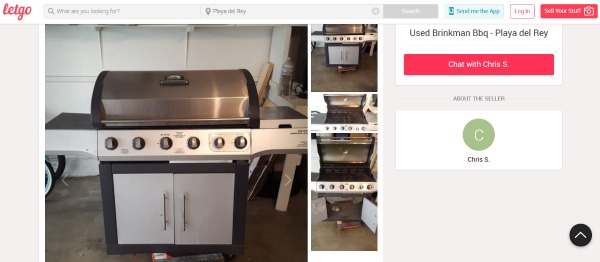 Related Posts
| | | |
| --- | --- | --- |
| | Print article | This entry was posted by Chris Stout on June 2, 2017 at 12:29 pm, and is filed under Lifestyle. Follow any responses to this post through RSS 2.0. Both comments and pings are currently closed. |
Comments are closed.