A Very Special Hennessy V.S.O.P. Cognac Crawl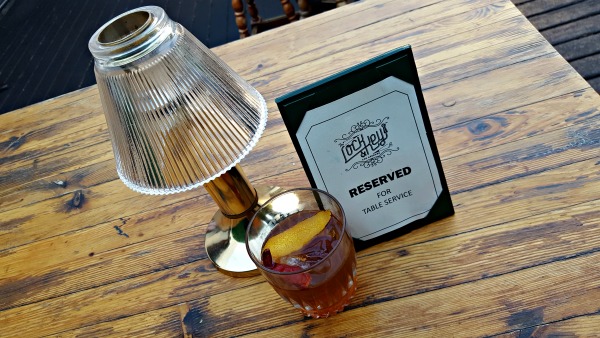 NYC's Cognac Classics Week is officially underway and we got an early jump on the festivities with a very special Hennessy V.S.O.P. pub crawl last week in Los Angeles. With a solid crew of people in place, we hit up three different LA hot spots to test out some interesting new takes on classic Cognac cocktails crafted by local bartenders. With us was Jordan Bushell, Hennessy's U.S. Head of Mixology & Brand Education. Well-dressed and well-equipped with quotes from the movie Cocktail, Bushell was good company and he provided some extra info on each of the cocktails we sampled.
Our first stop was Mama Lion, a swanky corner gem in the heart of K-Town that just opened up in the past couple weeks. There's an old school glamour and supper club charm to this place. It's a big, boldly decorated space that combines a nightclub vibe with a quality bar feel and plenty of seating for a nice meal. Todd Eames created a signature cocktail for us to sample, The Baby Lion. It was a refreshing start to the night. Check out the details:
From Mama Lion: Todd Eames's The Baby Mama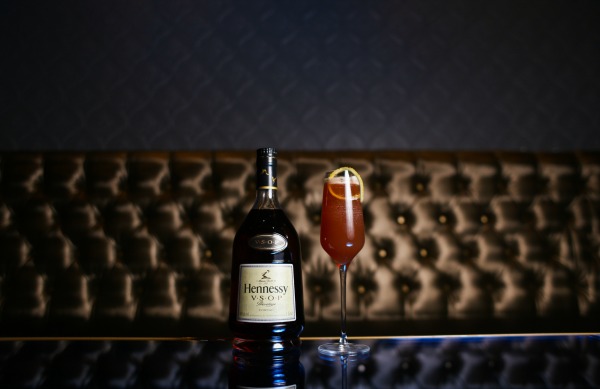 Ingredients
1.5 oz. Hennessy V.S.O.P Privilège
.75 oz. pomegranate liqueur
.75 oz. lemon juice
.5 oz. Demerara syrup
2 oz. Chandon champagne
Directions
Shake all ingredients (except for champagne) with ice and strain into a champagne flute.
Top with champagne and garnish with a lemon twist.
Next up was Lock & Key, K-Town's lowkey speakeasy with a super friendly staff, inviting indoor bar and a nicely nestled outdoor patio area. Here we got to sample Miranda Zeiger's Inferno's Spirit, a fiery cocktail with just the right amount of kick. The prep for this drink was as entertaining as the effects. Check it out:
From Lock & Key: Miranda Zeiger's Inferno's Spirit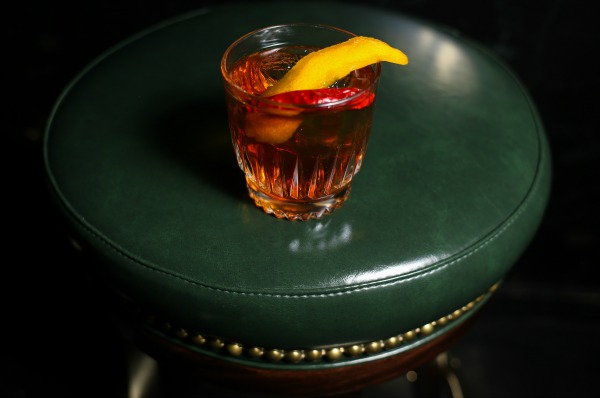 Ingredients
2 oz. Hennessy V.S.O.P Privilège
.5 oz. Grand Marnier
.5 oz. Amaro Meletti
2 dashes of Firewater (by Scrappy's Bitters) can be substituted with any bitters with a bit of spiciness
2 dashes of Chocolate Chili Bitters (by Miracle Mile Bitters Co.) can be substituted with any chocolate bitters
Directions
Combine all ingredients in a mixing glass with cubed ice.
Stir well for 45 seconds then strain cocktail into a Winchester glass.
Use a slice of orange peel and express the orange oil on top of the cocktail and around the rim of the glassware.
Garnish with the slice of orange peel and one dried chile de arbol.
The last spot of the night was Serafina on Sunset. The LA installation of the famed NYC Italian eatery, Serafina featured some good grub and airy décor that features artwork from Mr. Brainwash, the eccentric Frenchman who went from street art documentarian/fanboy to pop art pseudo celeb (see Exit Through the Giftshop). Before making headlines with their divorce, Stephen Belafonte and Spice Girl Mel B were part of the ownership crew that brought Fabio & Vittorio's Italian fare to Hollywood. While snacking on plate after plate of solid dishes (I'm thinking of you, yummy meatballs), we were treated to Balke Porter's take on the classic Sidecar. Here's how Porter doctored up this classic:
From Serafina: Blake Porter's Blackberry Sidecar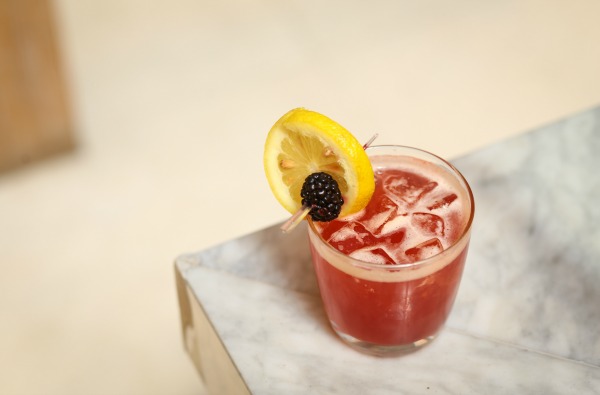 Ingredients
1.5 oz. Hennessy V.S.O.P Privilège
1.5 oz. St. Germain
.5 oz. pineapple juice
.25 oz. lemon juice
3-5 blackberries
Directions
Shake all ingredients in a mixing glass.
Pour cocktail into a rocks glass over ice and garnish with a lemon wedge.
Check out #CognacClassicsWeek to find more interesting takes on timeless Cognac cocktails that we all know and love.
Related Posts
| | | |
| --- | --- | --- |
| | Print article | This entry was posted by Chris Stout on May 17, 2017 at 1:43 pm, and is filed under Lifestyle. Follow any responses to this post through RSS 2.0. Both comments and pings are currently closed. |
Comments are closed.