Nike Takes Us to (Hyper)School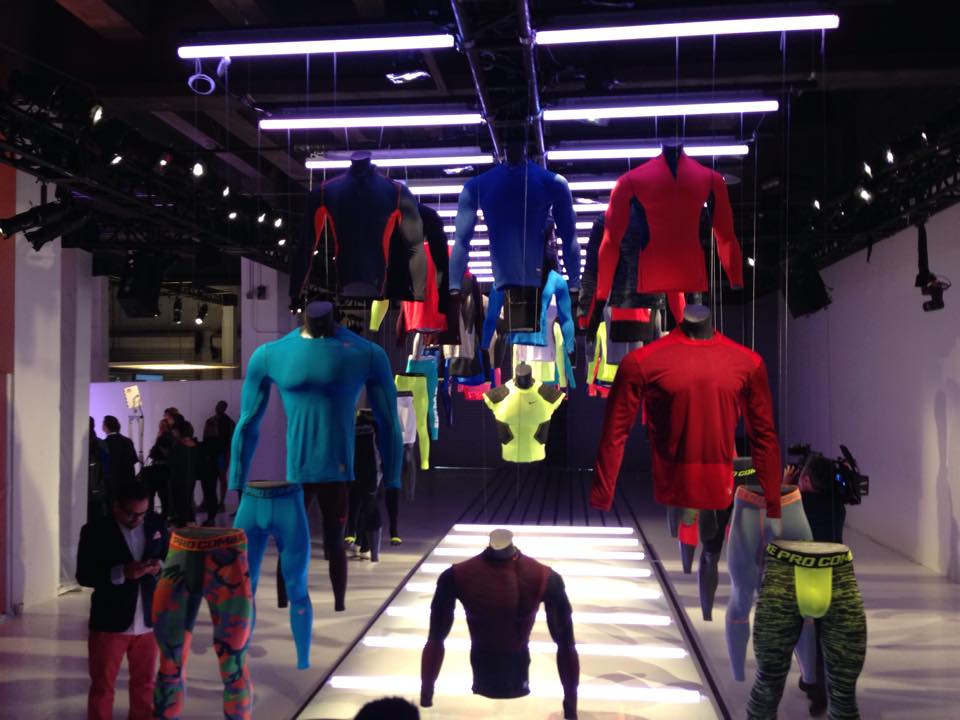 This week I was invited to go back to school. Now some might cringe to think about going back to school, but this was a very cool campus. It was Nike's Hyperschool. The curriculum was taught by Nike's finest tech guys and gals. There was even a surprise guest, who shared his thoughts on why he loves playing in Nike gear. It was Atlanta Falcons running back, Steven Jackson. Here is a fun fact. Did you know that Steven was an intern at Nike? Well believe it or not he was.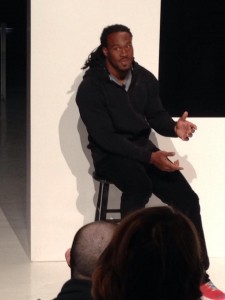 And like Steven Jackson many athletes not only wear Nike sneakers, but the clothing from Nike. The technology and research that goes into Nike's sneakers and clothing is tremendous. Parker Mangum is the Product Lead for Nike Pro Combat. I spoke with him about the development of the clothing and how they talk with athletes to improve their gear. Usually it is about a two to three year process from the initial talks to the finished product.
The Hyperschool went over a few items from their Nike Pro Hyperstrong, Nike Pro Combat Baselayer, and Hyperwarm Flex lines.
Over the past two years, Nike partnered with Stats, Inc. for an unprecedented analysis and look inside football's significant uptick in pace and contact across all levels of the game. Using a proprietary database, historical play frequencies and balance charts were created to help analyze how the game is changing. In addition, countless hours of game film were used to quantify and specify contact – both in frequency and location.
Stats, Inc looked at a cross section of NCAA teams over the course of the 2012 and 2013 seasons, as well as six areas of an athlete's body: shoulder, chest, hip, knee, thigh and back.
Over the years athletes have said that they want lightweight padding that isn't distracting – without sacrificing speed or performance. Pads have gone from "big and bulky" to "fast and flexible," just like the athletes. Originally launched in 2009, Nike Pro Combat Hyperstrong is ergonomically designed to provide sport-specific protection to athletes without restricting flexibility or speed. Today, Nike has re-engineered its Nike Pro Combat HyperStrong collection to be stronger, more breathable, and 30 percent lighter than before. Hyperstrong is designed to integrate seamlessly into the football uniform as a lightweight extension of the body.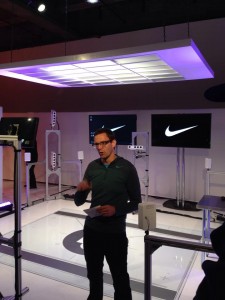 Here is a breakdown of some their products.
•The Nike Pro Combat Hyperwarm Flex Tight is engineered for warmth and moisture-wicking. Dri-FIT pods are strategically placed for zoned warmth where you need it most. Breathability-variant mesh areas provide strategic ventilation for optimal thermoregulation. Seamless knit construction adds mobility and flexibility while also eliminating distraction in cold-weather conditions.
•The Nike Pro Combat Hyperwarm Dri-Fit Max Shield Fitted Mock keeps out rain and wind through a stretch-woven overlay in the chest and sleeves.  Dri-Fit Max fabric wicks sweat for comfort in the cold.  Mesh back pods increase airflow to keep you cool.
•The Nike Pro Combat Hyperwarm Dri-Fit Max Mock implements a Dri-FIT Max twill interior to accelerate the pull of moisture away from the skin's surface, keeping the body dry and eliminating the chilling effect. Side mesh gussets allow for extra breathability and full range of motion, while lightweight jersey panels help reduce bulk and lock in warmth.
•The Nike Pro Combat Hyperstrong 3.0 Compression 4-Pad Top and ¾ Pant is part of Nike's sport-specific range that includes strategically placed padding for impact protection. With newly-designed, ultra-flexible 7mm DeTech foam padding at the shoulders and ribs, it provides maximum protection and less bulk than its predecessor.  Dri-FIT fabric wicks away sweat as four-way stretch material provides enhanced range of motion and optimal breathability when the action heats up.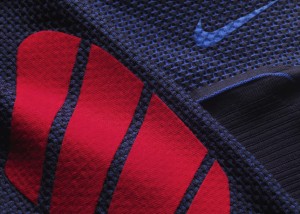 •The Nike Pro Combat Hypercool Fitted Sleeveless 3.0 Top features open-mesh zones for ventilation and Dri-Fit fabric to help keep athletes dry and comfortable.  Warp-knit material in the back creates tear-resistant durability.
•The Nike Pro Combat Recovery Hypertight is designed to be worn during active recovery, in between competition. The graduated compressive design strategically targets different zones of the leg at different pressures to reduce muscle swelling — firmest at the ankle where swelling can be the most severe. Foot stirrups are integrated for a secure fit. Dri-FIT material assists in keeping athletes warm and dry.
Nike designers, researchers and developers start with athlete insights in order to determine their needs. From there, they unlock these athlete insights in the Nike Explore Team Sport Research Lab by looking at athlete performance data. These insights help inform next steps in apparel innovation such as materials testing, fit and flexibility analysis, and more, in order to help designers create the best apparel to protect and prepare athletes for any condition.
To that end, Nike Pro Combat baselayer apparel keeps the body regulated for inclement weather through thermoregulation, breathability and a body-contoured streamlined fit. Nike Pro Combat Hyperwarm and Hypercool apparel provide an optimal fit with added mesh in high-heat zones for ventilation and comfort.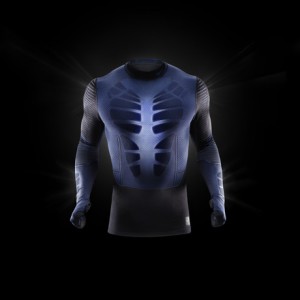 To dive a little deeper and better understand extreme weather conditions, Nike took a look at the traditional NFL "strength of schedule" from a very different perspective – the weather.
Although every team will face their share of formidable contenders this season, athletes will also compete with their external environment – extreme cold and heat, snow, rain and wind. As such, if extreme weather is considered, it requires a different level of protection and preparation – both in training and when it comes to baselayer. To that end, Nike explored the previous 10 years of Farmer's Almanac weather data as well as the 2014 temperature predictions for every NFL game and team this season.
Leading into the 2014-2015 NFL season, it was predicted that the Oakland Raiders would have the toughest strength of schedule, while the Indianapolis Colts were perceived to have the easiest. But when looking at the schedule only through the lens of "predicted weather and temperature" it's a very different story. The Green Bay Packers have the most extreme cold weather predictions, Seattle Seahawks have the mildest schedule, and the Miami Dolphins have the hottest.
Related Posts
Comments are closed.