Elk Mountain Hop Farm: An Attention To Detail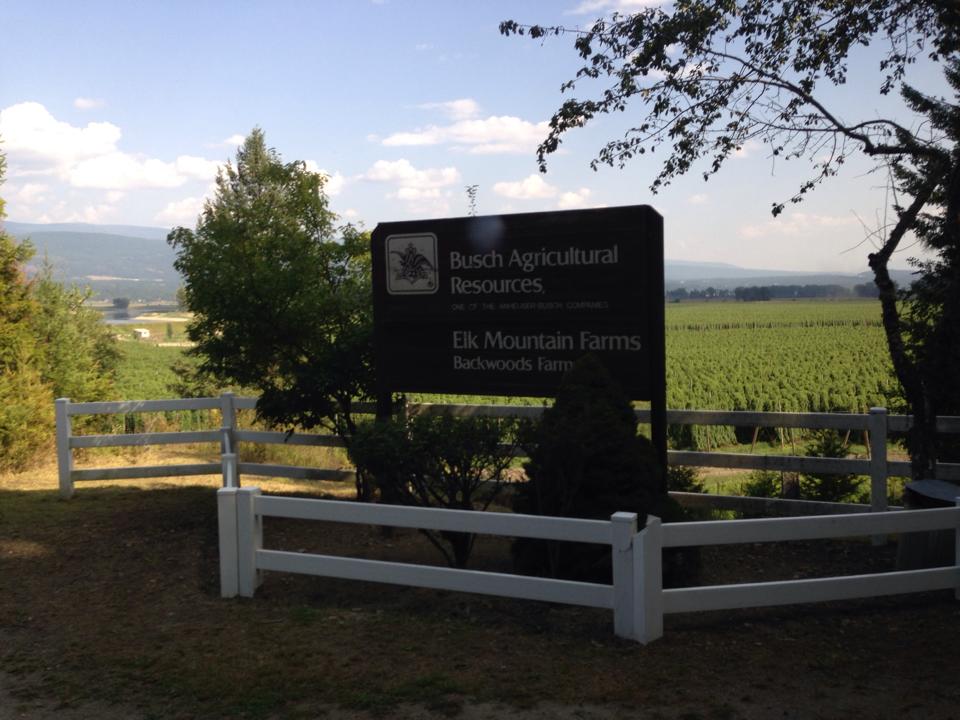 I started to drink beer in college. Back then I didn't really give too much attention to what I was drinking. After college I started looking to try new varieties here and there. Sure there were some stand-by beers that I would pick up and enjoy, but I did look to sample a few new brews. Some I dug, others not so much. Even then I really didn't give that much thought in the process of how beer was made. I picked up a six pack at the store and then enjoyed a few beers with my friends.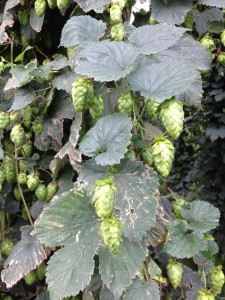 That all changed last week. I had the great pleasure of visiting the Elk Mountain Hop Farm in beautiful Bonners Ferry, Idaho courtesy of Anheuser-Busch. Sure I understood that beer came from hops, but I didn't understand the exact science that takes place to produce beer. And yes, there is a science to it.
When I first arrived to Elk Mountain I was just overwhelmed with the scenery, the mountains, and the fresh air. There were a handful of writers and bloggers just like me ready for this beer adventure. The farm is ten miles from the Canadian border and grows hops for Anheuser-Busch. Elk Mountain is one of the world's largest hop farm at 1,800 acres.
The farm is on the same latitude as the prime hop-growing regions of Europe, and gets 16 hours of sunlight in the summer. That was what Jane Killebrew, the Director of Brewing, Quality, and Innovation at Anheuser-Busch, told me while we were taking a tour of the farm. Jane also informed me about the many different hop variations that are cultivated on the farm. The different hops help to provide the opportunity to make a new beer.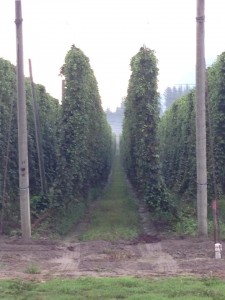 From there I spoke with Peter Wolfe, who is the Brewing Scientist and Hop Chemist at Anheuser-Busch.
In 2012, Peter joined Anheuser-Busch's Brewing Technical Center in St. Louis, which functions as the research and problem solving scientific arm of the brewing organization. While still actively working on hop aroma projects, his work has expanded to include many facets of brewing science, including beer staling mechanisms, yeast health, packaging materials, and enzyme functions. Did you get all that? No worries if you didn't. I was talking to the Peter in person and I think I understood most of what he was telling me about the science that goes into beer. The guy loves beer and science. He makes sure those two things fit together perfectly from week to week.
The fascinating stories kept coming throughout the tour. I caught up with Pete Kraemer, the Head Brewmaster & Vice President, Supply at Anheuser-Busch. He and I spoke about how Budweiser tries to make sure that wherever you go, their famous beer will taste the same. Whether you are in Chicago or in China when you grab a Budweiser you will get the same flavor and taste. Anheuser-Busch has a commitment to quality and their attention to detail makes sure of that.
The guys from Goose Island Beer were there as well. During my time at the hop farm I had the pleasure of drinking a beer with Head Brewmaster from Goose Island Beer, Brett Porter. I asked him how he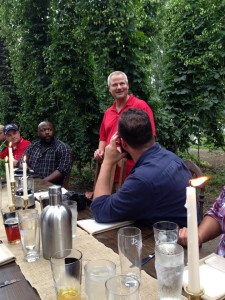 found his passion for beer. He told me that he always had a love for making things. Whether it had to deal to beer or not, Brett loved the idea of seeing how something worked, how it was made, and the possibility of making it better.
He also loved beer for the fact that it helped to make memories. People could drink a beer and start having a conversation about anything. He loves to hear and tell stories. He feels that beer looks to make those conversations last longer. Brett relishes his job because of the other great brewers in the industry. He loves to see other Brewmasters succeed. He wants everyone to have a piece of the market and tell a story through beer. Mr. Porter is the kind of guy you could just sit back and listen to as he shares many intriguing stories from his time living in Edinburgh to the present.
"As Brewmaster, my biggest responsibility is making sure there is enough of each of our Goose Island beers to go around," says Porter.  "For now, we operate the brewery 24/7 and are putting in place a plan that will help us focus more intensively on innovation. Along with new tanks to expand brewing capacity overall, Goose Island is looking to greatly increase the capacity of our barrel program."
Porter's colleagues Keith Gabbett and Quinn Fuechsl are brewers at Goose Island Beer. They educated me on some of their beers and the way they look to make new brews. When brewing, Quinn believes that, "the constant challenge the process represents and being surrounded by people who are incredibly passionate and about creating, perfecting and learning about great beer."
Another treat that we all got to experience was the food. Chef Jeremy Hansen and his crew did an amazing job of preparing food that went perfectly with the beer selection. Chef Hansen is the owner and executive chef of Santé Restaurant & Charcuterie. He began his culinary career working in numerous kitchens by the age 15. At 25, he decided to pursue a career in culinary arts and moved to Portland, Oregon.
Our final dinner there w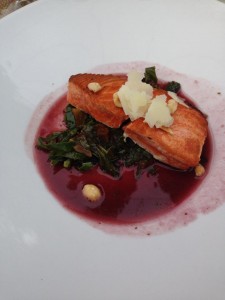 as set in the actual hop farm and he and his staff treated us to a five course meal. The stews, salmon, and elk were paired brilliantly with a beer for each course. This will be a dinner that I will never forget. Chef Hansen made marshmallows and graham crackers from scratch for our s'mores. Yeah, he is that good!
My time in Idaho was simply amazing. I learned so much from everyone. The staff at Elk Mountain Farm opened up their place to us and went to great lengths to make us feel right at home. They took time out of their busy schedule to show us each and every part of the farm. I will never look at beer the same way. Now when I pick up a six pack I won't take the process it took from the farm to the store lightly. I also know that everyone that I met on this trip loves what they do. They take pride in their work and that was very apparent with my time at the hop farm.
So the next time you raise a glass and look to enjoy a beer with your friends, make sure you give a quick toast to those who made you that delicious beer. They might not hear it, but at least you are giving them a shout out for all their hard work that went into making that beer that is in your glass. I know I will.
Related Posts
| | | |
| --- | --- | --- |
| | Print article | This entry was posted by Art Eddy III on August 24, 2014 at 9:00 pm, and is filed under Lifestyle. Follow any responses to this post through RSS 2.0. Both comments and pings are currently closed. |
Comments are closed.