Giovani Bernard Interview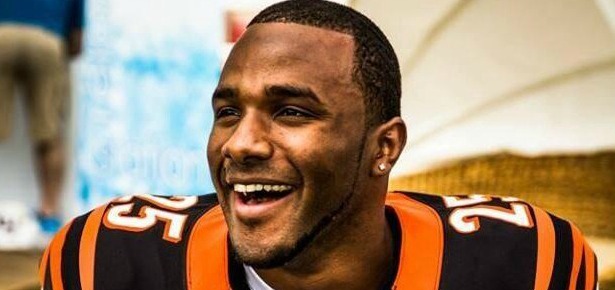 For the first time in 49 years, a running back was not selected in the first round of the NFL draft. The first running back to have his name called in the second round was Giovani Bernard. The 37th overall pick from West Palm Beach, Florida was the first running back from North Carolina to be taken in the first two rounds since Natrone Means. Six weeks into his NFL career, Bernard has already been a difference maker for the Cincinnati Bengals. He's averaging 4 yards a carry, 10 yards per catch and he's scored twice on the ground and twice through the air. His touches have been gradually increasing and he looks to be an integral part of the Bengals offense moving forward.
Bernard gained some notoriety during training camp when he was featured on HBO's Hard Knocks. Other players on the team gave him the business for driving his girlfriend's mom's minivan. But Bernard took it in stride. "If something has automatic doors and it's push to open, that's perfect with me," Bernard said to the cameras.
Bernard joined up with Pepsi to promote the Pepsi NEXT Rookie of the Week program, where fans can vote for their favorite rookie performers each week of the season on nfl.com/rookies. Bernard joined fellow rookies Le'Veon Bell and Denard Robinson for this Unbelievable Hidden Talents video where he showed off his mad snake charmer skills.
We caught up with Bernard a couple weeks ago and talked about his participation in the Pepsi NEXT Rookie of the Week program, his relationship with incumbent starter Ben Jarvis Green-Ellis, the intensity of James Harrison, what it's like to be "owned" by fantasy football players and a lot more.
CS: Coach Gruden mentioned that you're going to see a lot more playing time as the season progresses. That has to put you in an interesting situation with incumbent starter, The Law Firm. How does that relationship play out where you know that you're coming in as a high-draft pick, there's veteran presence on the team at running back, and you know that you're slowly going to eat away at his snaps?
GB: I think the big thing about me and Benny is that—well I call him 'Benny' and we call him 'Benny'—is that we're just trying to help the team win. At the end of the day, we obviously want to keep our jobs and we all want that, but we want the team to win. We want to be successful as a team.
He's really the closer. He's a leader in our running back room. He's the type of guy that, you know, there's four minutes left in the game, they're going to put him in to secure the ball and just churn out the yards. He's just a hardnosed kind of guy and everybody here knows that just how he is and that's his mentality. And he's a great guy. He's a great leader and he definitely shows that on the field.
CS: Coming from college to the NFL, what would you say is the biggest transition that you've had to get used to? I mean everyone talks about the speed, but is there anything else that really stands out to you as being a difference?
GB: I think the thing between the NFL and college is that you realize that this is a job. I think that's the biggest thing. You realize that at any second, at any moment, you could be gone. No matter what the situation is, no matter how great you are, you could be gone the next day. And you see that with Trent Richardson. You know, I think somebody said he found out through Twitter –or whatever it was—that he was being traded to Indianapolis. You just have to realize that this is a job and nobody is out there to help you out. You have to work hard each and every single day.
CS: So coming in as a rookie you were nominated for the Pepsi NEXT Rookie of the Week, can you tell me a little bit about that program and your involvement there?
GB: Yeah definitely. We're basically just letting fans know that all season they can vote for Pepsi NEXT Rookie of the Week. And people think that Pepsi NEXT has a real cooler taste with 60% less sugar, so they kind of asked me to do this web series that shows our hidden talents as rookies. Mine's actually pretty cool, fans out there can go check that out at nfl.com/rookies. It's actually really cool how people can just see our brighter side and our more enjoyable side of things off the field.
CS: So I saw that snake charmer video, and you were there with Denard and Le'Veon Bell. Have you talked with Le'Veon at all, because you guys are in the same division and you're coming out of the same draft class? Do you think he's going to help the Steelers?
GB: Definitely. Well you know, for me, that whole experience with Pepsi NEXT, the whole snake charming thing, was really cool. But I had the relationship with Denard even before that, because I played against him at a high school in South Florida. And then me and Le'Veon, we met each other through the whole Combine experience and workouts and all that kind of stuff. Knowing that he was going to play for sure, we kind of became friends in that way.
I followed him after that first Monday night game and I just told him to keep his head up. After the injury I sent him a text message as well, you know, just praying for him. I mean that's a great guy, a guy I'm really close with, a guy who's a great athlete and an even better person off the field. So I know he's going to make headlines one of these days and he's going to do a great job. A lot of people are doubting him but he's definitely a guy that you should keep your eye on as a rookie.
CS: So you see a guy like James Harrison in the weight room or on the practice field, does he just have that intimidation face all the time or that's just kind of an outside persona that people who aren't on his team wouldn't necessarily understand?
GB: I think it's a little bit of both. As we get closer to game days, you can tell he becomes that fearful James Harrison. But the day after the game he's very chill and relaxed and he's just trying to get better. He's just a guy that always has a chip on his shoulder no matter what the situation is. He's the type of guy that's going to go out there and play his heart out. You can tell that he has that mentality each and every single day whether that's an off day and he's in the weight room lifting or in his treatment, whatever it is he's a real veteran in the league and he has definitely shown that through the years.
CS: So how weird was it to enter the NFL, which has to be a unique experience in itself, and then have that whole Hard Knocks film team documenting everything from your personal life to training camp and all the practices and stuff?
GB: Well for me I wouldn't say I enjoyed it completely. There are days where, you know, obviously I was tired and doing the whole training process. It was my first training camp, and all that kind of stuff. I just had to find the brighter side of it and let the fans out there know what training camp is really like. It helped me out in a sense. It got my name out there and it's cool in that sense. But for me, I knew I was there to do one job and that was not to be an actor. It was not to be a Hard Knocks star. It was just to be a football player and have fun and just let everything else really take care of itself.
CS: Do people still give you shit about the minivan?
GB: Yeah (laughs). I'm still getting beat around about that so, it is what it is.
CS: Have you decorated that apartment yet?
GB: (Laughs) No, the apartment still looks basically like a bachelor pad and I think it's going to stay that way.
CS: (Laughs). So have you had a "welcome to the NFL" rookie-type moment yet?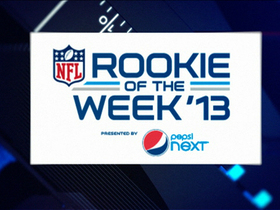 GB: I think it was probably the first time that I walked into the facility…or my second time walking into that facility, when I saw James Harrison because he had to do his first press conference for the Bengals. I was walking towards the lunch room. In my mind I totally forgot about it. During the whole Combine experience you're not really looking at trades, you're more so worried about draft picks and all that kind of stuff.
So for me it was kind of that moment where I realized that yes, I'm in the NFL, and yes, I need to step my game up because we've got guys like James Harrison that will take your head off and continue to keep playing. So for me, it's just going out there and just playing and competing and having fun.
CS: Now tell me something about Marvin Lewis that most people probably don't realize. He's been around for a really long time, is there any particular moment that you've had with him that kind of sheds light maybe on a side that most people don't get to see?
CS: Do you ever get annoyed when fans come up to you and talk about you as if they own you because of fantasy football?
GB: (Laughs) Yeah it actually happened last night. This guy was like "Dude I had my doubts about you but I started you this past week".
CS: (Laughs)
GB: Well I'm glad you had doubts about me and now you're just like (laughs) bowing down to me. But you know, fantasy football is just a whole other experience. I mean, I'm not going to say I'm not a fan of it, because it's cool how they kind of do all that stuff. But I've never played it before. I've got my friends on it, my friends … it's crazy, I'll just say that (laughs).
CS: Who is a sneaky player to watch on the Bengals, who may be prime for a breakout?
GB: Prime for a breakout …
CS: Outside of yourself obviously, Gio.
GB: (Laughs) Well honestly I think there are guys across the board who are just breakout players that are continuing to make plays, but one of the guys that I really admire –good game—is Dante Ridgeway, the middle linebacker. He's just a hardnosed kind of guy and he's a guy where I definitely admire his energy and his passion for the game. He's the guy that really just works hard for what he has and he's done a lot of good things. I mean he's just doing a great job of being a leader defensively and offensively as well.
Related Posts
| | | |
| --- | --- | --- |
| | Print article | This entry was posted by Chris Stout on October 18, 2013 at 12:52 pm, and is filed under Sports. Follow any responses to this post through RSS 2.0. Both comments and pings are currently closed. |
Comments are closed.