5 Tech Savvy Gadgets/Apps to upgrade your toys

Here are few sweet upgrades that you can add to your smartphone or tablet. They are a handful of apps and gadgets that will turn your device into even more of a Swiss army knife.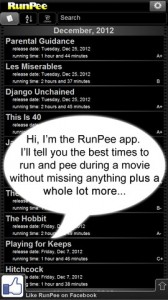 RunPee App
The first one is called the RunPee app. This app is always being updated each day when movies are released. This app notifies you with the best time to run and pee during your favorite movies without missing anything important. After you chug the 3 gallon soda that is considered a small at the theaters, you will need to know when the optimal time to go to the bathroom will be.
The RunPee app also helps you know if there is anything extra after the end credits and even gives you a synopsis of the first 3 minutes of a movie in case you're running late. There a feature that has a timer that will vibrate your phone before each peetime. This allows you to use the app to watch a movie and not bother people around you in the theatre. It runs on iPhone, Android, and Windows devices. Experience an unforgettable painting experience by combining the pressure sensitivity of a Wacom Tablet with the digital art expertise.
Outdoor Tech: DJ Slims

Outdoor Tech made wireless headphones with a built-in microphone for hands-free call availability. The DJ Slims are very light and have a low profile. I used these gems while I was running and they stayed in place. I loved the fact that these headphones were wireless so I didn't have to worry about wires getting in my way while I was working out.
The DJ Slims wirelessly connect with your smartphone, tablet, laptop, or any other Bluetooth-enabled device. The headphones connected easily to my iPhone after I had the initially charged the DJ Slims. Speaking of charging the headphones, the battery life goes for nine hours and had a range of 30 feet. There is also a built-in microphone that allows you to make and receive hands-free calls from anywhere, any time. These sell for around $64 and you can get them at Amazon.com

Carbon Audio LLC: Zooka
Carbon Audio created the Zooka. No it is not a new dance move or a character in "The Hobbit" films. The Zooka is a Red Dot Award winning design and top-selling wireless Bluetooth speaker. Zooka is a wireless speaker designed to be as mobile as your media. With a 30-foot Bluetooth range, multiple vibrant colors, and a low price point there are more than a few reasons for you to listen "LOUDERER" with Zooka. So whether its movies, music or a video of a toy monkey playing the drums, you can be sure you'll hear it louder.
It has a built-in microphone that enhances the use of Skype and FaceTime, and is perfect for incoming and outgoing phone calls. The Zooka slides onto the edge of your laptop giving you portability without inhibiting the use of the camera. It also has a kickstand that can be added to the iPad to create a perfect viewing angle.
Outdoor Tech: Turtle Shell

Outdoor Tech has made it on the list for a second time with the Turtle Shell. This portable speaker is a water and dust resistant Bluetooth do-anything, go-anywhere Hi-Fi boom box. It features an angular, triangle-themed construction that fits in as well in the house as it does the outdoors.  The Turtle Shell has a rubber-coated shell to keep out dust and absorb substantial impacts. Just like the DJ Slims, the Turtle Shell wirelessly connects with your smartphone, tablet, laptop, or any other Bluetooth-enabled device and streams crystal clear audio up to 30 feet for up to 9 hours.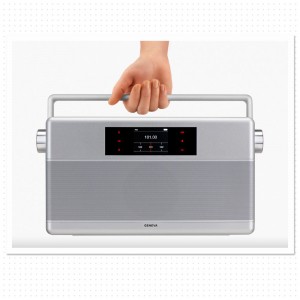 Geneva: WorldRadio
Geneva takes a contemporary take on the classic radio receiver combined with Bluetooth technology and HiFi sound. The WorldRadio receives all available radio stations using the broadcasting technologies of FM, long and short wave radio of a forgotten era. It also features a powerful audio system, digital color display with touch controls, digital FM tuner, Bluetooth receiver, and alarm clock.
The WorldRadio has a high-performance amplifier and full-range loudspeaker play mid and high frequencies with absolute accuracy, and produce warm, rich bass below 80Hz. It can receive both FM and digital (DAB+ version, Europe only) radio stations, and can wirelessly stream Internet radio stations from any Bluetooth-enabled device.
Related Posts
| | | |
| --- | --- | --- |
| | Print article | This entry was posted by Art Eddy III on July 15, 2013 at 8:42 pm, and is filed under Lifestyle. Follow any responses to this post through RSS 2.0. Both comments and pings are currently closed. |
Comments are closed.