Johnny Ray Gill talks about his new show Rectify.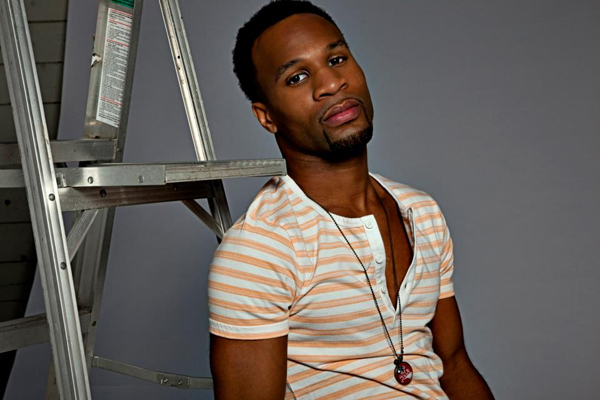 Johnny Ray Gill can be seen in the new series "Rectify" that will be on the Sundance Channel starting up on Monday, April 22nd. Gill plays Kerwin Whitman who is friends with the main character Daniel played by Aden Young. "Rectify"  is a legal drama that tells the story of Daniel, who was falsely imprisoned for 19 years and is released due to new DNA evidence. The series at times follows Daniel thinking back about his time in jail and the viewers are introduced to one of his friends and fellow inmate, Kerwin Whitman.
Gill also has been seen in great shows like "True Blood", "Bones", and "Harry's Law". Gill also has produced a short film called "Pas de Restes". Gill wrote, starred in, directed and executive produced the film.
Johnny Ray Gill was able to sit down and chat with me about "Rectify", his short film, and what he has learned from his experience in the film industry.
Art Eddy: Tell me about the plot of the show "Rectify" and your role as the character Kerwin Whitman.
Johnny Ray Gill: "Rectify" is on Sundance and it is a totally original show. It reminds me of a play in the theater but on camera because of the nuance of the way the story is told and shot. It follows the main character Daniel, who is played by Aden Young. Daniel has been in prison for about 17 years on death row and now because of DNA evidence he is released.
The story is about his first few days out of prison and how he acclimates himself to the town and society. Kerwin Whitman is who I play and I would say that he is Daniel's spiritual best friend. Kerwin was in a cell that was right next to him on death row.
AE: The show sounds very original and to me I feel like there is nothing on television like it right now. You must be excited to be part of show like this am I right?
JRG: Oh definitely. This show takes a hard and real look about what it is like to be on death row. We take a look at what it does to people's families, the victim's family, and what happens when a person is released.
It is also a relevant topic. Right now if you watch CNN or MSNBC you see that with things like DNA evidence people are getting released from prison. There have been a few stories just recently that people who were incarcerated and now were just released based on new evidence that showed that they are innocent. I am very proud to be on a show that is brave enough to dive deep into something of that nature.
AE: I love to see the passion you have for this role and wanting viewers to see a true representation of a person on death row. What type of research did you do for this role?
JRG:  Well in terms of research I have never been on death row and never been in prison. When I auditioned for the part I had a sense memory because one of my cousins is actually in jail for 25 years. It happened when I was in high school. He was part of killing someone through gang violence.
I feel that I was able to explore his spirit for the audition. African Americans and Latinos are hugely incarcerated inside a penitentiary complex. There is so much information to tap into. I wanted Kerwin to be almost an example of what not to do. To show how tragic it is to find yourself in these circumstances rightly or wrongly.
We film with real prison guards and they put real handcuffs and real chains on me. When I hear the clanging of the chains as I was walking into a cell that is the size of a bathroom I felt like I was representing my ancestors. I thought about the middle passage and slavery.
The beautiful thing about Kerwin for me is that even though he committed something very tragic on the outside in the real world, he is trying to find his manhood and atone for the things he did wrong. Reading Shakespeare, Malcom X, Dr. Martin Luther King Jr. I was able to go into my well so to speak and pull out the emotions of a tragic person trying to be a better man. I did as much research as I can to give the character the most authenticity for the show. To me these characters are not given the weight that they deserve and just become stereotypes and I didn't want to do that with Kerwin.
AE: Just hearing that alone wants me to check out the show. You have been very busy aside from shooting "Rectify." You also have another project called "Pas de Restes" in which you wrote, starred in, directed, and executive produced. Tell me about this short film.
JRG: It is a short film that is on the festival circuit right now that I shot last January. It has already been accepted to the Black Hills Film Festival and the Cape Fear Independent Festival. This film was a labor of love. Obviously there is a film industry here in Los Angeles, but there is not a film community. So there is a lot of beg, borrowing, stealing, and cheating to get the movie made.
"Pas de Restes" is about a family that goes out to eat at a popular restaurant. After ordering a bunch of food, like we all do, they are kindly prodded to finish their meal to ensure that no food is wasted. It is a dark comedy and it is doing pretty well so far. I hope that the festival circuit will continue to be kind to it.
AE: Sound like an interesting plot. I hope the film does well for you. Out of acting, writing, and directing do you prefer one over the others?
JRG: I will say I don't like producing. Producing sucks. (Both laugh) I don't mean like hey here is $10 million go out and make a film. I mean the day to day having to be your own secretary. Having to schedule everything here and there. That sucks.
Seriously though for acting, directing, and producing I always like to classify them as different suits. One is a pinstripe, one is a slim fit, and one is baggy and you have to put them on at different times. For me I definitely love acting, but the writing and directing aspect for me just comes from wanting to see new and fresh stories being told.
I want to show new perspectives that are not seen in films today. I would to follow the footsteps of Tom Hanks or Will Smith where you can pick the projects that you want to do, but also look at a story and say this needs to be told and go out and be able to tell that story. To me that is how you get great projects out there like "Game of Thrones" and "Boardwalk Empire". I want to be one of those individuals who stars and produces a show like "Boardwalk Empire".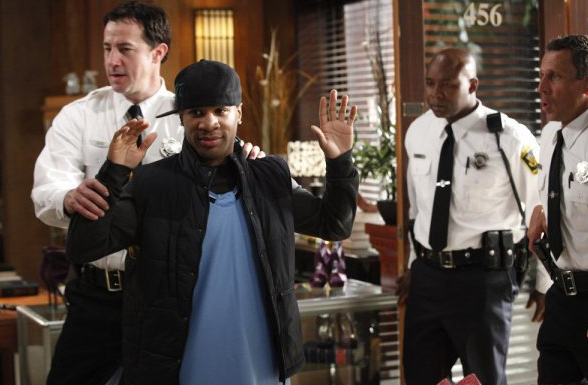 AE: You have also appeared in the shows "True Blood", "Bones", and "Harry's Law".  What did you learn as an actor from being on these notable shows?
JRG: I have been blessed to be on great shows like "True Blood." With all those shows including "Rectify" you get to see how a great show is really done. People are moving at a frenetic pace and they have to do an episode in eight days usually. These shows are telling fantastic stories and you have to be totally prepared and ready to match these actors when we are filming the show.
The times that I was not acting I would be watching others or the cinematography to learn more about the industry. I would see what they thought was important to put into that scene and I can take what I learned from those shows and put them into my projects.
As an actor when you work with someone like Kathy Bates, you study her. She is an Oscar winner. She knows her craft and there are so many things that you can learn from someone like her. I have been very blessed to have been in those shows and I take that experience and use that for the future.
Related Posts
Comments are closed.