NFL Conference Championship Picks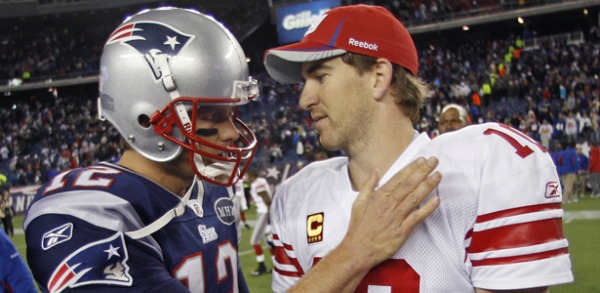 I'll be the first to admit that my playoff picks have been terrible. I started getting cold in the final couple weeks of the season and that just carried over into the playoffs. Plus, I'm still trying to figure out how the Broncos beat the Steelers. It'll happen sooner or later, but I'm just not there yet.
I was convinced that the winner of the Saints/Packers NFC Championship Game would go on to win the Super Bowl. The problem with that is that both teams got bounced last week. The Giants came out more fired up and less rusty than the Packers, who just didn't seem like they were on the same page all day.  The Niners used turnovers, physicality, amazing play calls and too many clutch plays late to kick the Saints out of the playoffs.
On the AFC side, the Texans couldn't put away the Ravens. Houston's defense was fantastic. They bottled up Ray Rice and never let the Ravens get into an offensive rhythm. But the Texans couldn't survive three picks from their rookie QB. The Pats mopped up the Broncos in a hurry, and at this point, they have to be viewed as the favorite to win it all.
At New England -7 Baltimore
I don't think the Ravens are very good. Granted, I have a very clear pro-Steelers bias that comes with a requisite level of Ravens-hate, but I mean I just don't see this team taking out the Pats at home. While Flacco doesn't deserve all the blame for Baltimore's anemic offense, he certainly hasn't been that impressive of late. The last time Flacco threw for 300 yards was in Week 9. I get that it's not his job to air it out. Ray Rice is the featured part of this offense. But if you're traveling to New England to play the Pats, having a QB that's averaged 193 passing yards per game over the last nine games isn't ideal. There's only been two games this season where Flacco has thrown more than three touchdowns. So even if the Ravens D shows up big and Ray Rice goes off, I still think the Ravens need a big game from Flacco to pull off a Super Bowl berth. And I just don't see that happening. Add in the fact that Ed Reed's not 100 percent, Tom Brady looks like a man possessed and Gronk want touchdowns, and I just don't see how the Ravens can pull off the upset.
Pick: Pats -7
At San Francisco -2.5 NY Giants
Alex Smith played the game of his life last week. He completed 24 of 42 passes for 299 yards and three TDs and no picks. And that QB keeper call where he used his wheels to score from 28 yards out was just incredible. Smith has the fewest INTs of any NFL starter this season. That's crazy impressive. To put it in perspective, Alex Smith threw five picks this year. Last season, Eli Manning threw five times that amount. Eli has done a much better job this season, throwing only 16 INTs, but you get the point. The Niners have won ball games by being physical, leading the league in takeaways and performing solidly on special teams. But for that formula to work, Alex Smith can't make mistakes. And last week, he didn't. But this week, he's facing a much more formidable pass rush and a defense that's been steadily improving in both health and performance the last few weeks. I get that the Niners can stop the run. That's great because New York's ground game isn't the foundation of their offense. Eli Manning is. His ability to make plays is what will be the difference in this game. Eli set a franchise record with 4,933 passing yards this season. He threw an NFL-record 15 TD passes in the fourth quarter. In short, Eli has been all kinds of clutch, and he's the main reason the Giants are a win away from the Super Bowl. I'm not saying that it's going to be easy. San Francisco's defensive players look like they relish the chance to inflict pain. I see this game being a true, physical slug match. It's going to be chippy, messy, rainy, all that. But I think the Giants will pull away at the end.
Pick: Giants +2.5
Last Week: 1-3
Season:139-118-12
Related Posts
| | | |
| --- | --- | --- |
| | Print article | This entry was posted by Chris Stout on January 20, 2012 at 3:26 pm, and is filed under Sports. Follow any responses to this post through RSS 2.0. Both comments and pings are currently closed. |
Comments are closed.