TwinLuxe Shaving Skincare Review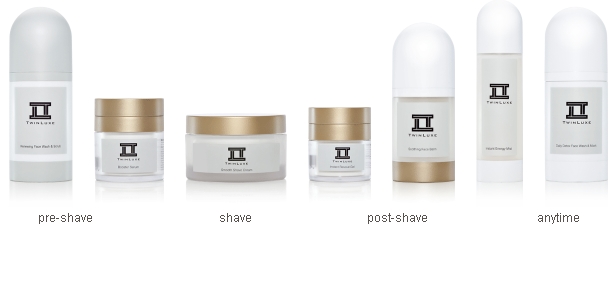 Guys are creatures of habits. This is especially true for our grooming product selections. Once we find something we like, we stick to it. For years at a time. Whether it's a shampoo, shaving cream, deodorant or a particular razor, if it works we just keep on buying it.
At MANjr, we get to review a bunch of different grooming supplies for men. Awhile back we received some samples from TwinLuxe. And by samples we mean a complete shaving skincare system.
Now let me start off by saying that the TwinLuxe shaving skincare system isn't for everyone. If you're one of those guys who goes raw razor post-shower with no shaving cream or aftershave or nothing, this stuff isn't for you. If you want a total shaving experience that encompasses multiple steps, the products that TwinLuxe offers can be quite awesome.
Just look at the list of stuff they offer:
Renewing Face Wash & Scrub
Booster Serum
Smooth Shave Cream
Instant Rescue Gel
Soothing Face Balm
Instant Energy Mist
Daily Detox Face Wash & Mask
Let's break down each of these bad boys so you can get a sense of what the TwinLuxe experience is all about:
Renewing Face Wash & Scrub
The first step to a clean shave is a clean face. The Renewing Face Wash & Scrub features microbeads and a softening agent that exfoliates the skin, smoothes away roughness, unclogs pores and removes dirt and oil to ensure a close shave.
Booster Serum
This stuff can be used before you shave, after you shave or anytime you want to revive your complexion. In the pre-shave routine, the serum adds an extra layer of protection that shields your skin from your blade. Post-shave, the serum acts as a renewing agent that helps fight irritation.
Smooth Shave Cream
The TwinLuxe Smooth Shave Cream is the type of cream that can only be applied with a proper badger brush. It's a creamy, soothing, not-too-strong smelling cream that caters to all skin types.
Instant Rescue Gel
This stuff is awesome. Nicks and cuts are bound to happen, and if you have sensitive skin, you want to take steps to avoid razor burn and irritation. You can apply the gel to trouble spots or just finish off your shave with a heavy dose of this cooling green gel.
Soothing Face Balm
This non-oily aftershave balm hydrates and moisturizes as it coats your face in a nice glow. You get a smooth, soothing feel from a small amount, so one bottle will last you awhile.
Instant Energy Mist
The mist is applied before the face balm. It's cooling spritz of botanical freshness that adds a thin, damp layer of moisturizer to your face before you apply the balm. The Instant Energy Mist can also be applied anytime you need a quick, rejuvenating shower splash to the face.
Daily Detox Face Wash & Mask
The Daily Detox Face Wash & Mask is another product that you can use at any time. It's a 2-in-1 solution that fights bacteria and cleanses the pores. If you want you need a deeper face cleansing treatment, just put a bunch of this stuff on your face, let it chill for a few minutes and you got an at-home mask that'll leave your face feeling all kinds of clean.
So as you can see, the TwinLuxe system is pretty intricate, but it's still not that much of a chore. Guys who spend 2 minutes on a shave and don't mind a little razor burn probably won't be interested. But if you want to take care of your face, the pampering effect of this multi-step process is well worth the effort.
Related Posts
| | | |
| --- | --- | --- |
| | Print article | This entry was posted by Chris Stout on February 16, 2011 at 9:30 am, and is filed under Lifestyle. Follow any responses to this post through RSS 2.0. Both comments and pings are currently closed. |
Comments are closed.