Reggie Bush Forfeits Heisman Trophy
Reports surfaced last week that the Heisman Trust was going to strip Reggie Bush of his 2005 Heisman Trophy. Despite denials by the Heisman Trust that any decision has been made, Bush decided to forfeit his Heisman Trophy today.
In a statement released by the Saints, Bush described winning the Heisman in 2005 as "one of the greatest honors of my life" and "a dream come true." Here are some additional excerpts from the statement: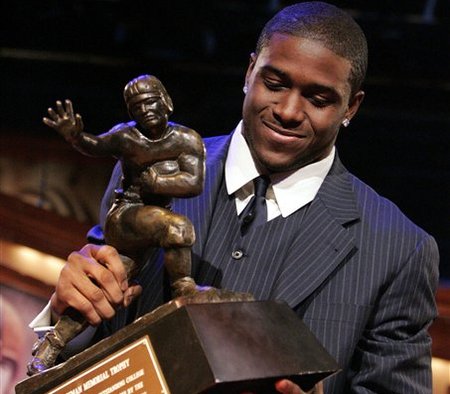 "But I know that the Heisman is not mine alone.  Far from it.  I know that my victory was made possible by the discipline and hard work of my teammates, the steady guidance of my coaches, the inspiration of the fans, and the unconditional love of my family and friends.  And I know that any young man fortunate enough to win the Heisman enters into a family of sorts.  Each individual carries the legacy of the award and each one is entrusted with its good name.  It is for these reasons that I have made the difficult decision to forfeit my title as Heisman winner of 2005.  The persistent media speculation regarding allegations dating back to my years at USC has been both painful and distracting.  In no way should the storm around these allegations reflect in any way on the dignity of this award, nor on any other institutions or individuals.  Nor should it distract from outstanding performances and hard-earned achievements either in the past, present or future."
I like it. I like the whole approach. Bush is basically taking the high road while still being a bit defiant. I don't want to sully this amazing award with drama, but I'm still the best, I was the best and I will continue to be the best.
Here's more from the statement:
"For the rest of my days, I will continue to strive to demonstrate through my actions and words that I was deserving of the confidence placed in me by the Heisman Trophy Trust.  I would like to begin in this effort by turning a negative situation into a positive one by working with the Trustees to establish an educational program which will assist student-athletes and their families avoid some of the mistakes that I made.  I am determined to view this event as an opportunity to help others and to advance the values and mission of the Heisman Trophy Trust."
So Bush vaguely admits that he made mistakes, but he goes a step further to call out a broken system where unpaid student athletes are semi-invited to make mistakes. I like the fact that he took action and gave it back. I like the defiance too. For whatever mistakes Bush semi-owned up to, there's no changing the fact that he was one of the greatest college football players of all time.
"I will forever appreciate the honor bestowed upon me as a winner of the Heisman. While this decision is heart-breaking, I find solace in knowing that the award was made possible by the support and love of so many.  Those are gifts that can never be taken away."
His legacy may be sullied, but memories of his dominant college football career cannot ever be erased.
Related Posts
| | | |
| --- | --- | --- |
| | Print article | This entry was posted by Chris Stout on September 14, 2010 at 2:50 pm, and is filed under Sports. Follow any responses to this post through RSS 2.0. Both comments and pings are currently closed. |
Comments are closed.