Jo Newman Interview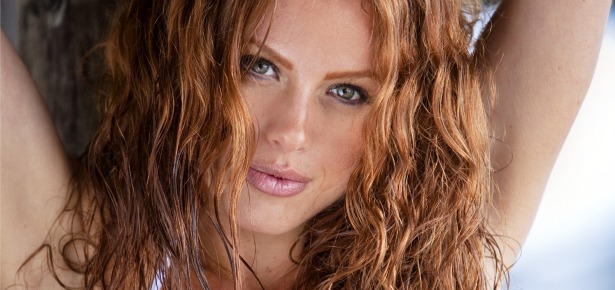 A graduate of New York University's Tisch School of the Arts, Jo Newman is a gorgeous, up-and-coming actress who's about to make her big screen debut in the upcoming film Love and Other Drugs, starring Jake Gyllenhaal and Anne Hathaway. Newman has made numerous TV appearances including spots on Gossip Girl, The Sopranos and Law and Order: SUV. I had the chance to speak with Jo about her acting background, TV experiences and her excitement over the November 24th release of her first feature film.
CS: So where are you from originally?
JN: I was born in a little hippie town in western Massachusetts and then I was in New York for 8 years and I moved out here in January.
CS: So in your hippie town did you grow up a Patriots fan?
JN: I somehow along the way became an Eagles fan (laughs)
CS: An Eagles fan from Massachusettes? Wait a minute.
JN: Eagles fan.
CS: So you said you just came out in January, how does the West Coast compare to the East Coast?
JN: Well, obviously the weather is fantastic
CS: Right, no complaints here.
JN: It seems like this is absolutely where the concentration of the industry is. You know it was a much more eclectic mix of people in New York. I'm really happy to be here. I feel really motivated. I feel good and encouraged and it feels good. And I just love riding around in a convertible in January.
CS: (laughs) Yeah, that's awesome. So did you get into modeling before you started doing acting?
JN: No, I moved to New York when I was 17 and I went to the American Musical and Dramatic Academy which is an acting conservatory. I decided I wanted a much deeper and more thorough education and I got into Tisch at NYU. So I studied Meisner for two years, Shakespeare, Viewpoints with Mary Overly and then I did some television school for the last two years I was there and really got into it. Then my first job after NYU, I think I graduated and a month later I got a spot on The Sopranos. Things were rocking and rolling in New York. I figured after I cast this move, I did some very cool modeling campaigns and then I got a great spot on Law & Order and I figured "okay, time to try L.A."
CS: So was it totally awesome being on The Sopranos?
JN: Oh my god, it was so much fun. I was a month out of college, I'm on set and I had a scene where they killed my boyfriend. So I'm wearing this J.Lo type dress – it's down to my bellybutton – I'm 21 years old and I'm being splattered with blood on everything.
CS: (laughs)
JN: I could not have had a better time, it was awesome.
CS: So how many takes did you have to get splattered?
JN: A lot. I mean, a lot a lot. I mean those guys were perfectionists. It felt like being on a movie set. I think that was one of the reasons that it took so long to get the seasons out there, because it just took them a long time to shoot it. I probably got blood splattered on me like 25 times.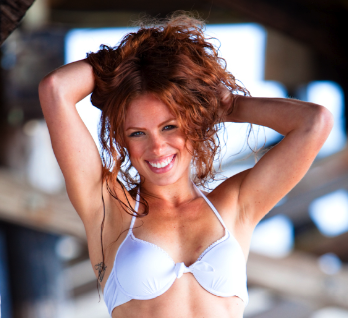 CS: Oh wow.
JN: And there's a guy under the table with a little blood apparatus.
CS: (laughs)
JN: Yea, I had to keep my legs crossed during that scene.
CS: Oh geez.
JN: (laughs)
CS: So what was your role on Law & Order?
JN: On Law & Order I got – it was on SVU.
CS: Okay.
JN: I played a girl who works in a copying – like a Kinko's – shop and she was the last person to see the victim alive. She was a super ditz, and I had hot pink underwear sticking out of my jeans.
CS: (laughs)
JN: And I got interrogated by Chris Meloni. It was a blast!
CS: Oh nice. So is that guy really intense or what?
JN: He turns it on for the camera and in between takes he's showing me pictures of his kids on his iPhone. He's a good actor you know he just … I don't know if it's because we all know him as a detective but he's just shifts into the role so seamlessly. It's a good acting study for a young person.
CS: Yeah, I've seen him in a couple like stoner movie roles so I can see how he could be the kind of guy to flip the switch and just take on a different persona quick.
JN: Yeah, he has a way of just melting into the words. Everything sounds very, very organic and natural coming from him. It's pretty cool to be around him, really it is. And with Love & Other Drugs, seeing Hank Azaria do his role I felt like I – I wouldn't want to say this to any of my professors at NYU – but I felt like I learned just as much watching him do the take six times as I did in a year of college.
CS: Oh wow. So that's your big screen debut then coming up.
JN: I know!
CS: So you're excited?
JN: It was a phenomenal experience. I can't wait to be in another movie. It was so great.
CS: So you mentioned the Sopranos had that kind of more of a film set atmosphere compared to other TV work you've done. What was it like on the set of Love & Other Drugs?
JN: First of all, I don't know if it was because the director is such an approachable and actor friendly director, but there was a real camaraderie on set, everyone was really, really cool. There was no 'don't approach anybody.' I got to hang out with Jake Gyllenhaal a bunch and I got to talk to Hank Azaria. And people are very, very interested in telling the story. It's really going to be a fun movie. It's fun, it's sexy, there's a lot going on, but it really does touch on some incredibly hot issues right now as far as the healthcare performance goes and the pharmaceutical industry. There's a lot going on in this romantic comedy.
CS: Now I want to ask you, is Anne Hathaway hot?
JN: She's beautiful.
CS: Really?
JN: Oh, she's beautiful and it's like she doesn't know she's a star yet, which hopefully, if I make it big, I'll be able to maintain that grounding.
CS: (laughs)
JN: (laughs) And that's nice to be around, because I've been around some people where it's like hey, guess what, we're all still human.
CS: Yeah, I won't ask you to name any names, because I never really get too far when I ask those types of questions. So what are you working on now?
JN: I am producing a TV show and we start on Saturday, so I'm really, really excited. I wrote a pilot, I got incredible production company involved and I did the casting. I am absolutely blown away by the amount of talent that's willing to work for (laughs) not a lot of cash. We start filming Saturday. It's called "Greeting From Sunny Beaches" and it's the behind the scenes dirt of the making of a fictional reality show, but it's all scripted.
CS: Oh wow, that sounds like you have a lot of material to run with there.
JN: Oh, it's going to be so much fun. The characters are fuckin' insane and there's just no end to the amount of situations that you can put these people in that are real.
CS: So do you hope to do more producing and writing work in the future? Are you going to keep acting? What are your plans?
JN: I'm going to do it all. I feel definitely in the past couple of years that the auditions that have come over my desk as far as women's roles are not fleshed out, they're pretty limited. And I love writing, I studied a lot of writing in college and my Dad writes, and I feel very at home and alive and inspired with a pen in my hand or in front of the computer. And I love acting and I hope – I would love to do all this, do it all you know? I remember reading an interview with Kevin Smith in high school and he said "I never thought I could get anyone to hire me as an actor, so I just started writing my own shit and hiring myself." And I thought, okay, good call dude.
CS: (laughs) That's funny. So do redheads have more fun?
JN: Always, and we have a higher pain tolerance.
CS: Really?
JN: Mmm hmm.
CS: Now let me ask you this, do you find it offensive…
JN: (laughs)
CS: …I'm just going to go ahead and accept that as truth and move right on. Do you find it offensive when people refer to your people as "gingers"?
JN: No. I think as redheads we're used to standing out and we've got to get used to all nicknames.
CS: Okay.
JN: And they can be a lot worse than that.
CS: Yeah, I guess that's true.
JN: (laughs)
CS: I'm sure you've heard much worse.
JN: Yeah I think if you're called "ginger" you get off pretty fuckin' easy (laughs)
CS: (laughs) So best of luck with this new film and everything else in the future and thanks for taking the time to speak with us.
JN: Hey, thank you so much this was really cool. Hopefully next time I'll be telling you about something even more grand.
CS: And just make sure to maintain a level head when you become a big star, like you said.
JN: Yeah. I have a Jewish mother, I don't know how you could not.
Related Posts
Comments are closed.