Posts tagged
XGames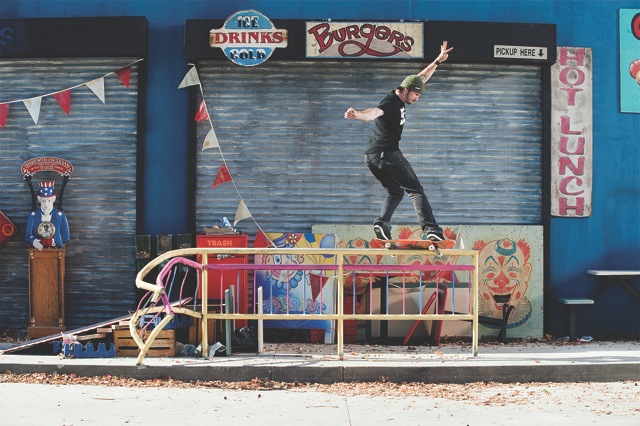 "Live rad and die proud," is a saying that street skater Chris Cole lives by. At the age of 14 Chris found his passion. That passion was and still is skateboarding. As a kid living just outside of Philadelphia, Cole started to participate in local and regional skateboarding contests.
As he won more and more contests, Chris started to make a name for himself in the skateboarding industry. Not only did fans pay attentions, but so did corporations. At age 16, Chris got his first corporate sponsorship, which helped to launch his career.
Chris was named Thrasher Magazine's "Skater of the Year" twice and won back-to-back street skate gold medals at the X Games. Check out all his accomplishments at his website!
Even with all the fame, I found through talking with Chris that he is still a down to Earth type of guy. Chris loves to give back to the community with his skate camp called "Chris Cole's Excellent Adventure" at Camp Woodland. As you read his answers below you will find out just like me that Chris gets it and knows what is important in life.
Art Eddy: When you were growing up did you ever imagine that you would become a professional skateboarder?
Chris Cole: It was funny because when I started I didn't know it could be a profession. Some people were pros and I have seen them in magazines. It was so far out of my reach at that time. There were only a handful of pros. It is not like today where there are hundreds of pros.
I would look at magazines and it wasn't until I started looking at colleges that I realized that I wasn't going to college. I was sitting there looking at the Savannah School of Art and I thought to myself that I am really not going to fill out any applications. I was probably about 15 years old at that time.
I was going to finish high school because I spent all this time in high school. To go without a high school diploma I felt was so wasteful. I stuck it out. I didn't have any dire reason to leave anyway. I stuck it out because I knew that skateboarding was going to be my future.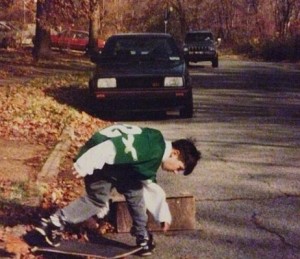 AE: Do you remember the first trick you ever performed?
CC: I remember when I started I was skating alone. When I first stepped on a skateboard it consumed my thoughts and consumed everything that I was. I never stopped skating. I didn't have anyone to skate with. There was one kid who taught me how to Ollie. He just taught me how to Ollie and that was it. I mostly skated alone.
I started doing tricks myself. A lot of them I thought I made up. There is a pop shove it which is basically a 180. Your body doesn't turn 180, but you just pop the board it does a 180 and you land back on it. I remember telling my friend about it.
I would do boardslides on the curb, but I would Ollie and turn 180 into a boardslide. That is called a lift slide, but I thought I made it up. Out of all of those the first kickflip I did was over a Campbell's soup can. I did it totally wrong. My foot placement was completely wrong because this dude showed me how to do it. He showed me the completely wrong foot placement. I did it like that. Later that week I realized that I was doing it wrong. I broke it down in my head and did it correctly from then on.
AE: Was there a significant moment in your career where you felt like you made it in the skateboarding world?
CC: Man that is a good question because you are always achieving a little bit more. I did a few video parts on some skateboarding videos. Each one was a little bit of a milestone. I didn't feel that I fully made it until a year after a very monumental video part. When kids come up to you and tell you that you are the reason why the skate.
They tell you that they saw you skate in a video and that is why they started skateboarding, that is the moment where you feel like you have made it. Through my love for this sport and what I have done and sacrificed to be really good at it, I have done exactly what I wanted to do with my talent. That is to inspire others and make them want to go out and do it for themselves.
That's all you wanted in the first place. You want to pay it forward. These people inspired me. I picked up a skateboard. Now if I can inspire others to pick up a skateboard and enrich their lives like that then the world is a better place.
AE: I am a sneakerhead and I was taking a look at your DC shoe line. How cool is it to have your own sneaker?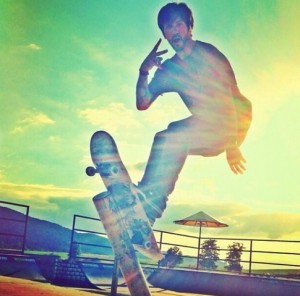 CC: It is incredible to have my own shoe. Like you I am a sneakerhead. I am not nearly advanced as the dudes who go to sneakers cons, but I have a rolodex in my mind of shoes that have inspired me. I try to take all of that information that is in my brain and use it to make my shoes. I try to put out a shoe that embodies all of the others ones that have inspired me.
It is such a cool position to be in. It is great to help out with the design especially when I nitpick things. I don't freak out about small things, but I do notice certain things. For my shoe from the DC line that comes out next year in March, is the most advanced shoe that we have done. It has every piece of technology that DC does in one shoe.
AE: Tell me about your camp called Chris Cole's Excellent Adventure and the great work you do with the Police Athletic League in Philly.
CC: We team up with the Police Athletic League in Philadelphia. They have a bunch of kids that they work with that love skateboarding. Unfortunately those kids just don't have the means. Whether they come from a broken home or they have two parents who are working as hard as they can and can't make ends meet for their kids. We help them out.
These kids love skateboarding just like I did when I was their age. They don't have the money to get them to a place like Woodward Skate Camp. It is the greatest place for a skateboarder to go. It is just acres and acres and acres of skate parks in central Pennsylvania. It is gorgeous out there. It is a place that they would never get to go to.
We work with the Athletic League and handpick kids to go to camp with us. Along with Reign Skate Shop we pick out kids we think that would really benefit and appreciate going to the camp. We take them out for a weekend. It is fully comped by Woodward Skate Camp. The Police Athletic league shuttles them out there. Plus a bunch of my sponsors chip in and give these kids a bunch of products.
They have a great time. What we really want is to make memories. I hope that they will remember it for the rest of their lives. I tell them every year that this time right now is the best time in their life. You don't have responsibility, but you are old enough to have freedom. I tell them that they might not be able to process that right now, but live in the moment and enjoy it.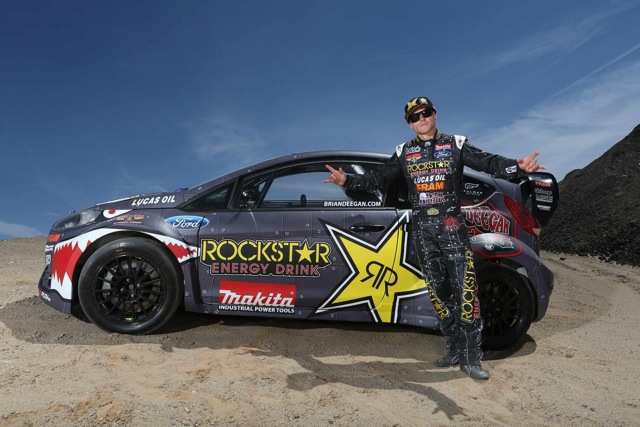 Brian Deegan is an innovator in action sports. He is considered to be motocross legend and as a businessman has been nicknamed "The General." At the young age of 17 Deegan moved from his hometown of Omaha, Nebraska and traveled to Southern California with hopes of making a name for himself in the world of motocross.
In 1997 at the Coliseum in LA, Brian made history with the Freestyle Motocross move called "ghost riding" as he crossed the finish line. Brian has won many awards in actions sports. Brian currently competes in Motocross, Freestyle Motocross, Rally Car, and Short Course Trucks as founder and co-owner of the Metal Mulisha.
I caught up with Brian to chat with him about how he entered the world of motocross, injuries, and his clothing line.
Art Eddy: Let's go back a bit in time. At age 17 you left Omaha, Nebraska for Southern California. You had big dreams of making a name for yourself in the world of motocross. Can you recall that one moment that made you take that big leap?
Brian Deegan: Growing up in Nebraska and going to high school there I had already traveled all over the United States racing in amateur motocross. I think that just getting to see all the parts of the country and places like Southern California really made me want to do that move there. The lifestyle there made me want to take the leap from Nebraska and go to California. Or maybe it was the girls there. I don't know. (Both laugh)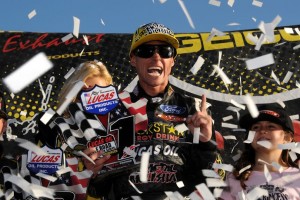 AE: Was there ever a time in the beginning where you thought you had made a mistake?
BD: When I moved out there I didn't have anything. I went out there with a pick-up truck, two dirt bikes and a credit card. I was sleeping on my buddy's floor. I was renting a room and just trying to make things happen. There were points where it got tough, but I realized that I never wanted to go back.
I had to make it work. If I went back my dad wanted me to go to college. I thought that if I did that I would fall back into the normal routine, which is fine, but that was not what I wanted to do.
AE: When you look back do you have one moment that you can say to yourself that you made it?
BD: Yeah, I think it was the moment where I started getting paid by sponsors. That was when Freestyle Motocross started and X-Games as well. I got my first few main sponsors that were actually paying me really good money. That was when I realized that I was on to something. I feel like I hit the sport at the right time. We were the guys that pioneered in action sports. I realized at that moment that it was the right move. It worked out well.
AE: Out of the many accolades and awards you have won does one award stand out more than the others?
BD: I would say that the biggest moment that stands out the most was when I won the L.A. Coliseum Supercross. I went against all odds and beat the best guys as a privateer.  I ghost rode my bike over the finish line, which at that time was unheard of.
I walked away from the sport and started up freestyle and did the first 360 on a dirt bike at the L.A. Coliseum.  I won the gold medal there that year in best trick. Those were probably the biggest highlights. That was before I got into four wheels, which was a whole new realm of highlights.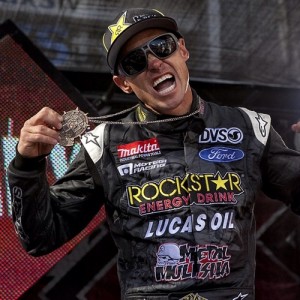 AE: To say that you are fearless is a total understatement. From what I read you have experienced multiple near-death experiences, several broken bones, a lost kidney, and a severe spleen injury.  What gets you back on the track time and time again?
BD:  I would say it was the will to win. Injuries are never something you plan. So really what they do is just stall you out. They are like hurdles on your way to your original goal. I always saw it as just that. I had injuries and a few near death experiences. Those basically just slowed me up for my goals. I still move forward and was always able to block it out and get back to compete. Yet getting older and having kids your priorities change.
AE: Tell me about the company you started up in Metal Mulisha?
BD: I feel like when I was walking away from racing we were kind of the rebels of the sport. We went into Freestyle Motocross and actions sports at the X-Games as the characters of that sport. We came into the sport at the time where skateboarding and BMX was big.
Motocross stepped in and we were on the big stage where the cameras where rolling. It was time to play it up. We were the guys in all black, in spikes, and heavy metal. It kind of just took off. I was able to use my business sense and with my dad being there to help me I thought how are we going to monetize this. We turned it into a clothing brand and selling other product as well. It just took off. Now it is one of the biggest action sports brands out there.