Posts tagged
#WhosGonnaWin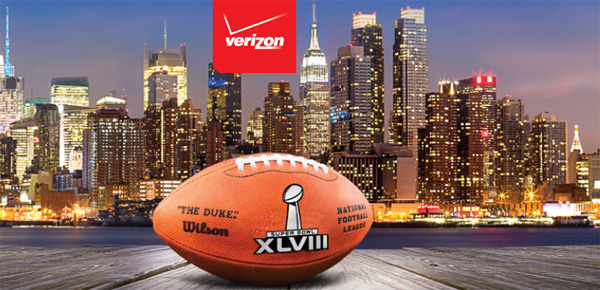 This week Verizon is getting you involved in Super Bowl Week with #WhosGonnaWin.  Fans have enjoyed watching NFL teams light up scoreboards all season long, but during Super Bowl week, fans will be the ones lighting up the Empire State Building as part of Verizon's WhosGonnaWin program, the first-ever social media-driven light show on the world's most iconic building, in partnership with Empire State Realty Trust.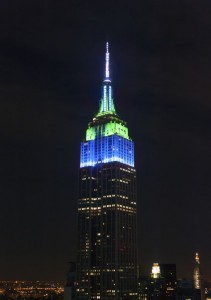 The five-night series, curated by the Empire State Building's world-renowned lighting designer Marc Brickman, will showcase the colors of the two Super Bowl XLVIII teams, the Denver Broncos and the Seattle Seahawks, based on fans' tweets to the question #WhosGonnaWin.  Flipping the switch nightly will be current NFL stars Drew Brees and Matt Forte, along with NFL Hall of Famers Barry Sanders, Curtis Martin and Marshall Faulk, who will be flipping the switch on Tuesday to start the show.
Each day leading up to the Super Bowl, Verizon will pose a game-related question on Twitter to fans using the custom hashtag #WhosGonnaWin.  The Twitter conversations surrounding the questions will be tracked throughout the day, and Verizon will turn the fans' predictions into a spectacular nightly light show.  The show will begin at 6 p.m. each evening, and open with a ceremony of lights celebrating the colors of all 32 NFL teams. The opening ceremony will end in Verizon's iconic red.
At 6:55 p.m., the results show, an orchestrated visual concert set to music provided by NFL Films will begin.  The show will be comprised of real-time data from the day's conversation which will be translated into a stunning sequence, with the colors of the winning team ebbing and flowing depending on the votes throughout the day. The colors of the team which was the most prominent in the conversation during the day will dominate the skyline for the rest of the evening.  The entire results show will be live-streamed at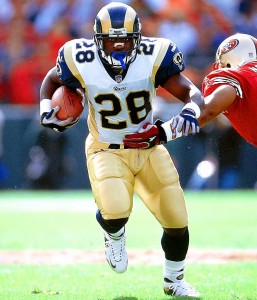 WhosGonnaWin.com and on NFL Mobile.
Today I spoke with Pro Football Hall of Fame running back Marshall Faulk on which team will dominate defensively. On paper everyone is thinking that the Seahawks have the defensive edge.
When I asked Marshall who he thought would win the Super Bowl he gave told me it is anyone's game.
"I think it can go either way. I don't have a favorite. Usually you can look at the numbers or watch how they play common opponents. It is so tough to tell. I keep telling people that only because Peyton (Manning) is a friend of mine that I just want to see him win another Super Bowl.
Outside of that I really don't know. I am not going to lie." – Marshall Faulk
Follow Marshall Faulk at @marshallfaulk and go to WhosGonnaWin.com to make your voice heard!
Look out next week for my entire interview with Marshall. We discuss his playing days, Super Bowl and MVP titles and more.