Posts tagged
Week 3 NFL Picks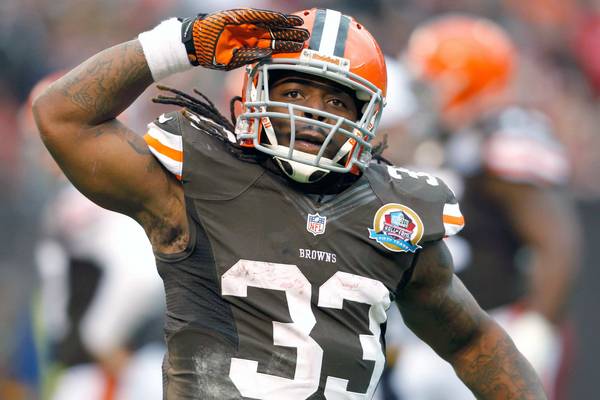 So entering Week 3 of the NFL season, 22 of 32 games have been decided by 7 points or less. That's nutty. Like, historically nutty. That shit just doesn't happen. It makes it difficult to be on point with the picks, man. But 8-8 is a big improvement from 4-11-1, so let's keep that trend rolling…
At Philadelphia -3 Kansas City
Andy Reid returns to Philly with the undefeated Chiefs. Philly's defense is not good. They've given up an average of 460.5 yards per game over the first two weeks. The Chargers and Redskins are the only two defenses that have allowed more yards. The Chiefs on the other hand have a pretty solid D, but I think the up-tempo attack of the Eagles will prevail here.
Pick: Eagles -3
At Tennessee -3 San Diego
Philip Rivers is looking sharp and the Titans are not. A league-worst 123 passing yards a game isn't gonna cut it. Chris Johnson's been dancing too much behind the line of scrimmage, Kenny Britt seems to realize his time in Tennessee is done, and Jake Locker's only completing 56 percent of his passes. The Chargers have put up 61 points in two games. San Diego spoils Tennessee's home opener.
Pick: Chargers +3
At Minnesota -6.5 Cleveland
Good news for the Browns – Josh Gordon is back. Bad news – they traded away their best offensive player. Trent Richardson will miss the start of the Hoyer era. Dude found out he was a Colt while listening to the radio. Stay classy, Cleveland! The Vikings don't look all that threatening, but the Browns seem to be playing for next year just two weeks into the season.
Pick: Vikings -6.5
At New England -7 Tampa Bay
The Pats offense has looked a bit weak so far, but they'll get it together.
Pick: Pats -7
Houston -2.5 At Baltimore
The Ravens may be without Ray Rice which is bad news for a team that's only averaging 2.8 yards a carry. The Texans can outscore this bunch.
Pick: Texans -2.5
At Dallas -4 St. Louis
These two teams are pretty evenly matched, but I like the Rams here. They've looked pretty solid so far, and I think they can take one in Texas.
Pick: Rams +4
At New Orleans -7.5 Arizona
The Saints play different in the comfort of their own dome. They should take this one without too much trouble.
Pick: Saints -7.5
At Washington -2 Detroit
Shootout city. The Redskins have the worst defense in the NFL. They've allowed 511.5 yards per game so far. Yikes. The Lions can score in bunches. With or without Reggie. Take the over and watch the fireworks.
Pick: Lions +2
Green Bay -2 At Cincinnati
The Packers have one of the most explosive offenses in football. The Bengals beat up on the Steelers at home, but their defense is going to have a difficult time bottling up Green Bay's multiple offensive weapons.
Pick: Packers -2
At Carolina -1 NY Giants
Two 0-2 teams try to turn things around, someone's gotta win, right? I think the Giants are the better winless squad.
Pick: Giants +1
At Miami -2.5 Atlanta
Toughest game of the week to call. Are the Fins for real? Can they contain Atlanta's passing attack? Can the Falcons get production out of their backup RBs with Jackson sidelined? I thought the Fins would be much improved this season, and I'm going to keep supporting their turnaround here.
Pick: Fins -2.5
At San Francisco -10 Indianapolis
Luck gets a new weapon and the Seahawks proved that the mighty Niners aren't invincible. Trent Richardson was already an angry runner. Now he's going to be even more motivated to destroy people. I think SF wins this one, but it'll be closer than a two score margin.
Pick: Colts +10
At Seattle -19.5 Jacksonville
What the what? Three score deficit in Week 3? Harsh bro! But the worst team in football competing up against the most legit home field advantage in the NFL? The Jags are gonna get trounced.
Pick: Seahawks -19.5
At NY Jets -2.5 Buffalo
I interviewed EJ Manuel earlier this week and when we talked about that near win against the Pats in Week 1, EJ said, "we don't want to become a shoulda, woulda, coulda type team." I love this guy. He's calm, collected, unnerved. EJ over Geno, Bills over Jets.
Pick: Bills +2.5
Chicago -2.5 At Pittsburgh
When the free agent lineman that you picked up off the street looks better than all four of your regular starters, your o-line is a mess. The Steelers need their high draft picks to show up and help. Miller and Bell won't be factors this week, but DeCastro and Adams need to start living up to their pedigree. Jarvis Jones too. Pittsburgh's offense is a mess: nowhere to run, Haley's getting yelled at by the team's best wide out, Ben needs more freedom to run the no huddle and call his own plays, etc. It's tough times all around in Pittsburgh, and the offense shoulders the bulk of the blame. I want to believe they can turn it around, but I really do have my doubts. Steelers as home dogs shouldn't happen though.
Pick: Steelers +2.5
At Denver -15 Oakland
The Broncos look scary good and the Raiders look borderline competent. This spread seems to fit just right. Denver can take away Oakland's biggest strength. The Raiders lead the league in rushing and the Broncos are first in the league against the run (that's what happens when you build large leads early). It all adds up to more time for Peyton to wreak havoc.
Pick: Broncos -15
Last Week: 8-8
Season: 12-19-1
Last Season: 136-121-5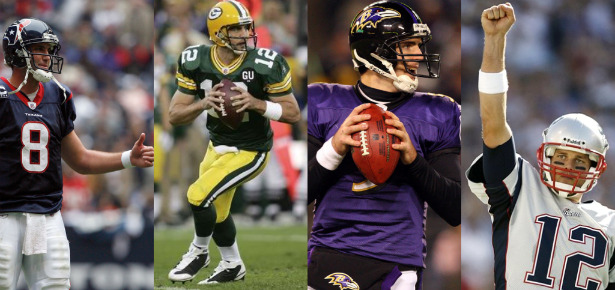 An eighth of the season is behind us, and so far our picks haven't been all that impressive. I followed a 7-6-3 Week 1 with a 8-7-1 Week 2. While 15-13-4 doesn't sound like advice you'd pay for, at least I've got the same record from last week and one less loss on the season than Bill Simmons. I've been making some good cash on the Steelers quick start, too, and that's a trend that's going to continue this weekend. Anyway, on to the picks:
At NY Giants -3 Tennessee
These two teams both need a rebound win. Last week, the Giants got spanked in the Manning Bowl and the Titans got pile-driven by the Steelers. Does Vince Young come in and reclaim his job? Chris Johnson will be facing another tough run defense, but he'll certainly do way better than his 34-yard rushing performance in Week 2. Titans bounce back.
PICK: Titans +3
At New England -14 Buffalo
Another week, another huge point spread for whoever's playing the Bills. Make no mistake though, the Pats are going to crush this team on Sunday. Brady is a Bills killer, and Ryan Fitzpatrick won't be able to hang with a guy who's beaten the Bills 15 times in 16 games while completing 65.3 percent of his passes with an average QB rating of 100.6. Brady has thrown more TDs (33) and put up more passing yards (3,713) against the Bills than he has against any other team in the league. This trend will continue in Week 3.
PICK: Pats -14.5
At Baltimore -10.5 Cleveland
Joe Flacco needs this game. He's looked horrible through two games, but he'll bounce back against the winless Browns. Lock it in.
PICK: Ravens -10.5
Pittsburgh -2.5 At Tampa Bay
Still not sold on the Steelers? I could line up under center for that team the Steelers would still kick ass. They have the best defense in football and Tomlin wants a W against the team that gave him his first shot as an NFL coach. At some point the oddsmakers are going to give the Steelers more respect. Until they do, keep cashing in.
PICK: Steelers -2.5
Cincinnati -3 At Carolina
The Bengals couldn't score a touchdown last week, but five field goals were enough. Cincy's strength is its defense. If they can make Joe Flacco throw four picks, imagine what they'll do to Jimmy Clausen.
PICK:  Bengals -3
At New Orleans -4 Atlanta
The Falcons are a good football team. They had a tough loss to start the season and they totally crushed the Cardinals in Week 2. The Saints are just too good though. Even though the 49ers almost took them out on Monday Night, the Saints return back to the comfort of their dome. This team's just clicking too much to bet against them at home. The Falcons will put up points, but not enough to win.
PICK: Saints -4
At Kansas City +3 San Francisco
The Chiefs are 2-0 baby! The Niners looked impressive at home last week, but I'm going to roll with the Chiefs at home on this one.
PICK: Chiefs +3
At Minnesota -11 Detroit
Who are the Vikings at this point? Are they a run first team with a gray-beard game manager under center or are they a team that likes to fling it? The Lions are facing their toughest defense yet, but who wants to bet against Jahvid Best?
PICK: Lions +11
At Houston -2.5 Dallas
The Texans are clicking and the Cowboys are answerless. Dallas doesn't have a run game and the Texans can beat you in so many ways. The battle for Texas is going down in Houston. The Cowboys are desperate, but the Texans will stay hot and take this one.
PICK: Texans -2.5
Washington -3.5 At St. Louis
The Redskins almost pulled off a shocker last week, taking the Texans to overtime, but their upset fell short. Portis is questionable, but his play this season has been questionable as well. The Rams are averaging on 13.5 points per game, but they've only allowed 16.5 points in the first two weeks of the season. The Skins proved last week that they can put up points and hang with a good team. The Rams aren't a good team.
PICK:  Skins -3
Philadelphia -2.5 At Jacksonville
D avid Garrard was miserable last week against the Chargers. He threw four picks and got benched. Luke McCown came in and tore his ACL again and Garrard was back in action. Meanwhile in Philly, Vick has played so well that the team told Kevin Kolb to keep his ass on the pine. It's easy to look good when you're playing the Lions, but Vick's the better QB and the Eagles are a better team. They should take care of business in Jacksonville.
PICK: Eagles -2.5
Indianapolis -5.5 At Denver
Peyton Manning ruins Laurence Maroney's big day. Colts cover in Denver.
PICK: Colts -5.5
San Diego -5 At Seattle
Mike Tolbert puts up big numbers in place of Ryan Mathews. San Diego will win the most unwatchable game of the afternoon
PICK:  Chargers -5
At Arizona -4.5 Oakland
The Polish Rifle makes Oakland a better team. The Cards must've been put through the ringer by Coach Wiz after last week's beatdown. I don't like this game; too many questions. Does Gradkowski light it up? Does Beanie Wells make an impact? Do Arizona's receivers see anything resembling a catchable pass? Steer clear of this one, but if you have to choose a side, take Oakland, their rushing attack and their confident new QB.
PICK:  Oakland +4.5
At Miami -2.5 NY Jets
Another tough call. The Jets got a big win in Week 2, but the Fins have been solid through two weeks. Which Mark Sanchez will we see? The dude who was shackled by a conservative game plan in Week 1? Or the guy who had the game of his life last week and is on the fast track for an MVP award? With Revis out, I'm taking the Fins at home.
PICK: Fins -2.5
Green Bay -3 At Chicago
For two straight weeks I've picked the Bears to lose, but they're 2-0. I guess I should believe in Cutler and Company, but I don't. Not against the Packers. Sorry. Green Bay seizes the spotlight on Monday Night and the Bears show their home crowd that they don't deserve to be lossless.
PICK:  Packers -3