Posts tagged
Ventilator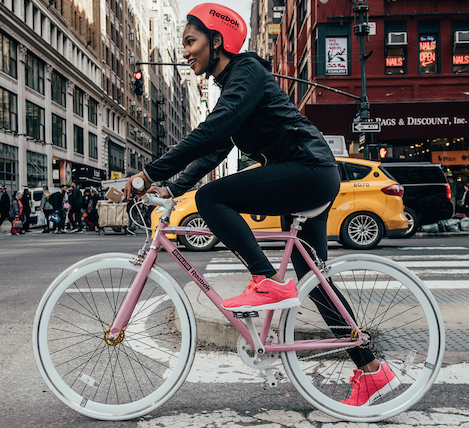 Last week, in New York City and Miami, an army of Reebok Classic bicycle messengers swept through both cities delivering the first pairs of Day Glo Ventilator sneakers set to hit stores this month.  The messengers rode custom Day Glo-inspired, single speed bikes — in blue, yellow, pink and orange hues that matched the colors of the sneakers — to messenger advanced pairs of the Ventilators around in NYC and Miami.
In New York, messengers battled downtown and uptown traffic to deliver the Ventilators to select, unsuspecting recipients all around the city, hitting the Financial District, Tribeca, Midtown, Upper West and Upper East Sides, as well as Harlem.  In Miami, the messengers endured the unrelenting heat and sun to surprise residents all over South Beach, North Beach, Little Havana and Wynwood with the neon colored kicks.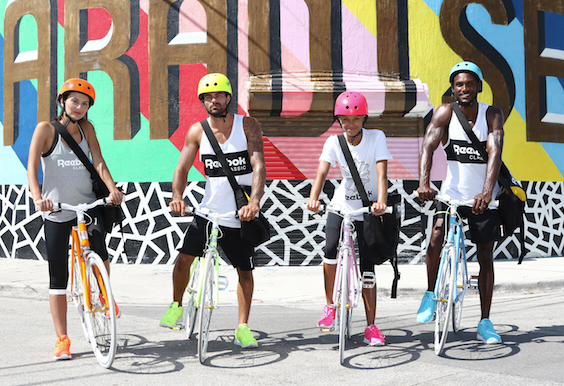 Didn't receive a pair?  Not to worry.  The Reebok Classic Day Glo is currently on sale at www.reebok.com and everyone who purchases a pair will be entered in a special drawing to receive one of the custom Day Glo bikes!
In 1990, Reebok released one of their most timeless running designs: the Ventilator. Incorporating Hexalite technology into the shoe to provide greater comfort and better shock absorption it was the perfect shoe for the faster, lighter runner. The durable lugged outsole was designed to give sure-footed traction for both on and off-road running. The visible archbridge in the middle of the shoe was perfectly placed to offer optimum motion control. And the name Ventilator? That came from the ventilated side panels that allowed cooling and breathability. The shoe was ahead of its time.  Twenty-five years later the shoe is a classic. Still as light as it ever was but now worn for street fashion instead of road running.
Capturing the electric energy found within unforgettable days and even hotter nights, Reebok Classic's latest iteration of the Ventilator – Ventilator Day Glo – puts a bold, neon spin on the classic silhouette.  Fearless and unapologetic, the bright colorways that make up this unique pack are for those not afraid to stand out or stand up.
Ventilator Day Glo – Men's
Colorways: Yellow, Blue
Price: $75
Retailers: Jimmy Jazz, Villa, Shiekh's, and Shoe Palace
Ventilator Day Glo – Women's
Colorways: Orange, Pink
Price: $75
Retailers: Finish Line, Urban Outfitters, Jimmy Jazz, and Reebok.com