Posts tagged
V Foundation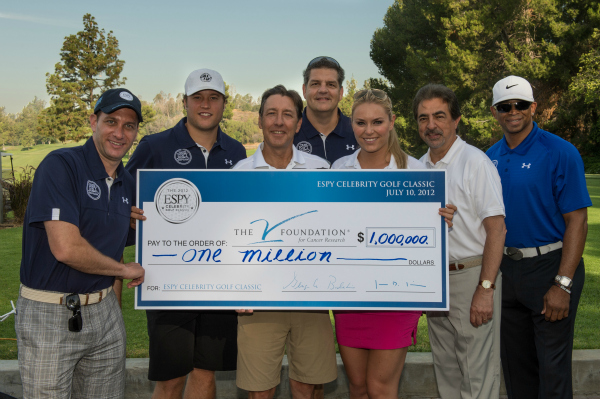 Last week I got to play in the 2012 ESPY Celebrity Golf Classic at Pacific Palms in Industry Hills. I've been an avid golfer for about a month now, and I was super stoked about playing a legit course like this. The fact that I'd be surrounded by athletes and celebs didn't hurt either. It was definitely a step up from my local 9-hole options.
The day started out like any other, with me getting to the posh course early for a quick breakfast surrounded by guys like Mike Piazza, Joe Theissman, Matthew Stafford, Joe Mantenga and Mr. Belding. It was a beautiful day when we played and the course was absolutely gorgeous. It was a great way to spend a Tuesday.
My group was paired up with Sal Mesekela, the host of the X-Games and an all around fun guy to hang out with. I was also teamed up with Adam Fonseca from SB Nation, Nash Herrington from Crave Online and Mark Rasmussen from Weber Shandwick. We had a solid group of guys.
As far as golf skills we're concerned, I was definitely the weakest link, but the other guys were encouraging and more than made up for my lack of skill. We played a scramble and went with the best ball. I was happy that I we used my tee shots. Sure, it was obligatory to use one tee shot from each player, but the one that counted for me wasn't so bad for the crew. We finished the round at -2 and tied for 19th.
Behind us was former 49er Dwight Clark, and his team was crushing it. We could hear celebratory birdie shots all day. The guys grouped up with the man who made "The Catch" finished pretty strong. Tony Dovolani from Dancing With the Stars and his team won the whole thing at 8-under.
After we finished playing, we got to see Mike & Mike pass out some awards, and the presentation of ESPN's $1 million check to Nick Valvano, the brother of Jimmy Valvano and chairman of the V Foundation. Nick gave a great acceptance speech that left even the most badass jocks in the room a little choked up.
Thanks to the folks from Clear Men's Scalp Therapy for inviting me out to such a great event. I got to learn a little bit about the V Foundation and dandruff while rubbing elbows with some cool celebs. I also achieved my goal of not injuring anyone with my golf game, so good times!
Photo via ESPN Media Zone