Posts tagged
Tribe Wallet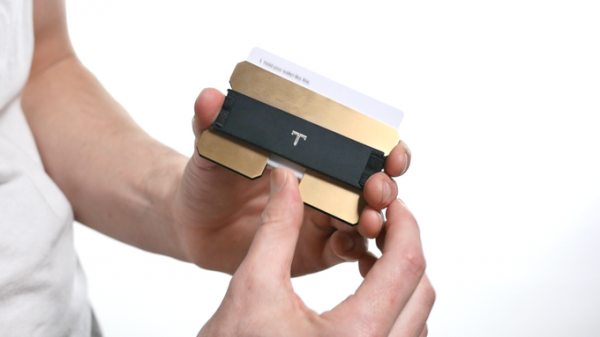 With so many things battling for position in your pockets, the days of carry around a George Costanza wallet are long gone. It's just not practical to pack brick in your back pocket with every receipt, card and form of identification that you've ever owned. Plus, it's uncomfortable as hell to sit down with one butt cheek padded extra high with an overstuffed wallet. You find yourself pulling out your wallet whenever you want to take a seat and that can lead to forgetful wallet misplacement. No one wants that.
Enter the Tribe Wallet. A super-slim alternative to that back pocket brick you're lugging around. The Tribe Wallet features two plates made with aerospace-grade materials fastened together with a tight band. It's available in carbon fiber, texalium or titanium. You place all your cards in between the two plates and use a push and pinch motion to access the specific card you need. The outer band let's you quickly fold and slide bills for safe keeping. This thing features RFID-blocking to shield your card chips and it can even open bottles and prop up your cell phone for hands-free video viewing.
This wallet has front pocket utility written all over it. It takes up minimal space and still let's you keep all your essentials handy. The one gripe is that it's almost too space saving. If you have 20 cards that you want to carry around with you, things are gonna get pretty tight. But do you really need to have your Vegas player cards and SCUBA certification card handy on a daily basis? I didn't think so. The Tribe wallet forces you to streamline your wallet and be judicial about what you carry around with you. And that's a good thing.
To learn more about "the sexiest minimalist wallet" out there, check out the Tribe Wallet Kickstarter page.