Posts tagged
Toy Soldiers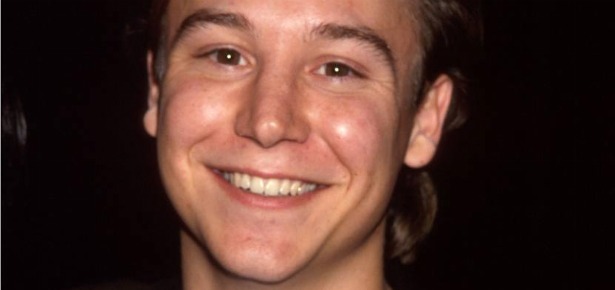 Keith Coogan started acting back in 1976 when he was only six years old. According to IMDB, he's appeared in 63 TV and film roles over the years. He was the voice of Young Tod in Disney's The Fox and the Hound. His TV appearances include spots on Knight Rider, 21 Jump Street, The Waltons, Mork and Mindy, CHiPs, Silver Spoons, The Love Boat, Growing Pains and Just the Ten of Us.
As impressive as all this is, nothing compares to the sick cinematic run that Coogan enjoyed at the end of the 80s/start of the 90s. From 1987 to 1991, Coogan left an indelible mark on a generation of movie-lovers with three all-time awesome film roles:
Brad Anderson – Adventures in Babysitting (1987)

Coogan crushed the role of Brad Anderson in Adventures in Babysitting. Back in 1987, it was okay to wear sweaters like that. Coogan did it all in this role. He tormented his sister, put up with hi-jinks from his best friend and took a knife to the shoe in a subway car. And think of how awesome it'd be to drool over Elizabeth Shue for hours on a movie set? Point, Coogs.
Kenny Crandell – Don't Tell Mom the Babysitter in Dead (1991)

In Don't Tell Mom the Babysitter's Dead, Coogan got to play Christina Applegates's lazy stoner brother, Kenny Crandell. After seeing his sister Sue Ellen embrace responsibility, Kenny Crandell adopts a love for the culinary arts, cuts his long hair and makes a pledge to do well in school so that he can become a chef and gain the affection of one of his sister's hot friends. It's an inspirational tale of how unusual circumstances can prompt even the most shiftless heavy metal fan to man up, embrace cooking and say no to weed.
Jonathan "Snuffy" Bradberry – Toy Soldiers (1991)

If you haven't seen Toy Soldiers in the last six months, get on that shit. After 19 years, it's still amazing. The film has everything: Louis Gossett, Jr. and vodka-mouthwash, Sean Astin's ridiculous hair and hightops, Wil Wheaton's amazing earring and death scene. I can't think of another movie that gives better treatment to the whole Latin terrorists taking a boarding school full of teenage boys hostage thing. And Snuffy? You remember how well Coogs sold that asthma attack scene? What about the bash brother high-five sequence with Wesley Crusher after Coogs made fun of Wil Wheaton's mobster dad? It's timeless stuff, people.