Posts tagged
stand up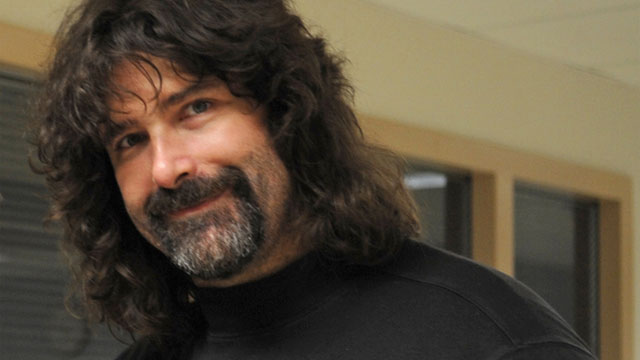 Sunday, March 15th Levity Live Comedy Club in West Nyack, NY welcomes WWE's Hardcore Legend, Mick Foley. The 3-time WWE champion and 2-time New York Times #1 best-selling author has a one-man stage show called "Hardcore Legend: An Evening with Mick Foley." In this show Foley tells his incredible stories of is time in the WWE using humor and intensity.
Mick has took his show worldwide with glowing praise where ever he goes. Best-selling author Paul O'Brien, writing for The Layfield Report wrote, "He always leaves them laughing. Laughing, standing at the end and always wanting more." Even the decidedly non-wrestling publication Broadway Babies mused "If you're interested at all in wrestling, you'll love it; if you're not, you'll like it."
Mick got the nickname "The Hardcore Legend" for his uncanny trait of taking punishment in some of the most dramatic matches in sports-entertainment history. No matter if he was Cactus Jack, Mankind, or as Mick he made the WWE fans always walk away amazed from his performance.
One of Foley's most epic and brutal battle was with The Undertaker in 1998's "Hell in a Cell" match, during which he was knocked unconscious after falls both off of and through the 16 foot Cell structure. Foley finished the match – with one of his front teeth lodged in his nose.
Mick wrote his autobiography of 700 pages all on notebook paper, which was later turned into "Have a Nice Day." That book became number one on the New York Times best-seller list in October 1999. The book remained on the Times list for twenty six weeks. In 2001 Mick wrote "Foley is Good" and was on The New York Times list as well. Foley has published a total of ten books; four memoirs, four children's books, and two novels.
I had the great pleasure of talking with Mick about his tour and WWE days. To listen to the interview click here!
For more info on Mick's tour check out his website, http://www.realmickfoley.com/
If you are in the New York are stop by Levity Live Comedy Club in West Nyack, NY on March 15th. Showtime is at 7:00PM and tickets are $27 each. For more info visit levitylive.com.

I love talking to stand-up comedians for many reasons. One is that I love hearing how they form their craft. It is interesting for me to hear how they form their material and to see if their friends always have a demand for them to be funny. I think the world of stand-up is fascinating. I have a ton of respect for their profession.
Last week I was able to chat with comedian Greg Walloch. Greg currently lives and works in Los Angeles, CA and is the host of the popular live storytelling show, Eat Your Words at The Standard, Hollywood. Greg and I talk about how his career started, his current projects, his time on the Howard Stern show, and much more. To listen to my interview with Greg CLICK HERE. I also asked Greg which comedians we should check out. He said that Ron Funches, Jen Kirkman, Baron Vaughn, Hasan Minhaj, Beth Stelling, and Kurt Braunohler are some very funny people. So if you get a chance make sure you check out their shows.
Greg has appeared on everything from The Howard Stern Show to Kurt Andersen's Studio 360 on Public Radio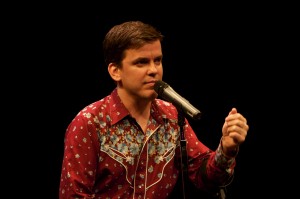 International. Greg performed to a capacity crowd at Lincoln Center's David Rubenstein Atrium in the variety show Sxip's Hour of Charm. He has opened for '60's icon Janis Ian at the World Institute on Disability Gala in the Bay Area, and appeared in The Moth: West Village Stories with Amy Sedaris and Andy Borowitz in New York City.
Greg was featured in USA Network's Characters Unite national tour with sold out engagements at Seattle Center's Marion Oliver McCaw Hall, the Denver Center for the Performing Arts, the Newseum in Washington, DC, and at the Pacific Design Center in West Hollywood.
In conjunction with the Peabody Award winning storytelling collective The Moth, the Characters Unite tour featured Christopher Gorham, Forest Whitaker, Meghan McCain, Kevin Jacobsen, Jeffery Rudell, Pam Grier, Dan Choi, Nathan Lane, Dustin Lance Black, Octavia Spencer, Aimee Mullins, Matt Bomer, John Legend, Willie Garson and more. Greg also appears in USA Network's Characters Unite "I Won't Stand For…" PSA campaign to fight hate and discrimination.
Greg's live solo shows have toured in Moscow, Toronto, Vancouver, London, Ireland, Germany, Australia, Poland, Scotland, Tel Aviv, and in various festivals across the United States. The concert film "F**k The Disabled," based on Walloch's live show stars Greg Walloch with a cast that includes Stephen Baldwin, Jerry Stiller and Anne Meara.
Here is what a few notable actors and comedians have said about Greg.
"ONE OF THE MOST PROFOUND PIECES OF COMEDY IN THE MOST TRUTHFUL WAY. JUST WONDERFUL!" – Jerry Stiller
"WALLOCH DELIVERS WITH BITE AND WITHOUT BOMBAST." -The New Yorker
"WONDERFULLY FUNNY." – Nathan Lane
"Absolutely amazing! I just sat back and took a ride. I listened intellectually, I laughed my ass off and my heart listened too… articulating what it means to be human so eloquently… this is what my soul is supposed to feel, I'm supposed to have more human moments like this!" – Jen Kirkman, Chelsea Lately and After Lately
Check out Greg's website and follow him on Twitter, and his Facebook page for his Eat Your Words show.