Posts tagged
Soccer Talk Live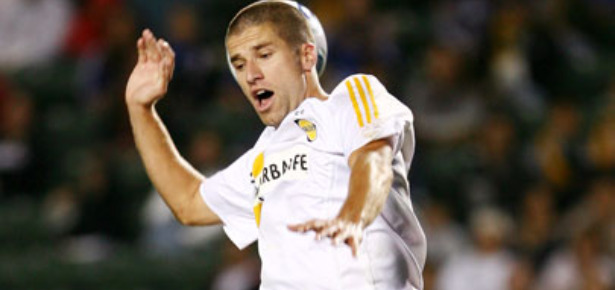 The eighth overall selection of the 2002 MLS Superdraft, Kyle Martino won the Rookie of the Year Award, played four and a half seasons with the Columbus Crew and two and half seasons with the LA Galaxy. Martino competed in the 2001 World Youth Championship and appeared in eight games for the U.S. national team. Martino got his first cap in 2002, and in 2005 he scored a goal against Panama during a World Cup qualifier match.
After retiring from soccer in 2008, Martino became an analyst and commentator for MLS games and the World Cup. He worked at ESPN and the Fox Soccer Channel and also provided color commentary for Philadelphia Union matches. In 2010, Martino launched a new show on the Fox Soccer Channel, Soccer Talk Live, an hour-long program that's part entertainment and part soccer discussion.
We got the chance to catch up with Martino to discuss his new show and his thoughts on the World Cup and the state of US soccer.
Who was your favorite player to watch in the World Cup?
David Villa for Spain. He is a pure goal scorer with some serious bravado. It's just hard to not smile when he gets the ball because you know something ridiculous is about to happen.
Did World Cup fever lead to increased interest in the MLS?
Definitely. Not only were there several World Cup starts from all over the World that came back to MLS after the Cup was over, but a lot of people got that soccer bug during the World Cup and got their fix from watching MLS action.
What was it like to score an international goal in a World Cup qualifier?
It was amazing. I broke several windows and destroyed my parents' back yard imagining that moment over and over again in my head when I was little. To see that reoccurring dream of wearing the #10 for my country and scoring a goal like that become reality was second to none.
How did it feel to have your professional career cut short by injury?
It was a really sad moment for me. To spend your entire life obsessing over something you love, and doing anything you can to get it, to only have it taken away from you because of something you can't control is a very hard thing to deal with. How I go on is by being grateful of getting there and having a career, and looking forward to the next challenge.
Tell us a little bit a about your new show, Soccer Talk Live. It's kind of a combination of soccer news and pop culture, right?
The idea of the show is to put soccer at the head table with other pop culture and entertainment trends where it belongs. The show will be a soccer show first and foremost, but it will also try and thread together the world's greatest sport with other aspects of mainstream culture, aspects that fans don't realize connect back to the beautiful game. It will be the coming out party for a game that has already come out but most people just haven't been paying attention.
Why do American soccer players have such a hard time completing quality passes?
Bad eye-sight from sitting too close to the TV? No, probably because our decision making in fast paced crucial moments is not as hard-wired as it is in other countries where that and technique are burned in kids minds from very young ages.
Will Jürgen Klinsmann ever coach the US national squad?
I'm starting to think no. If we didn't get him this time, I think it's a wrap.
When will the US national team get over the hump and really compete with the big boys on the international stage?
When we stop losing some of our best athletes to other sports.
Soccer Talk Live airs on Monday nights at 7 p.m. EST on Fox Soccer Channel. Check out your local listings, tune in and find out more about the beautiful game.