Posts tagged
Smart TV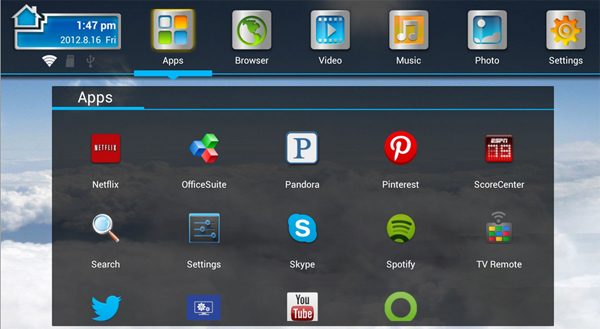 If you were looking to upgrade your old flat screen TV with a new smart TV you might want to check out the SmartStick first. If your TV is still in great shape why not just spend $50 instead of $1500. A company called FAVI Entertainment can upgrade your TV for 50 bucks as long as your TV has an HDMI input.
SmartStick has a HDMI connector that is built right on the stick that looks like a flash drive and it plugs directly into your HDTV with no cables or confusing adapters. The DC power is supplied over a mini-USB port, and the included mini-USB to USB connection is just the right length, to reach the USB port on your HDTV.
The Interface application is great. The application lets you access apps, the web, and multimedia content. The SmartStick actually gets you! I am serious. This device adapts itself to present your preferred content first. The homepage will remain constantly updated to display your 6 favorite applications, and any two widgets of your choice.
There is a browser tab to search the web. A video tab that will search through your attached storage devices and present all of your video files. Plus there is a music tab that will look out for audio files no matter which folder they're located in and present them for easy access.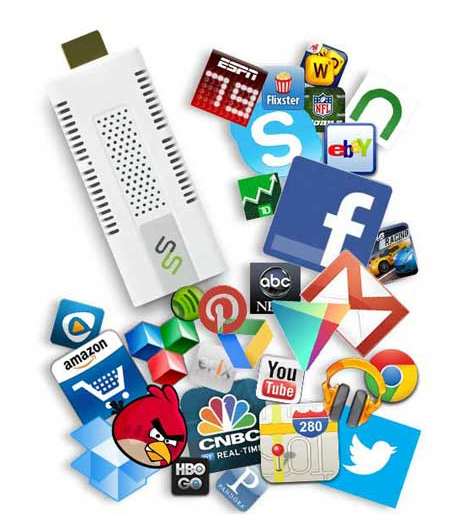 It also works with Google Play, Android apps, Netflix, Hulu and more. I was able to stream shows from my Netflix and HBO accounts. All of these shows are in HD quality since it hooks up to a HDMI port.
With the included PLEX app, you can now wirelessly deliver saved content directly to your SmartStick enabled TV. Just host your computer's media collection with Plex Media Server, open the PLEX app on your SmartStick and you are connected.
To even add more ease when using the SmartStick pick up the pocket sized keyboard with touch pad mouse. This keyboard lets you quickly respond to email and enjoy a complete web browsing experience. The keyboard setup is very similar to the Android hot keys that are located beneath the touch pad of the controller. If you like playing games on your Android devices then the touch pad will make gaming a lot easier and your gaming experience will be that much better on your flat screen TV. Whether you go with either the 4 GB or 8 GB of internal storage, the stick also has a microSD card slot that holds up to 32 GB. This is another way to watch movies on your TV.