Posts tagged
Schick Hydro Target Holiday Pack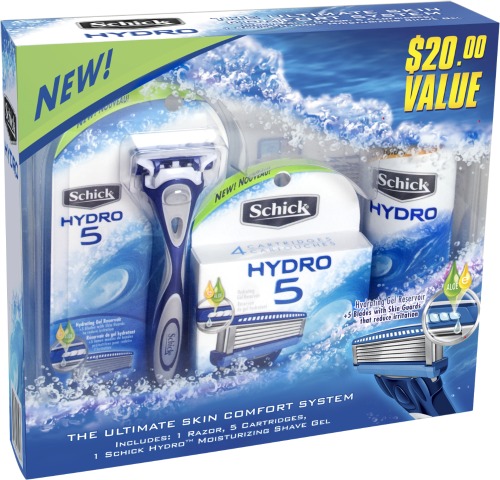 Christmas is coming up quick and that means it's time to start making a list of all the people you need to get gifts for. You're likely to hook up some people more than others, and if you need an inexpensive holiday gift for someone, don't blow your small budget on a useless item. If you only have 10 bucks to spend on your dad, uncle, brother, cousin, son, nephew or any other dude needing an affordable gift, consider the Schick Hydro Holiday Pack at Target.
This holiday gift package is available at Target for $10. Yep, just one Alexander Hamilton. It comes in a nice big shiny box, so you won't look like a massive cheapskate in front of your family. The box  includes one Schick Hydro razor, five replacement cartridges and a bottle of Schick Hydro Moisturizing Shave Gel.
The Schick Hydro razor is pretty sweet. It has five blades that have these skin guards that smooth your skin over as you're shaving, The hydrating gel reservoir is where it's at though. This is the protective strip above the blades that has this gooey combo of Aloe and Vitamin E. I received one of these boxes and I've used the razor a bunch of times. It's still gooey without too much gooey. That thing still glides up and down my face after multiple uses. The Moisturizing Shave Gel is one of those extra-blue, super-foaming gel deals where a little gel can go a long way. A tiny amount of blue will end up covering your whole face in foam.
It's all pretty high tech sounding, but it works. The thing about the Hydro is that you always feel like there's a protective layer between your face and the blade. This reduces irritation and razor burn and generally makes for a pretty comfortable shaving experience. Getting someone all this in a $10 package is a nice way to say, "I couldn't spend all that much but hey, at least I got you something that you're actually gonna use." It's the thought that counts, but it's the practicality of the gift that'll score you extra appreciation points in the long run.