Posts tagged
Sam Deeds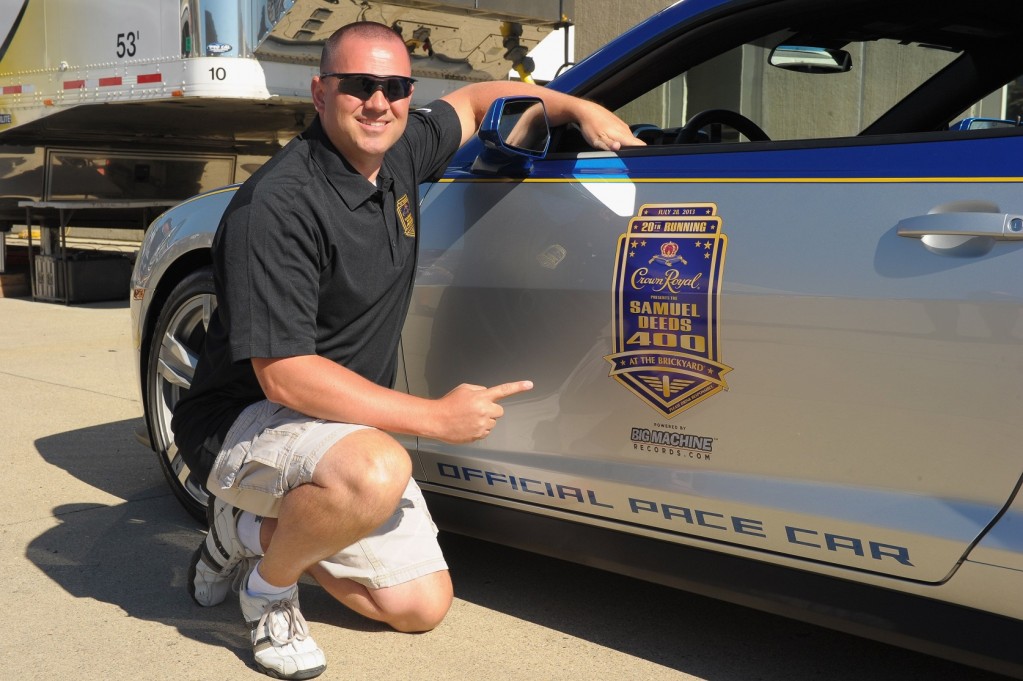 If you tune in to SPIKE TV's Bar Rescue this weekend, you'll see a great man, Gunnery Sergeant Samuel Deeds. Crown Royal is teaming up with the popular TV show to honor heroes, and Sam will be featured during a special Veteran's Day marathon airing this Sunday, November 9th beginning at 5 p.m. ET.
Sam will appear in a series of short videos alongside host Jon Taffer, during which he'll talk about different aspect of his military career; from his time joining the military, to inspiring and guiding other veterans, to what it meant to be honored on a national level through Crown Royal's "Your Hero's Name Here" program.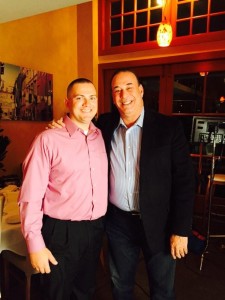 I had the honor of meeting Sam when I was at the Brickyard 400 in Indy a few years back. Deeds was awarded the namesake for the 2013 Brickyard 400. The official title of the race last year was the "Crown Royal Presents the Samuel Deeds 400 at the Brickyard Powered by BigMachineRecords.com."
Deeds was one of the finalists for the Crown Royal "Your Hero's Name Here" program. Sam was entered into the contest by his wife. Sam risked his own life both in Iraq while in the Marines as well as here in the United States when he was on vacation with his family.
Deeds, like past winners of the "Your Hero's Name Here" program, had a fun filled weekend at the Brickyard. He rode in the pre-race pace car as well as hand delivered the trophy to winner at Victory Lane. Sam also kissed the bricks, which is one of the great traditions at the Brickyard in Indianapolis.
I was able to ask Sam a few questions about his time in the military and what he was thinking about leading up to the Brickyard last year.
Art Eddy: First off I want to thank you for your heroic service to our great country. While in Iraq, you risked your own life to save others from an improvised explosive device (IED).  You had more than 30 surgeries from all the injuries you sustained from the blast. Your bravery goes beyond words. What will you always take with when you reflect on that moment?
Sam Deeds:  A body full of shrapnel.  I did what every leader should do, sacrifice themselves for their Marines.  I made the decision to expose myself to the IED and two Marines are alive because of that.  I would not change one thing that happened that night.  I'm not a hero, I was doing my job and protecting my Marines.
AE: Even here in the states you saved the lives of three individuals caught in a rip tide off the coast of North Carolina. Tell me a bit about that experience.
SD: On September, 11th 2008 I was on vacation with my family. On that day we were enjoying some time at the beach when we noticed dolphins feeding just off shore.  We also noticed woman swimming out toward them.  Next the woman started waving her arm frantically.  Shortly after that a man dove into the water and started swimming out to her.
We later found out that it was the ladies husband. Now there are two people caught in the rip current.  Then another man with a child's boogey board swam out to the couple and left them with the floatation device.  He tried swimming back and got caught in the current as well.  I looked around and people were taking video and photos of those who were in trouble and rescue was nowhere to be seen.  I grabbed a small rubber raft and went into the water. Just as I got to the last man that entered the water he disappeared.  I reached into the water and pulled him onto the raft.  We tried to get out of the current but went nowhere.
As rescue arrived they came to me first and I refused rescue.  They went to the couple that had been in the water the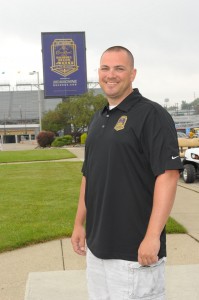 longest and got them to shore.  They came back out to me and I refused rescue once again, so they took the man that I pulled out of the water. Finally they came back after me.  The couple said that if I would not have refused to be rescued the husband would have drowned.  This was all just five weeks after having major abdominal surgery.  I had a piece of mesh placed on the inside of my abdominal wall.
AE: That is incredible. Last month you were named the winner of the Crown Royal's "Your Hero's Name Here" program. You now will have your name in this year's NASCAR Sprint Cup Series race at the Brickyard. What was going through your mind when you find out you found that you were the winner of that program?
SD: That it was a dream, it wasn't really happening.  It was a very emotional day.  I looked back at the guys that I served with that are no longer with us and thought that there is no better way to honor them.  My name may be on the race but this is for all of them.
AE: Well said. Going back to the program how cool was the laying the final brick, engraved with the official race logo, in a ceremonial "Yard of Bricks" at Flagship Park in Erlanger, Kentucky?
SD: It was amazing. There is a permanent fixture that for many generations to come will be able to go to the park and see that someone from their home town had a NASCAR race named in their honor.  My children's, children, children can see that their great grandfather made a difference.
AE: Are you a fan of NASCAR and if so who is your favorite driver?
SD: I'm a huge NASCAR fan.  I've been watching since the mid-80s.  My favorite driver is Dale Earnhardt Sr.  These days I like Kevin Harvick because of his passion and drive for the sport and Kurt Busch for all that he does for our military men and women and everything that he does to bring awareness to Post Traumatic Stress and Traumatic Brain Injury.
AE: What are you looking forward to the most during this year's NASCAR race weekend at the Brickyard 400 in Indianapolis?
SD: The overall behind the scenes experience, meeting the other finalists, presentation of the trophy and of course "Kissing the Bricks".  I'm hoping for a great weekend of racing.
I am so glad that NASCAR and Crown Royal have this program to reward heroes like Sam Deeds. I can't wait to see Sam's expression when he is out and about at the Brickyard 400. Plus Deeds and the rest of the NASCAR fans will be able to see great musical acts from the Big Machine Label Group including Justin Moore, Cadillac Three, Cassadee Pope and Dustin Lynch. They all will be performing during the race weekend in Indianapolis.