Posts tagged
Rich Franklin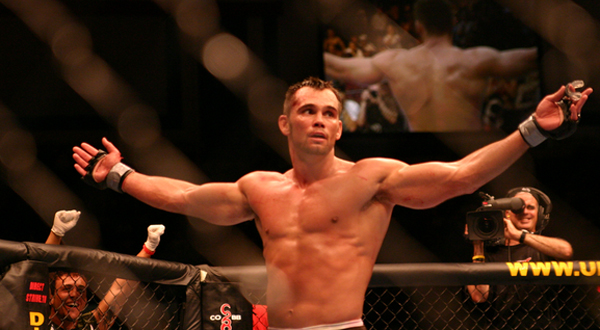 Rich Franklin has many passions. One of course is fighting in the UFC. Franklin has won three UFC Middleweight Champions by defeating Evan Tenner in 2005, Nate Quarry in 2005 and David Loiseau in 2006. He has wins against legendary fighters such as Wanderlei Silva and Chuck Liddell. Outside the ring, Franklin was spotlighted by the UFC and became an ambassador for the organization, traveling all over the world including Canada, Germany and Ireland on behalf of the sport to speak about such topics such as sport safety and other controversial topics to educate the public.
Rich supports the Disabled American Veterans group and has been a spokesperson since 2006. He has made numerous trips to supports the troops in Iraq, Persona Gulf, Italy and Bahrain as well as has visited the Bethesda Naval Hospital, Wounded Warrior Barracks Camp Lejeune and the UCLA Veterans hospital as well as numerous other military facilities domestically. He also holds the Cancer Kids Foundation and organizations that support breast cancer research close to his heart as well as the American Heart Association. He is looking to open his new juice bars in Los Angeles called Zelin.
Rich took time out of his busy schedule to talk UFC, nicknames, and much more!
Art Eddy: Before fighting in the UFC you used to be a high school teacher. How did you transition from being a teacher to a UFC fighter?
Rich Franklin: I think a lot of people get caught up in the Hollywood notion that I was a teacher one day and the next day I was a fighter. It wasn't like that. My senior year of high school I was playing football, but I knew I wasn't good enough to play in college. After football I got into martial arts because I needed something to fulfill that competitive spirit and I was always an athlete.
It started out strictly as a hobby. I enjoyed martial arts because I was able to stay in shape and also defend myself. That year the UFC came out and I started watching it. I became addicted to watching the fights. My senior year in college one of my buddies dared me to do an amateur fight and I did.
I happen to be really good at it. I had no aspiration to do this professionally. It never really entered my mind until my third year of teaching. I woke up one day and thought I wonder if I could fight professionally and that it would be my full time job. I asked a gentleman that was managing my training if I could do this professionally. He said that I would do really, really well.
It was a tricky process. I spent five years in college. I had two undergrad degrees. I went back for my masters in the summer while I was teaching. I told myself that I was going to walk away from something that I was doing for my whole life and try something completely different.
AE: How stressful was it to make that leap from teacher to fighter?
RF: It was really stressful more on the financial side of things. My last year of teaching was 2002. If you look at the history of MMA back then it wasn't really that popular. It wasn't like I thought of leaving teaching to become a professional football player.
When I told my dad that I was leaving teaching and going into fighting, he told me that I was wasting my education. When I told him the news I really think he wanted to hit me. (Both laugh). So during my training I wasn't working. I didn't have any paychecks coming in. Fortunately my wife was working. She is a teacher. It kept us steady. I had some money saved, but we were watching our finances closely.
I knew that there were a couple of matches that I needed to fight in to advance my career in MMA. If I won these fights it would put me in the right direction to have a great career. At times it felt like a slow process and I thought of going back to teaching because I didn't see any financial reward. There is only so much time that you can do this without health benefits and you say to yourself that I might need to do something else.
AE: Once you started to make a name for yourself in UFC what did your dad say?
RF: It's funny many people ask me what is my proudest moment in my career. They are expecting me to say a time that I knocked out someone in a fight. For me the proudest moment in my career is when my dad told me in hindsight you made the right career move. To me that moment is the most rewarding point in my career.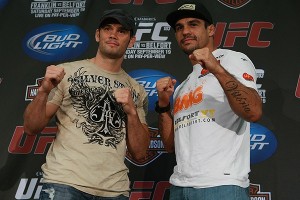 AE: Speaking of highlights in your career, you are a three time UFC Middleweight Champion. Do you remember each title match? Does one stick out more than others?
RF: It is funny you ask that. To me winning the title was anticlimactic. I was so focused on the goal that I didn't enjoy the ride. I remember that first time I won the title I took the belt home and went back to my hotel room. I looked at the belt and went from a stadium that had thousands of fans screaming to a room that had my coaches and a few of my closest friends.
I asked my friends if this was what it was supposed to be like just me and a few of my closest friends in silence. I didn't know if I was expecting a ticker tape parade like when soldiers came back from World War II, but I didn't enjoy the ride. That time was really like a blur. It just happened so quickly.
AE: Who would you want to fight next?
RF: I don't really care. I am training, but I am not fight training. There is a difference between just training recreationally and training for a fight. My fight time table so to speak has been pushed back a bit. For me I look at a fight to see if it makes sense.
If the fight looks like it will be exciting and the fans will enjoy it than that is a fight that I want to be in. My fans on Twitter say I should fight Michael Bisping. Now suddenly all the headlines are saying that I am calling out Bisping. That isn't the case. If I mention his name on Twitter it is because I think he is a great fighter and I respect him, but I never called out anyone to fight against.
AE: Speaking of Twitter, do you think it is funny how close fans can get to you and other MMA fighters? Plus do find fans or people might twist your words when you say something on Twitter?
RF: Oh all the time. First off I grew up when the internet wasn't that popular. I didn't have an email account until college. Today kids only know of a world with the internet. Now people just use 140 characters on Twitter to get their point across and someone might flip that around to hear what they want. You have to watch what you put out there since everyone has access to it.
AE: For those who don't know tell me how you got the nickname "Ace?"
RF: Just last night I was at a store and someone swore up and down that I was Jim Carrey. She couldn't believe that I wasn't him. I fed into it a bit in the beginning which I probably shouldn't have, but it was funny. So since I look like Jim Carrey and he was the star in "Ace Ventura: Pet Detective" I got the nickname of Ace.
People have amazing nicknames like "The Hammer" and "Bone Crusher." It is like the movie "Top Gun." Everyone had a cool nickname like "Maverick." How is that for a great nickname? I tried to play the name of "Ace" like it was cool, but no. People say I look like Jim Carrey on steroids. Not saying I am on steroids, but that is what people tell me.
AE: Watch people read this and all of a sudden MMA fans on Twitter say Rich Franklin is on steroids.
RF: (Laughs) Yea right. I can see the headlines now Rich Franklin is on steroids. You never know what type of headlines people will come up with.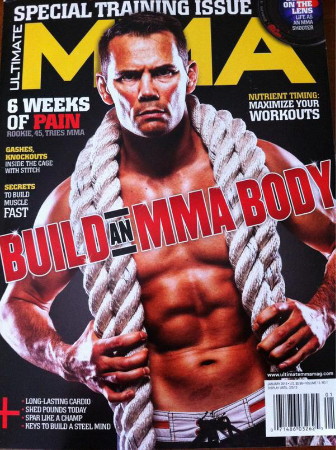 AE: How has your training evolved from when you started fighting to now?
RF: Training has changed quite a bit. When I started out training for MMA I saw that fights would be one fighter's style versus another fighter's style. Now you need to be good at all kinds of martial art styles. I consider myself a second generation of MMA fighters. I started to see people mesh different styles together. So I started to do that as well when I was training.
When I was five years old I never said I want to be a UFC Champion. It didn't exist. I wanted to play football. Now kids grow up saying that they want to get into MMA and fight in the UFC. So people at a young age are learning to fight different styles of martial arts. Instead of having to go through how to find which forms of martial arts will work for them, they learn how to mesh them all together. Training has definitely evolved since I started.
AE: You are working on opening up a new juice bar in Los Angeles. Tell me how you started that up?
RF: It isn't open yet, but we are working on it. The juice bar is called Zelin. The juice bars will feature whole food blending, recipes designed by chefs, and low-calorie vegan pastries that will separate us from the other organic juice companies out there.
There are these vegan chocolate chip cookies that are amazing. Once you tasted them you would not know that they were vegan cookies. I can't wait for the stores to open up.
AE: You are the author of "The Complete Idiots Guide to Ultimate Fighting." What made you write that?
RF: At that time I was approached by the publishing company about this book. It took a long time to write that book. There were revisions after revisions. I was telling people that I would not ghost write another book again. I would just write my own book. It would be much easier.
At the time the UFC was not widely known and we thought there would be a great market for that book. The causal UFC fan might not know all the terms and this book helps with that. People could pick up this book and learn more about the sport. I think most of the people that bought the book did it for their UFC collection.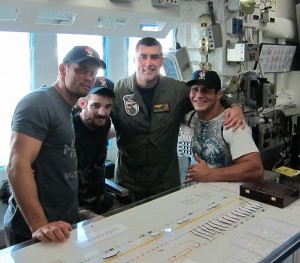 AE: You support the Disabled American Veterans group and has been a spokesperson since 2006. What made you get involved with that foundation?
RF: They have a station in Northern Kentucky. I am originally from Cincinnati and one of the guys that is involved in that organization was working out where I trained. He approached me because I was doing a ton of military stuff. I went overseas to visit the troops in places like Iraq and Japan. I also visited some of the VA hospitals.
These guys knew that I had a thing for helping veterans and asked me if I wanted to help out. I told them whatever they needed. I am passionate about the military especially the disabled veterans. I was at the Intrepid in San Antonio and saw all the different prosthetics that are being made. They look to make these prosthetics to help people who are athletes and still want to be active.
I went to Aspen for an event that they were having and these guys were beating me in hockey and skiing and everything else. I tell you these guys are legit. One of the guys I went skiing with I told him something along the line of I'll see you at the bottom. He says yea if you can keep up. Sure enough he beat me and I could not keep up with him. These guys are amazing to see what they can do.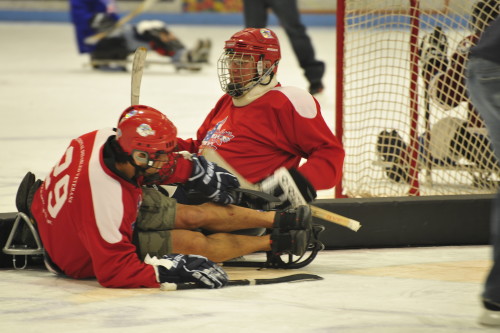 I told the DAV that I would love to come back and help out again. I would love to run an MMA seminar for these guys. It just my way of giving back. I am a very blessed individual and I just want to do my part and give back to the community.