Posts tagged
razors

No one likes shaving. It's a tedious chore that has to get done and often gets postponed. If you're a baby-faced cherub like myself, then shaving is a once a week task that isn't too taxing. But most American men don't have that luxury. Most dudes need to shave at least two to three times a week.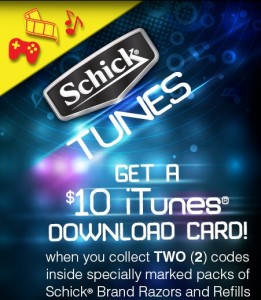 If you're going to shave anyway, might as well get some kind of bonus for it right? Well Schick is currently running a promo where you can score some iTunes cash just for doing something that's part of your normal routine. If you purchased any two specially-marked Schick iTunes Xtreme3 razor packs, (for him or her), you can redeem the included iTunes codes at schicktunes.com and claim a $10 iTunes download card.
That's right, two razors gets you $10 to spend on some cheap apps for your iPad, a bunch of songs that you've got stuck in your head or whatever else you pay for when you log in to your iTunes account.
Here are few of the Schick products that you can pick up to redeem your iTunes credit:
Xtreme3 Refresh
Xtreme3 Hawaiian Tropic
Hydro Blast
Once you have your iTunes card download card ready to go, you can also download Schick's Ultimate Morning Playlist, which will be featured on SPIN Magazine. If you prefer choosing your own tunes, then create your own wake-up mix to enjoy during your morning cleanup routine.
You buy razors anyway, right? Might as well get something back for your troubles. The promo runs until the end of February, so get on it!