Posts tagged
PowerSquid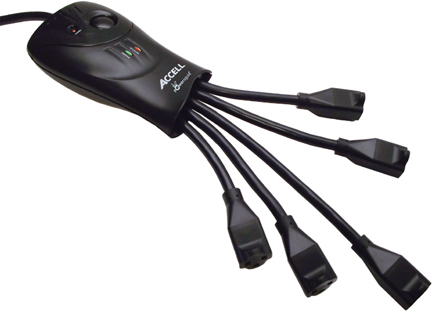 Power cords suck. You need 'em for everything and you have to put 'em everywhere. Left your phone charger at work? Time to get another one for home. Need a laptop charger in the living room? Well you probably have another one for the home office, too. From Mp3 players to computers and laptops, tablets, phones and external hard drives, we all have way too much crap that needs charging. More often than not, this leads to super-messy piles of daisy-chained surge protector jungles.
Keeping your cords in check is annoying as hell, but the PowerSquid Surge Protector and Power Conditioner from Accell can help you get organized. We received a PowerSquid to review and it's a pretty convenient solution to the crazy cord mess.
Now I'm no electrician, but I'm pretty sure that my current setup (outlet-extender to extension cord to surge protector 1 to surge protector 2) is less than ideal. It's likely a fire waiting to happen. For people who know more about electrical currents than I do, the PowerSquid offers 1080 Joules of surge protection, a 15 Amp circuit breaker, five transformer friendly outlets and a built-in noise reduction filter.
The thing that I like the most about it is that I can plug in 5 monster-chargers without worrying about covering up spots on the surge protector. Bulky computer charges and other device power cables can take up way too much space when you're dealing with a strip of vertically positioned outlets. The PowerSquid gives you all kinds of flexibility while also reducing the line noise and electrical static caused by radio frequency and electromagnetic interference.
Technical details aside, you can plug in more stuff without having to worry about power surges and fire hazards.  That sure beats the inflexible, potentially-dangerous extension cord/surge protector setup I'm rolling with right now.